Local News
Former state Sen. Dean Tran arrested for unemployment fraud
Tran has been indicted multiple times since leaving office.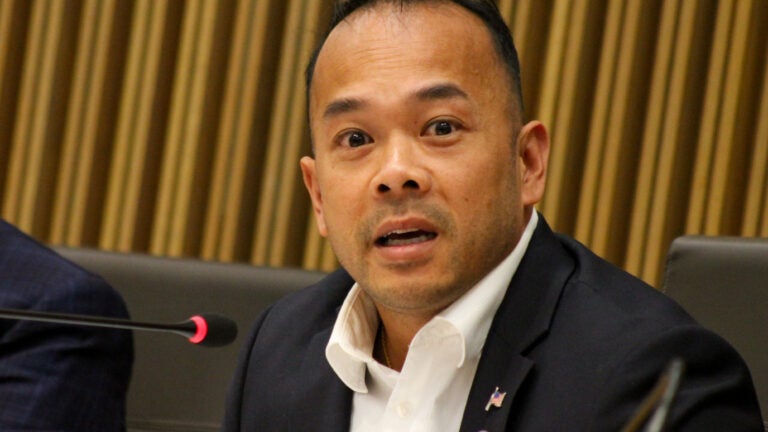 Former state Sen. Dean Tran was arrested Friday for allegedly defrauding the Massachusetts Department of Unemployment Assistance and collecting income that he failed to report to the IRS, Acting U.S. Attorney Joshua Levy's office announced.
Tran, a 48-year-old Fitchburg Republican, served in the Massachusetts Senate from late 2017 until early 2021. He was indicted on 25 counts of wire fraud and three counts of filing false tax returns. Tran is expected to appear in federal court in Boston Friday afternoon.
After Tran's Senate term ended, he allegedly applied for pandemic unemployment benefits after he had already accepted a job as a paid consultant for a New Hampshire-based automotive parts company. Tran fraudulently collected $30,120 in pandemic unemployment benefits, prosecutors said.
Tran also allegedly concealed more than $50,000 in consulting income that he received from the automotive parts company on his 2021 federal income tax return, Levy's office said.
In addition, Tran allegedly collected thousands of dollars in rental income from tenants at a Fitchburg property from 2020 to 2022 that he concealed from the IRS.
"Dean Tran was once elected to serve taxpayers, but today we arrested him for allegedly cheating them out of tens of thousands of dollars in fraudulent unemployment benefits that were meant to be a lifeline for those struggling for survival as a result of the pandemic," Special Agent in Charge of the FBI Boston Division Jodi Cohen said in a statement. "This former state senator allegedly made the conscious decision to repeatedly lie about his employment status and underreport his rental property income so he could get a tax break. The FBI and our partners are working hard every day to shut down such fraud schemes and protect the public from being fleeced."
This is not Tran's first run-in with law enforcement.
In July 2022, Tran was charged with allegedly stealing a gun from an elderly constituent and misleading investigators who were looking into the matter.
In June 2019, Tran visited the constituent and allegedly "used his position of trust" to intimidate her into giving him her late husband's firearms. Tran allegedly made her sign a pre-prepared contract and gave her $1,500 in cash for at least eight guns. He was asked to return the guns the next day and he did, but came back the following morning to force his way into the constituent's home while she was alone, prosecutors said. Tran allegedly demanded the keys to her husband's gun safe and stole a Colt .45 while she hid in her bedroom. The gun was returned to the constituent at a later date.
When police interviewed Tran about the incident, he allegedly gave multiple conflicting reasons for taking the guns away. He denied any type of firearms sale but later produced a sale contract for the guns. Tran allegedly disparaged the constituent's mental capacity and demanded a written apology from her.
Tran also allegedly made false statements on a 2019 license-to-carry renewal application.
In September, Tran was charged with two counts of violating the state ethics law, according to Attorney General Andrea Campbell's office. Those charges came after the Senate Committee on Ethics submitted a report to Campbell's office that alleged Tran "inappropriately used his Senate staff to conduct campaign activities."
Tran used members of his staff to campaign for him while on state time, payroll, and while purportedly working for the Legislature, prosecutors said. This allegedly occurred during both 2018 and 2020. These staffers allegedly organized fundraisers, knocked on the doors of potential voters, created campaign mailers, and more during official work hours at a Fitchburg office.
State conflict of interest law dictates that public employees cannot use public resources in connection with political campaigns.
Newsletter Signup
Stay up to date on all the latest news from Boston.com