Local News
Coyote seen near playground, dog park in Boston's North End
Have you spotted coyotes wandering around Boston lately? Here's how to stay safe.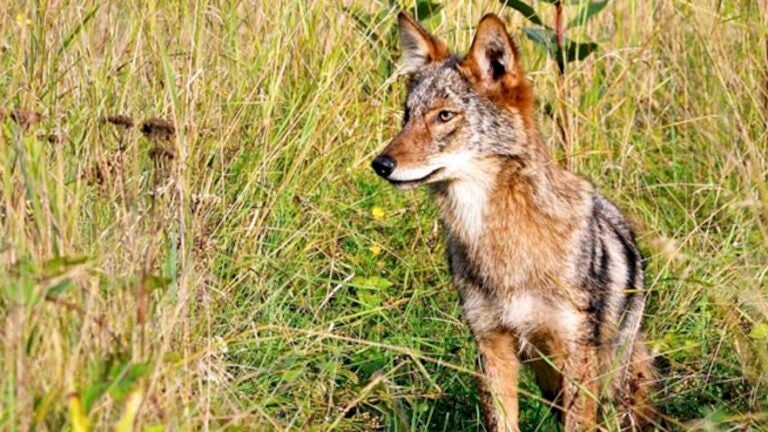 Urban coyotes prowling around Boston is a reality — from the North End to Back Bay to Brighton. Many of the large animals are born and raised right here in the city, according to MassWildlife.
A coyote was seen trotting around in the North End in Boston last week, local TV stations reported. There were also two coyotes spotted earlier this month in Brighton.
A local dog owner told WHDH she saw the animal near Snow Hill and Sheafe streets in the North End. That intersection abuts DeFilippo Playground and RUFF North End Dog Park.
Stay safe by 'hazing' coyotes
Dave Wattles, black bear and furbearer project lead and biologist with the state's Division of Fisheries and Wildlife, or MassWildlife, said residents must "haze" coyotes to push them away from people as the best way to prevent pet attacks and coyote sightings.
If a coyote is nearby in a yard or on the street, people should move toward the animal and make loud noises by yelling or using a whistle or air horn, he said. Throwing small objects like tennis balls or small pebbles will also help chase the coyote away.
"They're used to the sights and sounds of a modern city, the people, the cars, the people walking their dogs, just everything going on, so that's why they're comfortable," Wattles said. "If we don't want them to be that comfortable, we have to be aggressive towards them."
The visible coyote population increases in the fall, but the number of sightings come back down to normal throughout the winter, Wattles said. This time of the year, pups born in the spring are almost fully grown but still hanging around where they were born.
"That's not a permanent situation," Wattles said. "Most of those pups are going to disperse from the family group, basically, starting over the last couple of months and then continue until you'll go back to that core of four or five, six animals."
He said these Boston-native coyotes are so used to people that hazing is as important as ever. Coyotes are attracted to human-associated food sources in the city, including bird feeders, garbage, and compost or pet food, but humans can establish their own territory.
"When people are just sitting there taking a video that's, in our opinion, a missed opportunity to haze the coyote," Wattles said. "You're trying to alter their behavior by reminding them that they should be fearful people, and so that can just partially reduce the presence of coyotes and their comfort level around our homes in neighborhoods."
Coyotes found in the city are typically reported in Brighton, West Roxbury, Mattapan, near Franklin Park, or anywhere with a network of parks or large green spaces. Wattles said the North End is a bit more unusual.
Brighton residents who spotted some coyotes this month commented that the animals looked particularly large. But, Wattles said, most of their bulk can be attributed to their winter coat.
"In reality, coyotes are fairly slight dogs, and it's very, very rare to have one exceeding 50 pounds," he said.
Coyote conflicts can be avoided if food is stored properly, residents haze the animals, and pets are protected and stay near their owners. Wattles said pets are attacked by coyotes almost daily around the state, but due to state regulations protecting wildlife, coyotes most likely won't be removed from any environment.
"It's very rare that these animals are removed, which is why we try to really emphasize those three points, removing food sources, hazing, protecting pets," Wattles said, "and that can prevent 99 percent of the conflict that we do see with coyotes."
Newsletter Signup
Stay up to date on all the latest news from Boston.com