Local News
MSPCA takes in more than a dozen dumped bunnies
Fourteen domestic rabbits were found abandoned at Belle Isle Marsh Reservation in East Boston Sunday morning.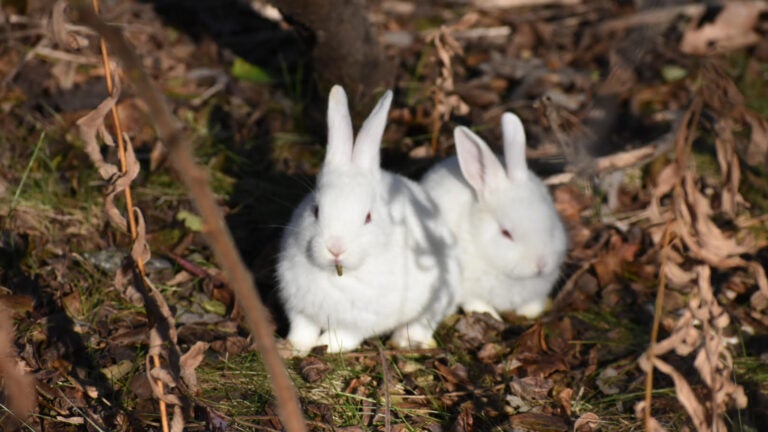 Fourteen domestic rabbits were found abandoned at Belle Isle Marsh Reservation in East Boston Sunday morning, and Boston Animal Care and Control is seeking the public's help to identify who dumped the pets.
The rabbits were found near a walking path by the parking lot at the reservation, where multiple bystanders found and helped collect the rabbits.
MSPCA-Angell took in the animals on Monday, according to Mike Keiley, the organization's director of adoptions centers and programs, as the city's shelter is not equipped to care for rabbits. Keiley said that among the fourteen rabbits, there appeared to be two generations of babies.
They will be up for adoption as soon as Tuesday.
Brighton resident Sarah Iwany was leading a bird walk with about a dozen other people when they came across the rabbits on the north side of the park. She said the bunnies were mostly albino, and a few were brown.
"It was immediately clear that they weren't wild rabbits," Iwany told Boston.com in an email. "The fact that they didn't flinch when a large group of people approached them made me certain they were domestic rabbits."
The friendly rabbits, currently at the MSPCA's Boston location, are doing well and appear to be in healthy condition.
"We're just getting them into our shelters, but from what we heard from animal control, they're all handleable," Keiley said. "They were a little scared and traumatized from that experience, as you can imagine."
Keiley said abandoning rabbits instead of surrendering them to the MSPCA or the Animal Rescue League puts them at risk. Domestic rabbits aren't camouflaged to survive against predators, he explained. Plus, they're fatter than the common cottontail rabbit, making them not as fast and agile as their wild counterparts.
"We would rather you go through the process of surrender than to abandon them outside and expect that they'd be able to survive," Keiley said. "When they have the opportunity to surrender versus abandoned, (the pet owner) made a bad choice, but luckily, they're no worse for wear. We were able to collect them quickly."
He said many owners incorrectly believe surrendering a pet will place them on a black list barring them from adopting again.
"We know that people have to make tough decisions to separate from their animals," Keiley said. "We don't judge people for that. If you need to surrender an animal to us, you will be met with kindness and understanding."
It is illegal to abandon pets in Massachusetts.
"Temperatures are dropping below freezing and Belle Isle Marsh is home to coyotes and multiple species of birds of prey," Iwany wrote. "I hope there is video surveillance and someone cares enough to find the person or people that abandoned pet rabbits in the wild."
Boston Animal Care and Control has asked anyone who has information on who may have abandoned the rabbits to email [email protected].
Newsletter Signup
Stay up to date on all the latest news from Boston.com