Local News
Revere mayoral race likely headed to recount
City Councilor Dan Rizzo is pursuing a recount after losing to Acting Mayor Patrick Keefe Jr. by more than 300 votes.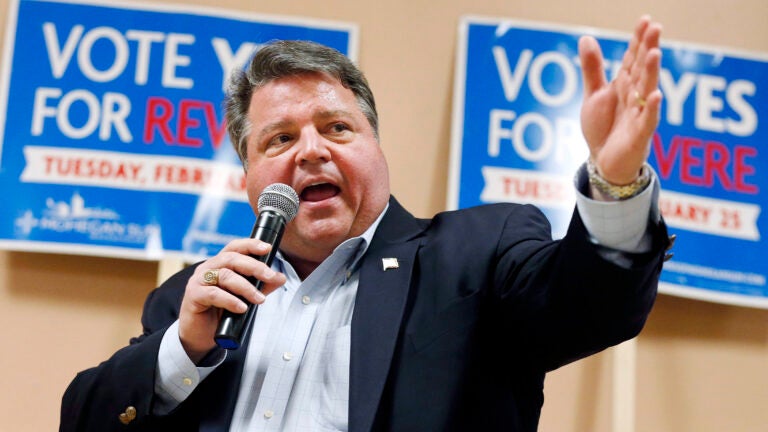 After a hard-fought mayoral election in Revere, a recount is all but certain to happen next month.
City Councilor Dan Rizzo, who lost the Nov. 7 election by a few hundred votes to Acting Mayor Patrick Keefe Jr., said last Thursday that he would be pursuing a recount. Rizzo previously served as mayor and filed for a recount after losing a close election in 2015.
"With early voting, mail in voting, and absentee voting, it is important to me and our committee that everyone that took advantage of these additional ways to vote, as opposed to on election day, had their votes counted. To everyone that voted for me, I want to thank you. Your vote is important and I plan on making sure that regardless of what the outcome may have been, your vote was accurately represented," Rizzo said in a statement last week.
In order to request a recount, Rizzo and his team were required to gather at least 10 signatures from voters in each of Revere's six wards. They were successful, Revere Election Commissioner Paul Fahey said Monday.
Those signatures and a recount are set to be the subject of a Board of Election Commissioners meeting Monday night. Fahey said he expects the recount to be approved, and that it will likely take place on Dec. 2.
"It is truly disheartening, that after having conceded, my opponent has made the decision to pursue an unnecessary and costly recount of an election he lost," Keefe said in a statement Friday. "Disheartening, but not surprising. Not surprising because this is not the first time Mr. Rizzo has taken such a step. In fact he seems to regularly question the integrity of any election he does not win."
Rizzo conceded to Brian Arrigo after a recount confirmed that he had lost the 2015 mayoral election by 108 votes. The initial election results showed that he had lost by 118 votes.
Earlier this month, Keefe bested Rizzo by garnering 4,932 votes, compared to Rizzo's 4,565, according to the city's final election results.
"This is far from his first recount rodeo. However, this is by far the widest margin of defeat, several hundred votes, he is requesting recount of," Keefe said.
Arrigo served as mayor until this year, when he was tapped by Gov. Maura Healey to lead the Department of Conservation and Recreation.
Keefe has been serving as active mayor since then, and touted that experience when he debated Rizzo earlier this month. He accused Rizzo of using his time as mayor to prioritize bringing casinos to Revere above all else, The Revere Journal reported. The two clashed over a variety of topics, from the location of a new high school to public safety and residential development.
In responding to Rizzo filing for a recount, Keefe said he supports early voting and vote-by-mail. No questions were raised during the campaign about how the city was handling early voting, Keefe said in his statement, and representatives from both campaigns monitored the process.
Keefe accused Rizzo supporters of harassing voters.
"Regrettably, during this period, supporters and observers from my opponent's camp found it necessary to harass any voter who didn't look or sound like them. Rizzo's campaign found it necessary to throw racially charged accusations at these voters, but found no reason to actually file a claim with the election's officials present," he said.
Keefe's team is already moving ahead with inauguration plans, he said.
"Regrettably, my opponent has yet to grasp the art of losing with dignity and our city is left bearing the consequences of his fragile ego," Keefe said in his statement.
Newsletter Signup
Stay up to date on all the latest news from Boston.com