Media
Curt Schilling shares anti-transgender rights meme on Facebook, defends doing so in lengthy blog post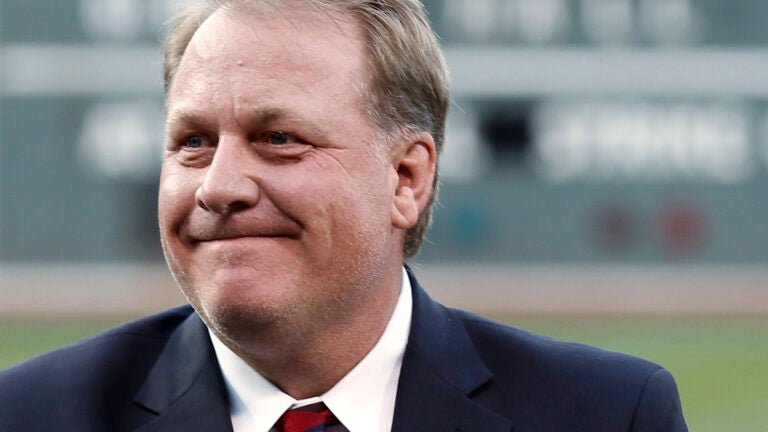 Once again, Curt Schilling is on the defensive over his social media behavior.
The former Red Sox pitcher and "for-now-anyway" ESPN analyst shared a controversial meme Monday on Facebook commenting on access to public accommodations for transgender people.
A screenshot of the since-deleted post was caught Tuesday by Twitter user Brandon Benson.
The meme shows a man with a long wig, cut-out shirt, and stockings with the text: "Let him in! To the restroom with your daughter or else you're a narrow minded, judgmental, unloving, racist bigot who needs to die!!!"
An ESPN spokesman told Boston.com in a statement Tuesday evening, "We are taking this matter very seriously and are in the process of reviewing it."
SBNation's LGBT sports blog Outsports also captured a screenshot of a comment from Schilling, in which he elaborated specifically about his views on access to restrooms.
Jay Brown, the director of research and public education for the Human Rights Campaign, told Boston.com that Schilling's "public and derogatory attack on transgender people was extremely troubling."
"Transgender people aren't mean-spirited memes," Brown said. "We are your neighbors, co-workers, your family — and yes, even baseball fans. And particularly when transgender women are the target of such high levels of physical violence simply because of who they are, this kind of ugly propaganda is not just wrong, it's dangerous."
Schilling's name was trending nationally on Twitter by Tuesday evening, and the reviews were not positive. But the Medfield resident's post touched on a pertinent local transgender rights issue as well.
Both the Massachusetts House and Senate are considering legislation that would ban discrimination against transgender people in public places, such as restaurants, malls, and restrooms.
Both versions of the Massachusetts transgender bill state that any public accommodation that lawfully segregates access based on a person's sex "shall grant all persons admission…consistent with the person's gender identity."
The legislation is expected to be introduced for debate in both chambers sometime in May.
After arguing with offended Twitter users through Tuesday afternoon and evening, Schilling defended himself in a post on his personal blog titled "The hunt to be offended…"
"Let's make one thing clear right up front," he wrote. "If you get offended by ANYTHING in this post, that's your fault, all yours."
After re-litigating last August's controversy, in which Schilling was suspended from ESPN over a post problematically comparing the percentage of Islamic extremists and German Nazis in 1940, Schilling reiterated that he was not responsible for the photo in the post he shared.
"This latest brew ha ha is beyond hilarious," he wrote. "I didn't post that ugly looking picture. I made a comment about the basic functionality of mens and womens restrooms, period."
From Schilling's 841-word post:
You know how I know you 'offended' people are full of crap? Because I'm not even close to any of the things you so desperately want me to be, so you can whine.

I'm loud, I talk too much, I think I know more than I do, those and a billion other issues I know I have. Like everyone one of you I have flaws, but I'm ok with my flaws, they're what make me, me. I thank the Lord for the life I've been given. A life interspersed and occupied by men and women who are gay, by people of all races and religions, by men and women who dress as the other, by men and women who've changed to women and men. Not one decision I've ever made about a person has anything to do with those things I just mentioned, nor will it ever.

You frauds out there ranting and screaming about my 'opinions' (even if it isn't) and comments are screaming for "tolerance" and "acceptance" while you refuse to do and be either.

YOU'RE the ones making it the issue. I don't care, if you ask me about any of the topics it's likely (much to the chagrin of many) I'll answer with my opinion.
ESPN issued a memo in January asking employees to avoid political commentary, given the heated 2016 election season.
Schilling, who continues to post politically charged commentary on his social media feeds and opine about current presidential candidates, recently told a radio station that the publicly available memo went in his email's spam folder.