Media
Next stop, public radio: How the Voice of the MBTA's career is coming full circle
After announcing T stations for years, Frank Oglesby has found work at a different sort of station.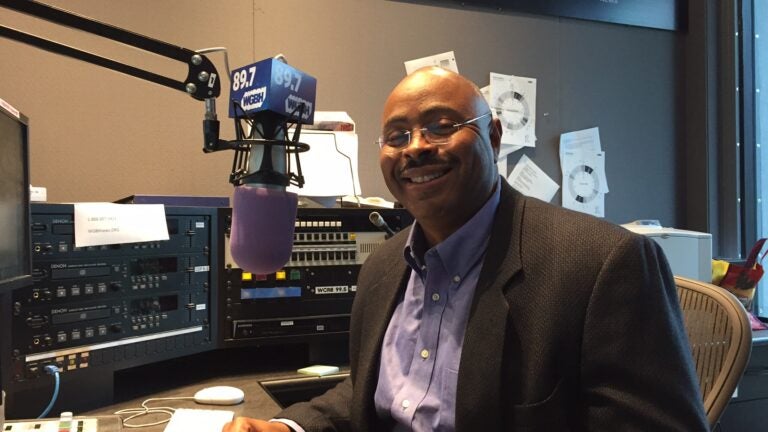 In the summer of 1984, Frank Oglesby was closing in on a job that not only would have changed his path in life, but also the soundtrack of Boston's public transportation for decades.
Oglesby, then just a 22-year-old UMass Amherst graduate from Newton, was applying for a morning disc jockey job at Boston's local WGBH radio station.
"It looked promising," he recalled. "I thought I had it."
But during the final interview, Oglesby mentioned he was applying for a job as a proofreader in the MBTA general manager's office. He assured his interviewer the two positions would not conflict.
"I never heard back," he said of the WGBH job.
Oglesby went on to take the job at the MBTA, where after winding up the ranks and narrating Bostonian's commutes for more than two decades, he became known as the "Voice of the MBTA."
Now, Oglesby is putting his deep, smooth vocal chords to work in public radio, back at the station that spurned him 32 years ago. Don't worry though; there's no hard feelings.
"I couldn't have asked for a better situation," Oglesby said.
After recording the MBTA's automated subway and bus announcements since 1994, it was a station this summer now approaching him.
Following his retirement in July from the MBTA, where he most recently oversaw paratransit contracts, Oglesby, now 54, said WGBH reached out after he did an interview with the station. In his new capacity, Oglesby is doing a diverse array of spots, from station identification, to show descriptions, to even the audio that is played when someone curses on air.
"It shows a lot more personality than the typical T stuff I've done," he said.
Oglesby says he heard from a lot of people who thought his MBTA recordings were computer-generated, because of how straight he was directed to do it.
"Anytime I tried to be a little colorful, it was like, 'No, we want you to sound like a train announcer'—'The next Orange Line train to Oak Grove is now approaching,'" he said transitioning into his mock MBTA voice.
That isn't to say he has anything bad to say about working for the MBTA, which will continue to use his recordings going forward. In fact, Oglesby raves about the agency, for which his dad worked as a bus driver for 35 years. Oglesby said the agency's chief administrator, Brian Shortsleeve, told him at his retirement they hoped to bring him back in if they needed any new recordings.
In additional to making a career in public service, Oglesby fondly recalls the side perks of being the so-called Voice of the MBTA.
Occasionally, he says people recognized him with delight in public, based off his voice, sometimes even while his recordings were ringing out above. And for about two years, all his drinks from a local Starbucks were free.
"Other people would be waiting in line and [the baristas] would go, 'Oh Frank? Raspberry Mocha? It's coming,'" he said. "And the other people in line would just look at me like, 'What's up with that?'"
"I gained like 15 pounds during the time," he reminisced, laughing. "It was terrible."
In addition to his new job at WGBH, Oglesby said he has pursued other freelance voiceover work, including as the emcee at last summer's Conference of Minority Transportation Officials, which he calls more of a "labor of love."
"From a very early age, I heard that I had a great voice," he said. As an intern out of college at  WCVB in the 1980s, he says he was both encouraged and warned about pursuing a career in the niche industry.
Oglesby said he received advice to always have an "anchor" while seeking voiceover work. Now in retirement, he has a lot more freedom to seek out the career in media that was his original dream.
"The way I see it now, my anchor is my pension from the T, and I'm at liberty to try to strike out and see what's out there."