Media
Maine newspaper 'mortified' by front-page typo of Trump's North Korea threat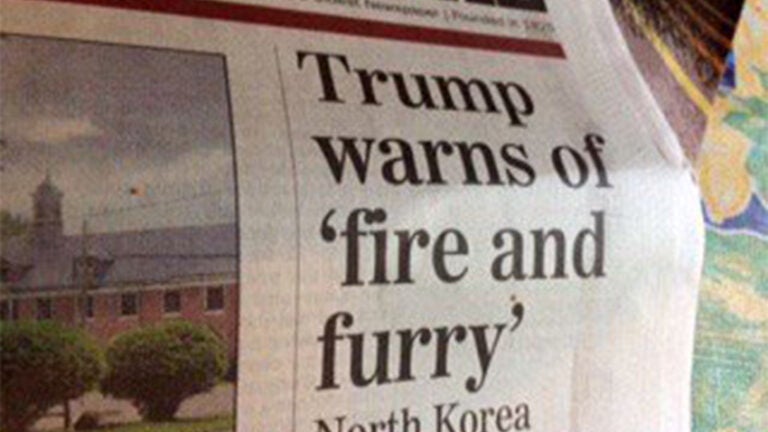 There isn't a newspaper in the world that hasn't at some point printed a typo, but the Kennebec Journal's front-page mistake Wednesday generated a few more responses than most.
The Augusta, Maine-based paper ran an Associated Press story on President Donald Trump's explosive warning Tuesday to North Korea. However, the Journal's front-page headline mistakenly added an extra letter to Trump's missive.
Fire and "furry"? If only.
In a statement provided Thursday, Journal city editor Susan Cover said the paper was "mortified by the error."
"Our normally rigorous headline-proofing protocols broke down," the statement said. "We're reviewing them now to prevent this from happening in the future."
The typo, of course, was noticed by more than a few readers. On social media, the responses ranged from jokes to commentary on the state of the print media industry (particularly in the age of copy desk cutbacks).
A concise argument for copy editors. pic.twitter.com/n6yuGkIqb3

— Naomi Schalit (@Naomi_Schalit) August 9, 2017
The copy editors at the Kennebec Journal have an innovative solution to the North Korea problem. pic.twitter.com/0UN3AINSRw

— Steve Robinson (@BigSteve207) August 9, 2017
— Susan Breen (@Susan_Breen_Art) August 9, 2017
If it's any consolation to the Journal, the idea of a war being between North Korea and United States waged with furry animals — rather than nuclear weapons — is a bit more comforting.