Media
What Boston Herald writers are saying about the sale of their newspaper
About a quarter of the paper's employees are expected to lose their jobs.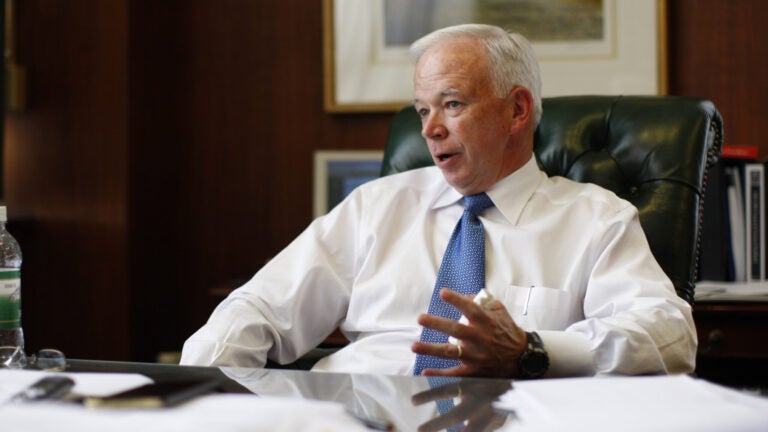 Boston Herald reporters and columnists reacted with mixed emotions to the news Friday that their paper filed for Chapter 11 bankruptcy and is being sold to Gatehouse Media.
Patrick Purcell, the Herald's publisher, wrote in a letter to his employees that the pending sale is the "best pathway forward" for financially struggling newspaper, which is the second-largest daily in Boston.
According to the terms of the sales, Herald employees will have to interview with Gatehouse for positions next month. About a quarter of the staff is expected to lose their jobs. The Herald will continue to publish a daily newspaper as it moves forward with its bankruptcy filing and sale, according to Purcell's letter.
Purcell announced the agreement to the Herald newsroom Friday afternoon in what reportedly was an emotional speech.
We're here at the Herald waiting for an announcement from our publisher. Reporters came back from assignment be here. pic.twitter.com/jOu36DyOeC

— Bob McGovern (@BobMcGovernJr) December 8, 2017
We received an email about this just before 2 pm. I asked if we were barred from covering, and didn't get a "no."

— Bob McGovern (@BobMcGovernJr) December 8, 2017
Staff photographers are set up ready to cover this. Sports reporters on the night shift just showed up.

— Bob McGovern (@BobMcGovernJr) December 8, 2017
The Herald has been sold to Gatehouse Media, per Pat Purcell

— Bob McGovern (@BobMcGovernJr) December 8, 2017
Purcell says Herald currently has 228 employees. GateHouse will keep 175

— Matt Stout (@MattPStout) December 8, 2017
Purcell: "They want to keep as many of you as possible."

— Bob McGovern (@BobMcGovernJr) December 8, 2017
The news is the Herald is declaring bankruptcy. We are being sold to Gatehouse barring another buyer who may offer more. Gatehouse has vowed to keep 175 of 228 jobs. Employees will re apply for jobs in January. There is no severance. There is no pension. Contract good until Feb.

— O'Ryan Johnson (@crimeboston) December 8, 2017
Red eyes in the newsroom. Hung heads.

— Bob McGovern (@BobMcGovernJr) December 8, 2017
Pat is crying

— O'Ryan Johnson (@crimeboston) December 8, 2017
In an interview with The Boston Globe, Purcell said he wanted to keep Boston a two-newspaper city as long as he could.
"Apparently this is as long as I could," he told the Globe.
In an impassioned article Saturday, Herald columnist Steve Buckley echoed the sentiment being expressed across the media industry since the news broke: Having more than one newspaper in a city benefits both outlets and their readers.
"Each newspaper makes every other newspaper stronger, hungrier … better," Buckley wrote.
"I write these words not just because I happen to work for the Herald — and would very much like to continue doing so — but also because I'm a longtime reader who thoroughly enjoys getting the daily rush of two competing dailies," he wrote, later adding that the city needs more voices "now more than ever."
Many writers and editors thanked fellow employees and readers expressing support. Others simply expressed gratitude for the experience of working at the paper.
It is my privilege to wake up & go to work at a newspaper every day, a place where the job is to tell the truth – & to tell it w/ heart intelligence wit & courage. But it's an absolute honor to have as my team the whip-smart tough-as-nails non-stop news reporters of @bostonherald

— Jen Miller (@jenbmiller) December 8, 2017
I'm at a loss except to say thank you, Kimberly. So humbled and so proud. https://t.co/w8i2ItCW64

— Joe Sciacca (@BHsciacca) December 9, 2017
The @BostonHerald taught me how to be a political reporter. Over the course of 13 years I have been honored the have a byline among the hardest working journos I know, and to write for a publication that really knows and loves the City of Boston. I'm a proud Herald staffer.

— Kimberly Atkins (@KimberlyEAtkins) December 8, 2017
I started working at the Herald my junior year of college as an intern, then an editorial assistant answering phones and writing obits, and have never worked in another newsroom. This place has made me the reporter I am, and I will always be proud of this place and its people

— Jordan Graham (@jordanmgraham) December 8, 2017
Regardless of what the future holds I'm grateful to have worked for a great Publisher, outstanding boss @BHsciacca top notch editors, colleagues & @HeraldRadio team. Very proud of our work product & relentless work ethic. @bostonherald #mapoli https://t.co/ojnJIXMGwv

— Adriana Cohen (@AdrianaCohen16) December 9, 2017
Thanks to everyone for their kind words and support. I don't plan on going anywhere and we will continue to do our best to provide the best possible HS coverage we can. #BostonHeraldStrong ?

— Danny Ventura (@BostonHeraldHS) December 8, 2017
Despite the news of an uncertain future, some reporters defiantly vowed to push forward with their work.
Announcement is over. Back to work. We have a goddamned good paper to put out tomorrow.

— Bob McGovern (@BobMcGovernJr) December 8, 2017
Have a good weekend. pic.twitter.com/cwDNXNNgc9

— Bob McGovern (@BobMcGovernJr) December 8, 2017
https://twitter.com/jeffphowe/status/939297121307643905