Media
A Massachusetts newspaper editor says he was fired for advocating pay equity for female employees
The paper's publisher says that's not the case.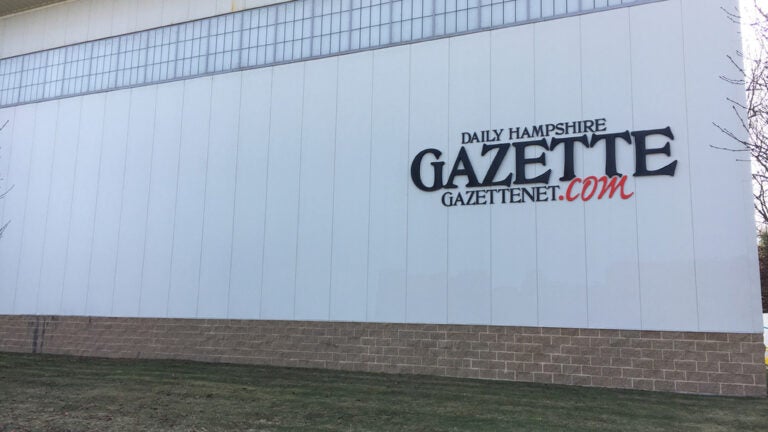 Jeff Good, the executive editor of the Northampton-based Daily Hampshire Gazette and Pulitzer Prize winner, sent an email to his co-workers at the paper Wednesday morning to tell them he had been fired.
The reason? According to Good, he had been advocating for "transparency and fair pay" for a number of female co-workers at the Gazette and other local publications owned by its parent company, Newspapers of New England. The paper's publisher disputes this account.
A screenshot of his email was posted on Twitter by a former Gazette employee.
Reposting a previous tweet: The executive editor of my former paper was fired today and in an all-staff email said it was for advocating for equal pay and transparency pic.twitter.com/p3NnERjmwF

— Miranda Davis (@mirandardavis) January 31, 2018
Good said in his email that three female Gazette journalists — Lisa Spear, Sarah Crosby, and Emily Cutts — came to him "in recent months" with complaints about the gender pay discrepancy at the non-union paper, for which he took partial blame.
"I (and my boss) failed to see the gap developing as we hired some male reporters at higher-than-existing rates based on their previous salaries or competing job offers," he said. "I appreciated the women pointing out the disparity and felt honor-bound to address it as quickly as possible."
In addition, Good said, he also asked for "greater transparency from management in how compensation decisions are made." Good says that Michael Rifanburg, the publisher of the Gazette, was initially supportive and granted some pay raises, but became "resentful and resistant" as he continued to push the subject — specifically rejecting the idea of holding a staff meeting on the subject.
Good said Rifanburg "berated" him for "being led" by his employees, rather than being a "leader," and referred to Spear, Crosby, and Cutts as "girls" and "selfish young ladies."
"I reject those demeaning terms," Good said. "Instead, I would call our colleagues brave young women."
Good said he was proud of the work the Gazette had done since he began there in 2014 and is leaving the paper with his "head held high." According to the Gazette, he also served as executive editor of the Greenfield Record, Valley Advocate, Amherst Bulletin, and the newly acquired Athol Daily News.
Asked about Good's email, Rifanburg provided a statement refuting the editor's account of his firing and the Gazette's pay discrepancy review process. According to Rifanburg, the company had been working to review and address pay differences since 2016, well before Good said he received the recent complaints.
"We started and took these measures before Mr. Good was involved, and we will continue with these important analyses after Mr. Good's
departure," the publisher said. "We started this review, not Mr. Good."
Rifanburg said he would not discuss personnel matters, but added, "Mr. Good's transition is in no way due to his participation in the Gazette's ongoing efforts to address pay equity issues."
"Please be assured that we commend any employee for voicing concerns about pay equity in the workplace and for suggesting ways in which pay structures can be improved or made more transparent," he said. "We greatly appreciate and look forward to continuing to work with the reporters Jeff referred to in his email, who have been very helpful in this process."
In a phone interview with the Gazette, Good reiterated what he wrote in his email.
"I was fired without cause," he said. "The only reason was this."
The account of Good's firing was also picked up by Poynter, upon which two former longtime female editors at the Gazette reached out to the organization to dispute Good's self-portrayal.
"Jeff is not the hero he makes himself out to be," former managing editor Laurie Loisel told Poytner, adding that Good has marginalized women. Kathleen Mellon, the Gazette's former arts editor, said Good had run her and others out of the paper.
Good told Poytner he respectfully disagreed with those characterizations, but did not engage them.
"I see no merit in debating them. They are entitled to their opinions." he said, adding that he wouldn't discuss personnel matters involving former employees.
In a statement to Poynter, Spear, Crosby, and Cutts said that their journalistic mission to ask tough questions and seek truth is not limited to outside their newsroom doors.
"Pay parity is a complicated and important issue and we look forward to continuing the conversation," they said.