Media
'How racist is Boston?': 'The Daily Show' is the latest to ask the question
The Boston Globe's Spotlight Team also had a cameo in the segment.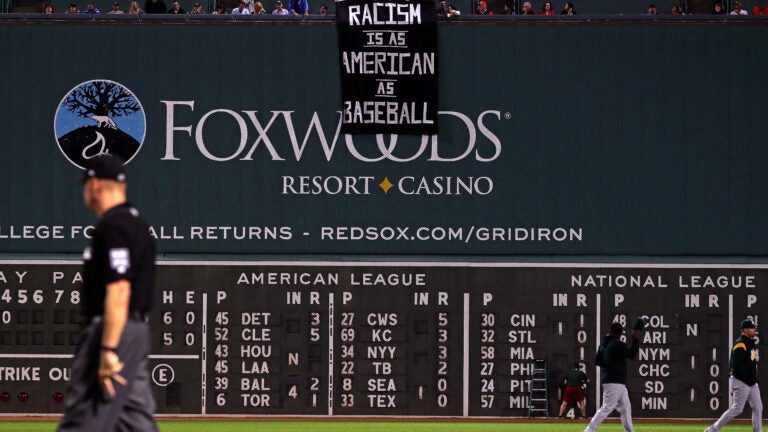 Nearly a year to the day that an anti-racism banner was unfurled over the Green Monster by fans inside Fenway Park, the subject of Boston's racist reputation is getting national attention. And (once again) it's being done with more than a slight touch of comedy.
In a segment that aired Wednesday night, "The Daily Show with Trevor Noah" sent correspondent Roy Wood Jr. to Fenway Park and The Boston Globe offices to prod the question, "How racist is Boston?"
The piece, which was filmed back in June, began by revisiting the the Red Sox' history of racism, the desegregation of the city's schools in the 1970s, and even the reports last year of fans at Fenway Park using racial slurs. Wood asked the Globe's Spotlight Team about it's recent series on racism in Boston and how much Boston deserved the reputation.
Globe reporter Akilah Johnson explained that "racism is more than just attitudes," noting the incredible disparity between white and black families' median net worth. A 2015 report found that household median net worth was $247,500 for whites — and just $8 for blacks. To paraphrase the Globe, no, that's not a typo.
"That's not even a grande soy latte," Wood exclaimed, as he took a sip out of a (venti-sized) Starbucks cup.
Wood then noted that the $8 figure also wasn't enough for a Subway foot-long sub or a box of a dozen Dunkin' Donuts doughnuts, both of which he began eating during the interview.
"I'm sorry, I eat when I get sad — about social inequality," he said.
Wood went on to document a number of metrics illustrating institutional racial inequality in Boston, from schools to corporate boardrooms to hospitals. He traveled to the streets outside Fenway Park to ask a number of (white) fans if they felt the weight of that structural racism. But one after another, they said no. One woman even agreed with Wood's facetious suggestion that th reputation was created by other cities jealous of Boston's success in professional sports.
"Yes, they love to hate us," she said.
"I don't feel like it's racist," said another white fan. "I've just never encountered it."
Wood realized he might not be asking the right people.
"If you want to know if Jurassic Park is safe, you don't ask the dinosaurs," he said.
Tanisha Sullivan, the president of the Boston NAACP, explained that "it's difficult for people who don't experience it on a day-to-day basis to realize that it's there." In interviews with black residents who said the Spotlight series on racism affirmed what they already felt, Wood concluded it would be hard for people to fix "a problem you can't see." He looked to sports as a unifier, and returned to the streets outside Fenway in the costume of a newly created mascot, "Wokey the Walrus," to rally fans around increased awareness of racial injustice.
"Who's got the best baseball?" he asked in a call-and-response to a group of (again, white) fans.
"Boston!" they responded.
"Who's got the best football?"
"Boston!"
"Who's number one in creating a system where, structurally, black people don't always get the same opportunities?"
That last question was met with a number of blank stares, though one woman did enthusiastically again cheer, "Boston!"
"See Boston, it feels good to be honest," Wood said. "Fighting structural racism is going to be exhausting, but, if white people are willing to put in the leg work, we'll get there."