Media
Fox News releases statement on Sean Hannity's appearance at a Trump rally
Sean Hannity and Jeanine Pirro spoke at President Donald Trump's campaign rally in Missouri on Monday night.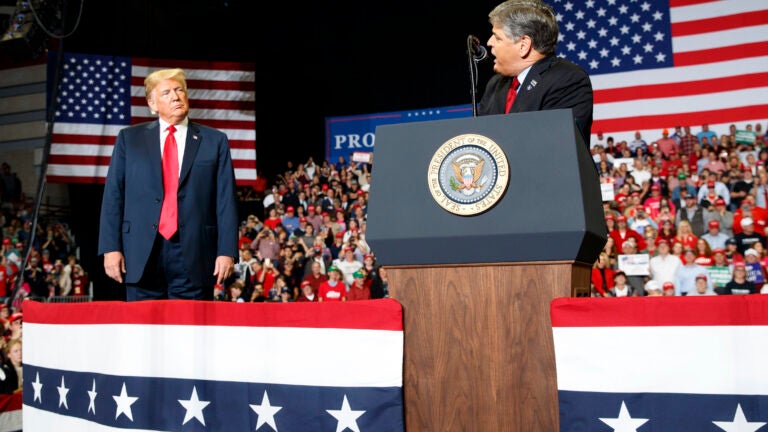 NEW YORK (AP) — Fox News said Tuesday that it has addressed the ''unfortunate distraction'' of Sean Hannity and Jeanine Pirro speaking at President Trump's campaign rally in Missouri the night before, and that it doesn't condone such behavior.
The network did not say what, if any, discipline that the two network personalities would face.
Statement from Fox News spokesperson re Sean Hannity and Judge Jeanine appearing on stage at Trump's rally last night: pic.twitter.com/TLqAbXaONB

— Yashar Ali ? (@yashar) November 6, 2018
Meanwhile, Hannity tweeted on Tuesday that he was being ''100 percent truthful'' earlier on Monday when he tweeted that ''I will not be on stage campaigning with the president.''
''When the POTUS invited me on stage to give a few remarks last night, I was surprised, yet honored by the president's request,'' Hannity tweeted. ''This was NOT planned.''
Hannity, who told the audience at Trump's rally that ''all these people in the back are fake news,'' also tweeted Tuesday that he was not referring to any of his Fox News colleagues. Fox reporter Kristin Fisher, who tweeted a copy of Fox's statement on Tuesday, was covering the rally.
It's considered standard for employees of news organizations not to engage in political campaign activities so their outlets do not appear unfair; some journalists go so far as to not vote at all for this reason. Fox News resisted Monday when the Trump campaign had advertised to its followers that Hannity would appear as a ''special guest'' at the Missouri rally, saying Hannity was only there to cover the event.
Hannity, cable news' most popular personality and a vocal Trump defender, has twice been publicly rebuked by Fox for campaign activity. Hannity was made to cancel a 2010 appearance in Cincinnati when it was revealed he was participating in a fundraiser for the Tea Party. When he was featured in a 2016 Trump campaign video, Fox told him to never do it again.
Since then, Fox opinion personalities have doubled down on their support of Trump. Already No. 1 in the cable news ratings, Fox has had a strong fall with the campaign and hearings for Supreme Court Justice Brett Kavanaugh, with Hannity leading the way.
Critics have claimed that Fox News Channel is less of a news organization than an arm of the Trump campaign, and Monday's rally gave them fresh ammunition. In the past, Hannity has said that he's a talk show host, not a journalist. But in an interview with The New York Times a year ago, he said he was a journalist, more specifically an advocacy or opinion journalist.
Hannity broadcast his show from the site of the rally Monday, where he exhorted viewers to vote Republican and echoed a Trump campaign theme seen on banners: ''Promises made, promises kept.'' He spoke briefly on camera with Trump at the end of the show.
When it was done, White House Communications director Bill Shine, a former Fox News Channel executive, high-fived Hannity, according to the White House pool report.
Trump called Hannity to the stage after praising Fox, saying, ''they're very special, they've done an incredible job for us. They've been with us from the beginning.'' Hannity hugged Trump and, after lobbing his crowd-pleasing insult at the media, recited economic statistics. Pirro, a former New York state attorney general who has a weekend show on Fox, spoke after him.
Their speeches weren't televised on Fox News, but were seen on C-SPAN.
Hannity's appearance meant either Fox lied Monday about its collaboration with the Trump campaign, or that it has no control over Hannity, said Angelo Carusone, president of the liberal think tank Media Matters for America, which has unsuccessfully called for an advertiser boycott of Hannity's show in the past.
''Fox's admitted lack of control is only reinforced by the absence of sanction here,'' Carusone said. ''Anyone doing business with Fox News should worry about the network's inability to enforce even the most bare minimum standards.''
It's not clear, however, whether Hannity was sanctioned or not. Fox has not addressed the question publicly.
Some surprised journalists at other news organizations didn't hesitate to make their feelings known on social media. ''The White House-Fox News nexus has rarely been as evident as tonight in Cape Girardeau,'' said Philip Rucker, White House bureau chief at The Washington Post, on Twitter.
White House reporter Maggie Haberman of The New York Times tweeted: ''Still can't get over Hannity denying he would be on stage the whole day, getting brought up by Trump, and then pointing to actual news reporters and calling them fake.''
Alisyn Camerota, a former Fox News anchor who now hosts a morning show on CNN, said executives at Fox ''know vaguely'' that they're not supposed to have one of their hosts endorse a candidate or party, but that Hannity can't help himself.
''They're having a schizophrenic moment over there trying to figure out what their role is going to be with the Trump presidency,'' Camerota said on CNN.
___
White House correspondent Jonathan Lemire contributed to this report.