Media
Stephen King complained about his local paper's cutbacks. They responded with a challenge.
"Don't sign a petition. Buy a subscription."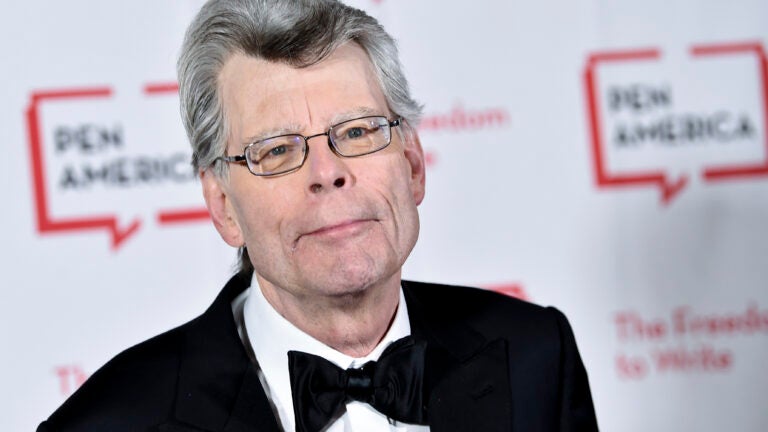 These are not the easiest times for the print news industry.
Across the county, newspapers are grappling to deal with drastic declines in circulation and revenue. The Portland Press Herald is no exception.
"Unfortunately,  the economic forces are not in our favor, revenue is down and we need to make expense cuts," executive editor Cliff Schechtman told Boston.com
The Press Herald recently decided to trim back reviews of local authors in the Books page of its Sunday edition, the Maine Sunday Telegram. Schechtman noted that the entire Sunday Books page was not getting cut — only paid freelance reviews.
Still, the decision did not go over well with many readers, including one Stephen King. The prolific author and Bangor native took to Twitter Friday afternoon asking his more than 5 million followers to retweet in  protest of the cuts.
The Portland Press Herald/Maine Sunday Telegram will no longer publish local, freelance-written reviews of books about Maine, set in Maine, or written by Maine authors.
Retweet this if you're from Maine (or even if you're not). Tell the paper DON'T DO THIS.

— Stephen King (@StephenKing) January 11, 2019
King said argued the local reviews were vital to give lesser-known Maine writers a "boost."
"Many of them depend on those reviews to buy bread and milk," he wrote in a follow-up tweet.
However, as they watched King's post garner thousands of retweets, the Press Herald figured they could use his influence for more meaningful action. In a reply to the author, the paper offered to reinstate the local reviews "immediately" — if he could get 100 people to buy digital subscriptions with the promo code "KING."
"Stephen King sent me!" reads the special subscription page.
Schechtman says the 100 new digital subscriptions (which starts at $15 for three months) would cover the expenses of bringing back the freelance reviews.
These are challenging times for newspapers. But here's an offer: If you can get 100 of your followers to buy digital subscriptions to the @PressHerald, we will reinstate the local book reviews immediately. Use the promo code KING. Deal? https://t.co/5eoqjQ2psV

— Portland Press Herald (@PressHerald) January 11, 2019
King did not immediately respond, but his followers quickly jumped on the deal.
From current and former Maine residents to New York Times reporters, a stream of followers responded on Twitter that they were subscribing. According to Schechtman, about three dozen new readers had signed up for subscriptions within a few hours.
I've been meaning to resubscribe for months and this did it! https://t.co/fdKKM55f5F

— amanda persichilli (@amepersichilli) January 11, 2019
Former journalist turned to the dark side, now happily subbed to the PPH. Local papers matter!

— Matthew McWilliams (@mcwilliamslu) January 12, 2019
I did it. I hope some of you will consider it too. https://t.co/nFIuT4xN0T

— C.B. Bernard (@cbbernard) January 12, 2019
I'm a Maine native studying at @UNCMJschool. Maine's incredible local news coverage has always inspired me. I would never have the guts to follow my dreams if I didn't grow up reading work by other Mainers. Subscribed! ✅

— Samantha Jeanne Perry (@samjeanneperry) January 12, 2019
Not from Maine, but I am for Maine & the Press Herald! Me and all my 2 followers ? It's about the time of year to renew/update digital subscriptions, please consider supporting local news organizations! https://t.co/e6qvYp7ARk

— Joey Brookhart (@jrbchunklight) January 12, 2019
New digital subscriber in Texas. ?

— csckirk (@csckirk) January 12, 2019
Several local journalists pointed out that purchasing a subscription would have a far bigger impact on the nature of Press Herald's coverage than simply protesting the cuts online.
"Don't sign a petition. Buy a subscription," wrote one Press Herald reporter.
By early Saturday morning, they had reached more than 70.
As of first light we had 71 new subscribers and we want to welcome them all! 29 more to our goal. To sweeten the deal, if you follow us here you also get:

Wallbagel updates
Limericks
90s hip hop references

Code King for online/Carrie Sunday printhttps://t.co/5eoqjQ2psV pic.twitter.com/2oxrz2u1Re

— Portland Press Herald (@PressHerald) January 12, 2019
And by 11 a.m., the paper hit their 100-subscription goal, which they announced in tweet thanking readers (and, in characteristic Press Herald Twitter account fashion, including a GIF). Schechtman says the local reviews will return next Sunday.
"Book reviews will return," the paper wrote in its tweet Saturday. "We love you Maine. We love you journalists. We love you newspapers."
https://twitter.com/PressHerald/status/1084118214181830659