Media
WBZ meteorologist Danielle Niles is leaving the station to be a stay-at-home mom
Niles, who is married to another local morning meteorologist, is hoping the change will be less exhausting for them.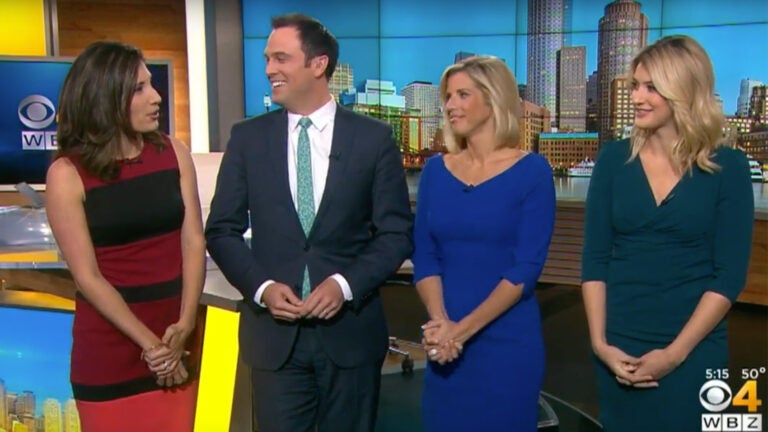 After almost exactly six years at WBZ, meteorologist Danielle Niles is leaving the station. And not only that, she's also leaving the industry.
Niles announced Tuesday morning that she's leaving WBZ at the end of the month to be a stay-at-home mom. The Weymouth native's last day on air will be Thursday.
"The early morning wake-up call is a lot," she said on WBZ-TV Morning News. "I want to be at home with my babies. … It's going to be a big change."
Niles made her first appearance on WBZ on Nov. 10, 2013, and officially became its weekday morning meteorologist in 2014. The UMass Lowell and Florida State University alum is leaving after more than a decade as a Boston-area morning news meteorologist; prior to joining WBZ, she spent five years as a weekday morning weatherperson for NECN. Niles said Tuesday that it was a "really hard decision," but one that she had "been considering for a couple years."
Niles has been married to fellow Massachusetts native and morning broadcast meteorologist Matt Noyes since 2015. The couple has two daughters, who are 1 and 2 years old, and Noyes also has an elementary school-aged son from a previous marriage.
Niles tweeted Tuesday that it was "great" having the same early morning schedule as her husband, who has been with NECN since 2002. However, with three young children, she said it has also increasingly brought challenges — particularly "two extremely exhausted parents." Niles has previously said that their daily schedule consisted of Noyes and her waking up at 1 a.m. and 2 a.m., respectively, and juggling work and child care on five to six hours of sleep each night. And that was before the birth of their second daughter last November.
"Thank you for being the most supportive husband a woman could ask for," she tweeted Tuesday, after Noyes congratulated her on the move. "I'm counting on us BOTH to be more rested now."
Publicly…all day…everyday baby! Thank you for being the most supportive husband a woman could ask for. I'm counting on us BOTH to be more rested now. 143, so so much. ? https://t.co/rNOXuwi6BU

— Danielle Niles (@DanielleWBZ4) October 29, 2019
That said, Niles promised that she wouldn't completely be leaving the public sphere, promising to continue chiming in about the weather — and bugging her former WBZ colleagues — on social media.
"I'm pretty much going to be up with the baby, anyways," she told them Tuesday. "I'll be blowing up your Snapchats."