Media
Boston Herald lays off columnists and reporters amid coronavirus outbreak
"My position has been eliminated, along with many others."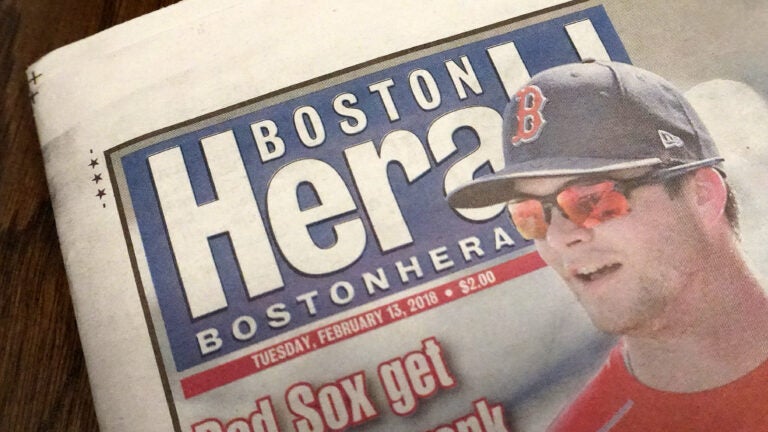 The already-shrinking Boston Herald is among the many newspapers feeling the toll of the coronavirus outbreak.
In the midst of the pandemic, at least a half dozen Herald employees said they were laid off Thursday, as the the paper's parent company reportedly moves to cut staff at outlets across the country. The layoffs at the Herald included columnists Jessica Heslam and Adriana Cohen, as well as longtime sportswriter John "Jocko" Connolly and Boston Bruins reporter Marisa Ingemi.
"A few minutes ago I was informed the Boston Herald is eliminating my position," Ingemi wrote on Twitter Thursday morning.
A few minutes ago I was informed the Boston Herald is eliminating my position.

Covering the Bruins was a dream come true. It's been the best experience of my life. It's really tough right now trying to think of not being a Bruins writer anymore.

Thanks for reading.

— Marisa Ingemi (@Marisa_Ingemi) April 2, 2020
According to another employee affected by the layoffs, at least three positions were cut in the Herald's sports department, which is now down to 10 staff members, as professional and college leagues remain suspended due to the virus. Ingemi's announcement was followed by news reporter Stefan Geller, who also tweeted that his position was cut, along with Heslam and Cohen later Thursday night.
"I want to let my loyal readers know that today was my last day at the Boston Herald," Cohen, the conservative commentator and Fox News pundit, tweeted.
The effects of the coronavirus outbreak have resulted in steep declines in advertising, which is a major source of revenue for most newspapers, as Heslam noted Thurday.
"I've always tried to bring compassion to the job and am so grateful for the countless people who have let me into their lives to share their stories, often in their most vulnerable and difficult moments," the longtime Herald news reporter and columnist wrote on Facebook. "But the coronavirus pandemic has impacted newspaper ad revenues and my position has been eliminated, along with many others."
Some personal news: (thread)

Today was tough. My Boston Herald career has come to an end.
I've had an incredible run for the past 20 years. For the past nine years, I've been a news columnist, a position I've been honored and proud to hold. I've always tried to bring … 1/3

— Jessica Heslam (@JessicaHeslam) April 3, 2020
Of course, the media industry is hardly the only sector that has been abruptly undercut by outbreak; a record 6.6 million Americans filed for unemployment benefits last week, as the economic effects of the public health crisis and subsequent social distancing efforts continue to widen.
However, outlets that are heavily reliant on advertising revenue have felt an immediate impact. And local papers across New England — already on unstable financial ground — have endured recent rounds of layoffs as a result.
"There is no doubt that the fallout will be broad and deep," Jim Friedlich, the executive director of the Lenfest Institute for Journalism, told The Boston Globe this week. "There will simply be fewer local newspapers, regional magazines, and local news websites standing three months from now than three months ago."
The layoffs come as MediaNews Group, a hedge fund-owned firm that bought the Herald out of bankruptcy in 2018, reportedly moved to cut costs across its portfolio of newspapers Thursday through layoffs, furloughs, and buyouts. In a memo to its Pennsylvania newspapers, the company cited the "impact of COVID-19 on business operations."
But even before the pandemic, MediaNews Group has had a reputation for draconian cost cutting. In the the first year after it acquired the Herald, the company cut the paper's staff from 240 to around 100 — and layoffs have only continued since then. It's unclear what the paper's headcount is now.
Kevin Corrado, the publisher for MediaNews Group's stable of Northeast papers, did not respond to requests for comment.
Chad Finn contributed to this report.