Media
After staff uproar, New York Times says Sen. Tom Cotton op-ed urging military incursion into U.S. cities 'did not meet our standards'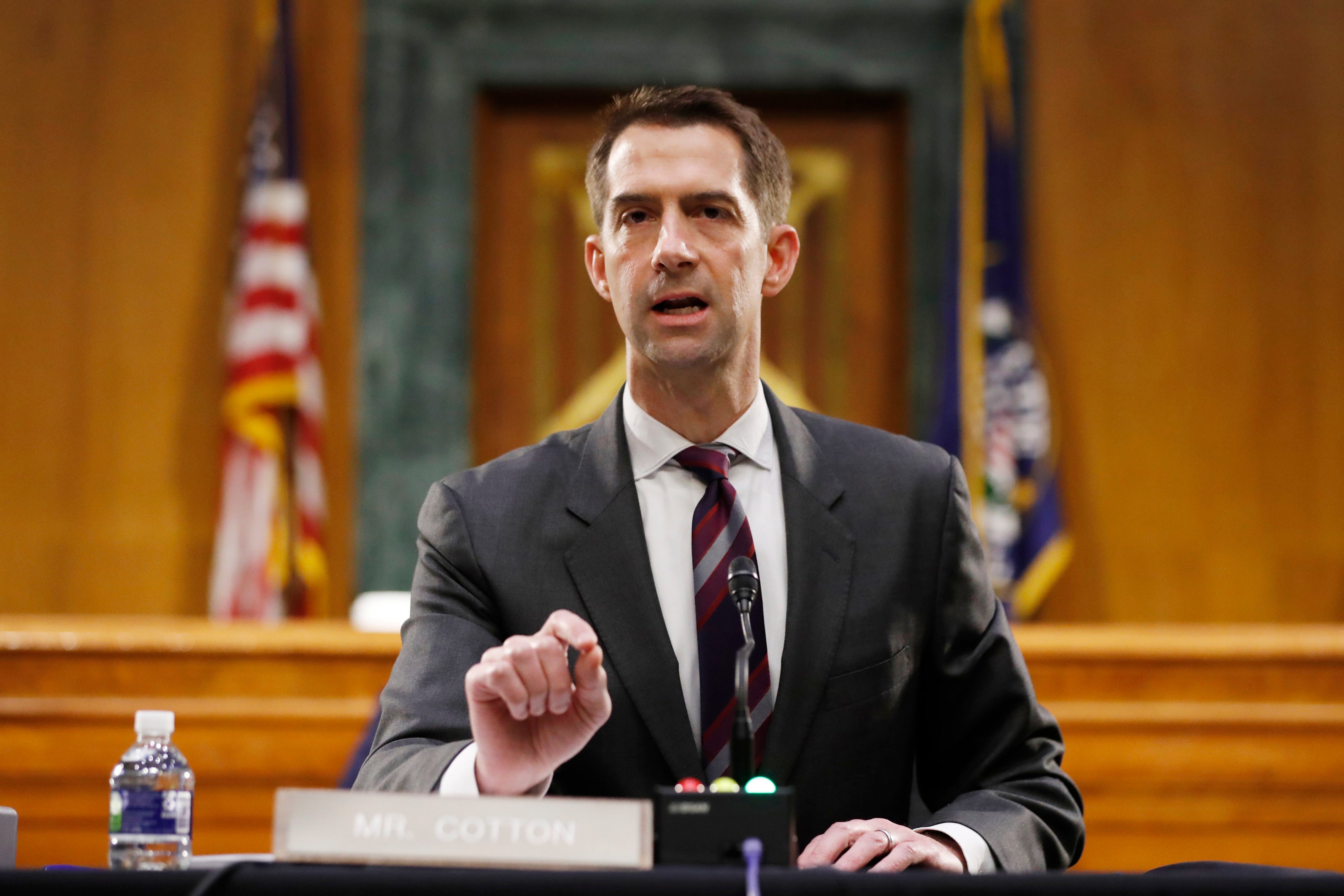 What began as an undercurrent of newsroom grumbling built into an unusual Twitter tidal wave of public outrage among journalists at the New York Times over their newspaper's decision to publish an opinion column by Sen. Tom Cotton, R-Ark., calling for military intervention in U.S. cities wracked by protests over police violence.
But after 24 hours of debate and acrimony – during which both the paper's publisher and editorial-page editor and publisher strongly defended the need to showcase diverse and controversial viewpoints – the paper late Thursday abruptly announced that Cotton's op-ed was the result of a "rushed editorial process" and "did not meet our standards."
The statement from a Times spokesperson and shared online by a Times staff writer did not apologize for the op-ed nor explain if it would be marked with a correction.
One by one, dozens of Times reporters, columnists and editors had rebuked the paper's editorial page Wednesday night for publishing the op-ed, in which Cotton of Arkansas stated that "rioters have plunged many American cities into anarchy" and that an "overwhelming show of force" is needed to "restore order to our streets."
Several staffers tweeted a message that became a kind of rallying cry: "Running this puts Black @nytimes staffers in danger."
The outcry reflected the tensions that have long existed between news and opinion sections of newspapers – separate and distinct staffs, run independently of each other while coexisting under the same brand. In less than 24 hours, both the Times publisher and editorial page editor wrote messages explaining and justifying the decision to publish Cotton's piece.
"I believe in the principle of openness to a range of opinions, even those we may disagree with, and this piece was published in that spirit," publisher A.G. Sulzberger wrote in a letter to staff Thursday morning.
But he acknowledged that many staffers had raised concerns about many aspects of the story and promised to hear them out "with an open mind."
James Bennet, who is often mentioned as a possible successor to Times executive editor Dean Baquet, wrote in a column that, "the public would be better equipped to push back if it heard the argument and had the chance to respond to the reasoning."
He added: "Readers who might be inclined to oppose Cotton's position need to be fully aware of it, and reckon with it, if they hope to defeat it."
The Cotton op-ed made several questionable assertions, such as that "leftwing radicals, like antifa, [have] infiltrated marches," and that "some elites" have condoned vandalism and looting. Cotton didn't identify any individual making such statements, nor offer any support that antifa – a vaguely defined group of radicals – had instigated violence. As one Times reporter pointed out, the antifa claim has been debunked in Times reporting as misinformation.
Opposition within the Times began shortly after the column was published late Wednesday. It was articulated subtly at first:
"As if it weren't already hard enough to be a black employee of the New York Times," tweeted Jazmine Hughes, an editor of the New York Times magazine just before evening.
But the staff reaction quickly turned more vitriolic. Tejal Rao, a restaurant columnist for the magazine, tweeted a screengrab of Cotton's headline ("Send In the Troops") with a an expletive, adding: "The nation must stop killing black people."
Running this put Black @nytimes staffers in danger. In solidarity with my colleagues who agree. pic.twitter.com/UfkZkE1xvj

— Jenna Wortham (@jennydeluxe) June 3, 2020
Supporting my colleagues, and particularly the black ones. if electeds want to make provocative arguments let them withstand the questions and context of a news story, not unvarnished and unchecked https://t.co/MwiD8BenzO

— Steadman™ (@AsteadWesley) June 4, 2020
Surreal and horrifying to wake up on the morning of June 4 – the 31st anniversary of the Tiananmen Square crackdown – to this headline. pic.twitter.com/vNtiFz3vqq

— Amy Qin (@amyyqin) June 4, 2020
President Donald Trump's talk of deploying troops has set off alarm bells for many, including retired senior officers such as former Defense Secretary James Mattis, a concern heightened by the U.S. Park Police's use of tear gas and aggressive tactics to clear peaceful protesters from a square outside the White House for a presidential photo op on Monday.
Against that backdrop, several Times staff members viewed Cotton's essay as an ominous "call for military force against Americans," as Times opinion columnist Jamelle Bouie put it.
"I'll probably get in trouble for this, but to not say something would be immoral," tweeted Nikole Hannah-Jones, who recently won the Times a Pulitzer for her "1619″ project. "As a black woman, as a journalist, as an American, I am deeply ashamed that we ran this."
The Times was not the only major U.S. newspaper to experience a staff backlash Wednesday. Journalists at the Philadelphia Inquirer protested the decision to give an opinion piece about damage suffered by city buildings during protests the headline of "Buildings Matter, Too" – a riff on "Black Lives Matter" that many felt equated the toll on architecture to the deaths of African Americans at the hands of police. The paper apologized, but about 40 minority staff members signed a protest letter, with many choosing to call in sick today.
The Cotton column was published by the Times' editorial, or opinion, section, which is distinct and separately managed from its news section. It was part of its op-ed page, created by the Times in 1970, and copied by many newspapers since, to contain outside opinion. Op-ed refers to both the physical placement of the page – opposite the newspaper's institutional columns and editorials – and the notion that its authors often hold opinions that are different from the newspaper's own.
That was the case with Cotton's piece; the Times has editorialized against the use of military force in cities grappling with violence around protests. In a lengthy response to the controversy emailed to Times' subscribers and in his column, Bennet said he, too, opposed the use of troops.
On Thursday, some commentators pushed back on the pushback within the Times.
"The attacks on the newspaper capture the rising intolerance for opposing views in our society," said Jonathan Turley, a law professor at George Washington University who frequently writes opinion columns, in an email. He called it "chilling" that "the demands are coming from journalists and writers themselves. This is akin to priests campaigning against free exercise of religion. . . . I never thought I would see the day where writers called for private censorship of views."
Because of its prominence, the Times' op-ed page and columnists often generate controversy, though rarely from within the newspaper itself. There was widespread criticism in February, for example, when the Times published an op-ed from a member of Afghanistan's Taliban, particularly because the paper failed to identify the author's history of involvement in terrorist activities. There was little internal opposition to the column, however, at least none that spilled into public view.
One Times reporter, who spoke on the condition of anonymity to describe internal conversations, said most reporters welcome "a diverse range of opinions in our op-ed pages" but that "I just felt like we didn't add enough context." The reporter added it would have been more useful to cover Cotton's argument within a news story, which could then have included context, fact-checking and counterarguments.
Cotton's Senate office declined to comment earlier Thursday about the newsroom uproar. Instead, his office pointed to a Fox News spot on Thursday where Cotton commended the New York Times' leadership for standing up to "to the woke progressive mob in their own newsroom."
Times employees are planning to send a letter to the organization's management, according to a statement from the New York NewsGuild, which called the op-ed's publication "an irresponsible choice." The union argued that "invoking state violence disproportionately hurts Black and brown people. It also jeopardizes our journalists' ability to work in the field safely and effectively."
Times reporter John Eligon, who is covering the protests in Minneapolis, pointed to a confluence of recent events – coronavirus's disproportionate toll on minority communities, the killing of Ahmaud Arbery by a retired police detective in Georgia, the shooting death of Breonna Taylor by Louisville police executing a search warrant on the wrong home, the viral incident when a white woman called the police on a black birdwatcher in Central Park.
"We are already in a moment in America where black people and black journalists felt vulnerable," said Eligon. "To that extent I think that there needs to be some serious discussion about why the Cotton piece was published, how it happened and what needs to be done going forward so that we have a systemic change in the way we go about things about the Times."