Media
'You should be speaking English': N.H. radio host kicked off the air after tirade against Spanish-speaking workers
"Is anybody here illegal? Are these guys illegal?" Dianna Ploss asked landscapers during the confrontation she filmed.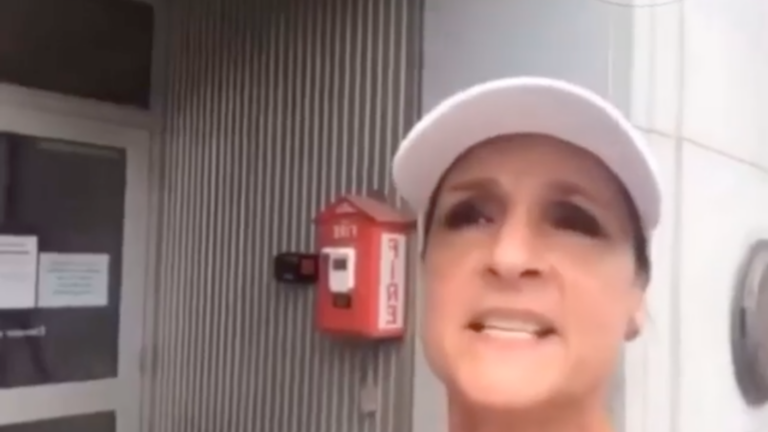 A conservative New Hampshire talk radio personality was kicked off the air Sunday amid backlash spurred by a video she filmed in which she is heard repeatedly yelling at and questioning landscapers in Nashua for not speaking English.
Dianna Ploss, who appeared on her own show on WSMN 1590 on Monday and Wednesday afternoons, "is no longer associated or affiliated in any way with WSMN or Bartis-Russell Broadcasting, LLC," the radio station said in a statement.
Ploss was not a station employee but, rather, paid and brokered for her own air time, which all hosts with shows on the station do, according to George Russell, owner/operator and broadcaster at WSMN.
Ploss, a self-described "MAGA activist," can be seen in an undated Facebook Live video from last week, reported on by TMZ, shouting at employees from Hollis-based Morin's Landscaping, who were working on the side of the road in downtown Nashua.
"It is America. You should be speaking English," Ploss says, repeatedly shouting "English" at the crew as she filmed her confrontation.
Ploss said the foreman was speaking Spanish to his employees.
"Is anybody here illegal? Are these guys illegal?" she added.
At one point, an unidentified man approaches Ploss and asks her why she is "harassing" the workers.
"Are they in America?" Ploss asks him.
The man responds,"Yes."
"OK, they should be speaking English," Ploss says.
"Why? What law?" the man asks her.
State law says English is the official language of New Hampshire, but only for official state business, documents, and proceedings.
There are several exceptions to the law, which also states the designation "shall not be construed in any way to infringe on the rights of citizens under the state constitution or constitution of the United States in the use of language in activities or functions conducted in the private sector."
Ploss also asks the man how she is harassing them, to which the man says he could hear her yelling from across the street, where he was eating lunch.
Ploss, at another point in the video, questions why the man is wearing a mask, which he indicates is because of the coronavirus pandemic.
Looking into the camera, Ploss — who said the man "decided he was going to come over here and be a social justice warrior" — sounded off about the interaction: He "comes over from the other side because he's a Black man and he's going to protect the brown man from this white woman, who's practicing white privilege because she happened to walk by and heard this guy talking to all of these guys doing this work in Spanish."
The video sparked a Change.org petition calling on WSMN to take Ploss off the air.
"She in no way represents this city, which needs MORE diversity, inclusion, and appreciation for cultural history and differences — not less," said the petition, which had garnered over 11,000 signatures by Monday afternoon. "We are asking WSMN Radio to do the right thing, suspend her radio program, and stop giving her a platform to spread hate, ignorance, and racist rhetoric. Hate has no place here."
In its statement announcing Ploss's departure, the radio station said it values "freedom of speech, freedom of expression and assembly."
"We will not tolerate discrimination, racism or hatred," the statement says. "We continue to present and offer on air opportunities for discussion, education and the exchange of opinions and ideas."
https://www.facebook.com/WSMN1590/posts/2647483318846807
On Monday, Tom Morin, of Morin's Landscaping, released a statement thanking greater Nashua for "the overwhelming and most meaningful support that you have provided our company regarding the unfortunate incident that took place in our great city last week."
Morin said the company had received numerous calls, posts, emails, and messages with kind words of support. He said the community can take pride in how quickly it rallied together "to demonstrate that this type of behavior is completely unacceptable and will not be tolerated."
"I would like to extend special thanks to our valued team members as well as the concerned citizen who handled this challenging situation with the utmost of class and professionalism," Morin said. "At Morin's, we recognize that any success we are able to achieve is only through the collaborative efforts of the many extremely talented and hardworking individuals who are not only native to our area but also represent several countries and various cultures."
Ploss, on Facebook Saturday, affirmed that she is "not backing down."
"So, if you want people in America to speak English, that makes you a 'racist'?" she wrote.
On Monday, Ploss said she plans to issue a public statement at 7 p.m. She also posted, "People use the word 'racist' like the word 'the.' Meaningless…"
Ploss, who describes herself as a "staunch supporter of President Donald J. Trump and his America First Agenda," in 2016 launched the Massachusetts 4 Trump organization to rally his supporters, according to her website.
This story has been updated to clarify that Ploss was not a Bartis-Russell Broadcasting employee.