Media
Savannah Guthrie is feeling lucky
Since she held President Donald Trump's feet to the fire at a crucial turning point of the campaign, her future at NBC News appears bright.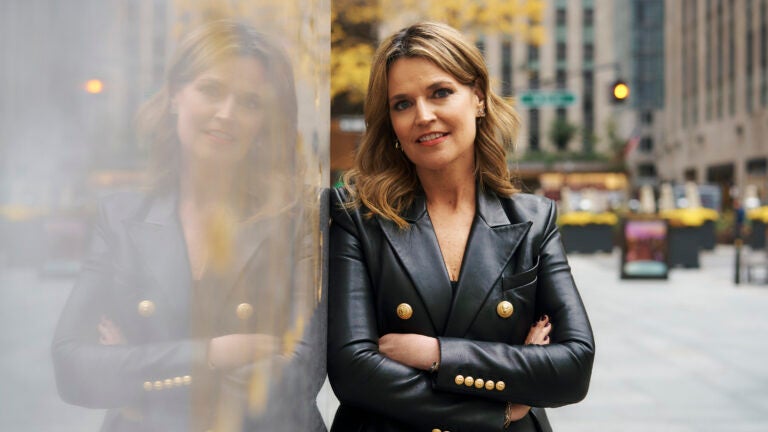 "Nobody's sorry to see someone say something nice," said Savannah Guthrie, the 48-year-old co-host of the "Today" show. "But I also see people say things that aren't nice. I try not to let any of it in. It's not reality."
This was a week after Guthrie moderated a hastily scheduled Oct. 15 conversation with President Donald Trump. During an event that many argued shouldn't have taken place, in a manner that was both disarming and hard-charging, she had done what many thought impossible: humbled, even humiliated, a man who had steamrollered his way to power, belittling journalists along the way.
In an impersonation, Kate McKinnon, in-house master mimic at "Saturday Night Live," labeled Guthrie a "surprise badass." In the weeks that followed, few have argued with that assessment.
"They were actually really simple," Guthrie said of her questions that night, sitting outside a Le Pain Quotidien in TriBeCa, not far from the home she shares with her second husband, communications consultant Michael Feldman, and their two children. "I'm just really grateful and relived that it was OK because it could have gone the other way so easily."
Looking back on the crucial turning points of this dizzying election, voters — and historians — will surely remember Guthrie in a hot-pink pantsuit sitting 12 feet away from a president, not settling for his stock answers on the Supreme Court or QAnon or health care, demanding to know why Trump insisted on retweeting conspiracy theories.
"I don't get that," she said that night. "You're the president. You're not like someone's crazy uncle who can retweet whatever."
And as President-elect Joe Biden prepares to move into the White House, Guthrie promises to be a bolder name on her network's main marquee.
"She's front and center, critical to everything NBC News will be doing, hopefully for a long time to come," said Noah Oppenheim, president of the division. "She does have this extraordinary expertise and aptitude for the political stuff. But her range is broader than anyone's. There isn't a story I wouldn't feel comfortable in saying that she could dominate covering."
Dislikes confrontation
This is hardly Guthrie's big break. She already hosts one of television's last remaining tent poles, watched by more than 3.6 million people. She has served as a White House correspondent, filled in on "Meet the Press," anchored "NBC Nightly News." But that can be lost to the casual viewer watching her in the morning show madness, in the celebrity interviews and in food segments in which Guthrie, by all accounts a terrible cook, does her best to keep up.
"When people see you on morning shows, they see you not only doing the tough stuff but also doing the fun stuff that we do and maybe that overshadows that," said Hoda Kotb, her "Today" co-host. "I think some people forget that's who she is."
The spin cycle of yore having accelerated to a centrifuge's speed, viewers had perhaps already forgotten a similar 2015 event with Hillary Clinton, in which Guthrie pressed the former secretary of state over her email server. Or her interview with former United Nations ambassador Nikki Haley that left Haley genuinely stunned, even speechless, as Guthrie took her to task over that "perfect phone call" Trump made to President Volodymyr Zelenskiy of Ukraine. Or her 2020 talk with Biden about his son Hunter. Or even her 2011 sit-down with Trump as he mulled a presidential run, in which he angrily answered (or failed to answer) her questions about his finances, his tax returns and his defiant his stance on President Barack Obama's birth certificate.
"Believe it or not, I don't like confrontation," Guthrie said. "In fact, I kind of would like to avoid it. But I also don't like talking points. I believe that the viewers expect us to ask the questions."
That sense of obligation to others has long been with Guthrie. She has no memories of her birthplace, Melbourne, Australia, where her father was posted while working in the oil business. It was Tucson, Arizona, where her family settled and where she and her two siblings faced financial hardship as her father went long stretches without work.
In 1988, when she was 16, Guthrie's father, a lifelong smoker, died of a heart attack.
"Every kid who's lost a parent has inside them a certain knowledge that you can't even put into words," she said. "And whenever you meet someone else who also has lost a parent, you know, and they know. You carry it with you."
Her parents had walked away from religion but took the family to a Baptist church when she was a child. She has held on to her faith through college at the University of Arizona (she lived at home to save money), anchor jobs in Missouri and Tucson, law school at Georgetown and the "Today" job.
"It's probably one of the most exciting things to me," said Guthrie, who attends a nondenominational church in Manhattan, while raising her children in both her Christian faith and in the Jewish tradition of her husband. "It's far more interesting to me than anything else."
"I'm always so fundamentally aware of not being the center of the universe," she added. "Having a faith really helps you know your place in the world. And I really value that. And I find it endlessly fascinating. Believing in God, loving God, believing in a compassionate God, just absolutely spreads through everything I feel and the way I look at the world."
She shares this outlook with her "Today" colleague Jenna Bush Hager, whose 2008 wedding she covered. After the death of former President George H.W. Bush, Bush Hager's grandfather, Guthrie lent her a black dress for the service at the National Cathedral. They attend the same church and hang out together. Their children are in and out of one another's homes. Guthrie is the godmother to Bush Hager's third child, Hal.
"We both talk a lot about faith and about, what holds us, what centers us, where our North Star is, how we want to raise our children," Bush Hager said.
By 1999, Guthrie had quit local news and traveled east to law school at Georgetown. She settled into Washington group-house life, doing freelance reporting on air for the local NBC station. During these years, roommates got used to hearing their friend wake up at 4 a.m. While others slept, Guthrie would not only study but also spend time reading the Bible, sitting in a green leather chair of her father's.
In 2002, she earned the highest score of all applicants on the Arizona bar exam and then started a well-paying associate job with Akin Gump Strauss Hauer & Feld, working for John Dowd, who later served as Trump's personal lawyer. But when offered a federal clerkship, Guthrie did something her friends still find unfathomable: She turned it down. She said she wanted to return to television.
She began as a correspondent at Court TV, in the post-O.J. Simpson era, when drawn-out celebrity trials were viewed as entertainment. Martha Stewart, Michael Jackson and Kobe Bryant were all characters on her beat. She also got spots talking about cases on broadcast network shows, which caught the eye of higher-ups at NBC, including Tim Russert, who hired her in 2007. She went from general assignment coverage to Sarah Palin's vice presidential campaign and finally to the White House, from which she reported until 2011.
"I really didn't have any sources at all," Guthrie said. "I didn't know people and they didn't know me." So she became a policy wonk. "And if you do, No.1, you'll find stories. And No.2, when you get on the phone with one of these officials, they'll immediately recognize that you're serious and that you're tough."
Then came "Today," which, despite the general froth of morning television, has long been a showcase for more serious media stars, from Barbara Walters to Tom Brokaw to Katie Couric. In her first role as co-host of the show's third hour, Guthrie quickly established the expected light, familial rapport with Al Roker and Natalie Morales. Meanwhile, she tried her best not to engage with the rumors regarding Ann Curry, whom NBC wanted to force out as co-host of its first two hours.
But on June 28, 2012, Curry, sobbing, told viewers that she "couldn't carry the ball over the finish line," as her colleagues, including her co-host Matt Lauer, tried to comfort her. That was a Thursday. More than a week later, Guthrie replaced her. There were no balloons. No welcome banners. This was it.
"Anyone would dream to get to host the 'Today' show one day," Guthrie said. "But not like that. I knew it was not a good situation, and potentially it'd be end of my career. When my boss asked me, 'Would you want to do this job?' I said, 'I don't know.' Not because I was being coy. I truly didn't know! I wondered, 'If I do this, and if it's such a controversy, it would be so easy to fail and never work in this business again.'"
Executives had reportedly felt Guthrie's "girl next door" presence would endear her to viewers. While praising her news instincts, Steve Capus, then the president of NBC News, also deemed Guthrie "approachable," a woman with the on-air presence of Mary Tyler Moore.
"She's an ultimate team player," Capus told The Hollywood Reporter at the time.
Then after more than five years sitting next to Lauer, Guthrie was woken up on Nov. 29, 2017, and told that she had to tell the world that his television career was effectively over. Trying, and failing, to control her anguish, at 7 a.m. she read the announcement that NBC had fired Lauer over allegations of sexual misconduct.
"That broke my heart," she said. "That broke our hearts. That broke viewers' hearts. And we all had to process it at the same time."
Before walking downstairs to the set, she and Kotb had held hands in Guthrie's dressing room. They prayed. In the weeks that followed, the two would steer the show beyond the scandal, with Kotb officially getting her own co-host title in January 2018 — the first time two women have helmed the prestigious slot.
Asked to compare Guthrie with Kathie Lee Gifford, her co-conspirator on the boozy, comically chaotic fourth hour of "Today," for over a decade, Kotb said, "with Kathie Lee, you know the funny and then learn just how smart she is," while "with Savannah you know the smart and you learn the funny."
'United in anxiety'
Many chose to ignore the smart leading into the night of what was supposed to be the second presidential debate, which Trump backed out of after the debate commission planned to stage it virtually because of his bout with COVID-19.
Democrats were furious when NBC gave Trump his own forum at the same time as Biden's event over at ABC. There were social-media meltdowns and petitions, including one signed by a couple of the network's own prime-time stars.
"Having dueling town halls is bad for democracy — voters should be able to watch both and I don't think many will," tweeted Couric, who left NBC in 2006.
Guthrie had traveled to Miami, uncertain if the event would happen, waiting for clearance from the National Institutes of Health. She shut herself in her hotel room, read through research binders, and consumed Diet Coke and nuts from the minibar.
Once the conversation started, she did not offer Trump a chance to riff as he had in his rallies, and she peppered him with well-informed follow-ups. When he demeaned her approach, calling it, "so cute," she refused to acknowledge the slight.
"My 15-year-old turned to me at one point and said, 'I almost feel bad for Trump,'" said Meridith Webster, the chief communications officer for Vox Media, Guthrie's longtime roommate and best friend.
Though the event finished second in overall Nielsen ratings, the praise for Guthrie, excluding conservative outlets and Trump, who called her "crazy," came in from all over.
"I was thinking, 'Oh, my God, you know, who would have the guts to say that to Donald Trump?'" said her NBC News colleague Andrea Mitchell of the "crazy uncle" line. "And Savannah Guthrie could because of the manner in which she does it."
On the "SNL" that followed, Alec Baldwin's Trump seemed even more disoriented than usual. When McKinnon's Guthrie — the actress even borrowed the pink suit — pretended to beat him up with a folding chair, à la WrestleMania, she showed no mercy.
Guthrie's heightened status was evident weeks later on Nov. 7. She had left her home at 4:30 a.m. on Nov. 3 and had not returned to it since. During that time, as Election Day stretched into days, she spent 29 hours on air, 19 of which came in the first 40 hours of coverage.
But there was one moment that mattered the most. Guthrie had been part of the network's election coverage in previous years, but she had never announced the winner of a presidential contest before. Sitting socially distant with her network colleague Lester Holt, it was left to her, at 11:25 a.m., to finally say that NBC could project that Biden would be the next president.
"People say the country is so divided," she said later. "And it is divided. But they were united in anxiety awaiting this result."
Two days later, she returned to "Today," to the chilly social distance of Studio 1A.
Noticeably absent now are the tourists who usually throng there, lining the street behind the ground-level studio, straining to make their way into the screen. For them, Guthrie remains the woman Bradley Cooper delivered flowers to when Feldman finally proposed. She's the "older parent," sharing her day-to-day domestic drama on air. And she makes it clear that she'll be there when they return, even if she isn't quite sure she deserves it.
"I've interviewed Tom Hanks five times now," Guthrie said. "He calls me 'Savvy.' What are you talking about? I'm Savannah from Tucson. There's no reason I should be here. I didn't work any harder than anybody else. I'm just in on the joke. I know how lucky I am."
Get Boston.com's browser alerts:
Enable breaking news notifications straight to your internet browser.