Media
What to know about Somerville Mayor Joe Curtatone's lawsuit against Barstool Sports
The case stems from a 2019 phone call between the mayor and podcaster Kirk Minihane.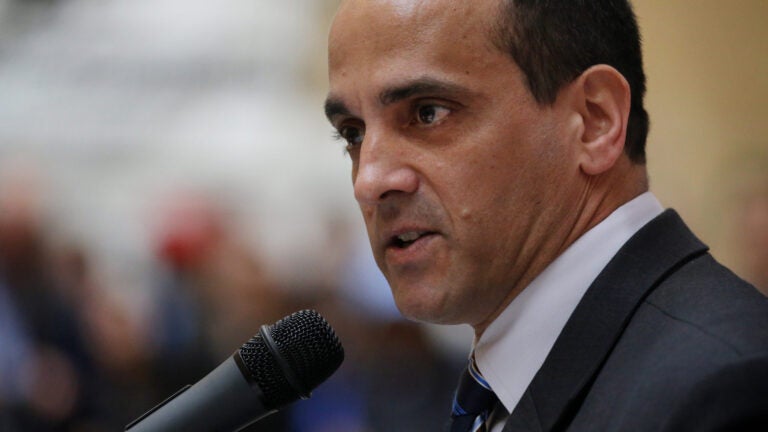 How exactly the Massachusetts Supreme Judicial Court should interpret what "secretly" means is a driving force behind a lawsuit filed by Somerville Mayor Joe Curtatone against podcaster Kirk Minihane and Barstool Sports over a 2019 phone call.
The case centers on an interview Curtatone gave to Minihane, in which the former WEEI radio host recorded the conversation and pretended to be Boston Globe columnist Kevin Cullen. The 18-minute call was later posted online by the sports blog Barstool Sports.
Curtatone is now asking the court to consider whether Minihane violated the Massachusetts wiretap law, which bars secretly recording a conversation without consent of the parties involved. How could the mayor give proper consent to being recorded if he didn't know who he was actually speaking to?
"Because of the fraud and potential pretending to be someone that Mayor Curtatone knew, that made the recording by (Minihane) secret," Leonard Kesten, an attorney representing Curtatone, told the court, which heard oral arguments in the case on Monday.
But Minihane and his employer, Barstool Sports, through their attorney, warn that that argument misinterprets state law and, if accepted by the court, would overlook decades of precedent.
In a brief filed in September, their attorneys called the lawsuit "a misuse of judicial resources."
"Curtatone does not assert that Minihane 'tricked' him into saying anything embarrassing or damaging," the filing says. "Nor does he dispute that he made similar comments in other public forums. Rather, it appears that Curtatone is attempting to use this lawsuit to score political points by publicly attacking Barstool."
Curtatone's appeal to the SJC stems from a civil lawsuit the mayor filed in June 2019 soon after the incident in Middlesex Superior Court, in which he argued Minihane obtained the interview through fraud, thereby violating the law.
But the court dismissed the case early last year. A judge ruled whether or not Curtatone knew who he was speaking to was a moot point in the language of the law.
Here's what to know about the latest lawsuit:
The Massachusetts wiretap law
State law in Massachusetts — a two-party consent state — prohibits the secret audio recording of a person without their consent.
One may not need to request consent if it's made clear that person is being recorded. (For example, if a reporter were to place a recording device in front of the subject of an interview, it is clear that that person is being recorded.)
Absent from the law is a distinction between public and private communication, and instead the regulation focuses on the method of how a conversation was recorded to determine if a recording was secretly made.
Most recently, the law and its exemptions were put to the test in two federal cases recently ruled on by the U.S. First Circuit Court of Appeals.
The court upheld a decision that allows the right of the public to secretly record police officers, but not government officials, who can be openly recorded, but not discretely and without consent.
What to know about Curtatone's argument
In court Monday, Kesten said Curtatone agreed to a recorded conversation with Cullen — not Minihane.
That distinction — Curtatone thinking he was speaking to someone else — makes the call, in essence, secret to anyone other than Curtatone and the person he thought he was speaking to, Kesten said. In other words, Kesten argued, only Cullen had a legal right to be privy to the conversation.
"The secret is that he agreed to a conversation with Kevin Cullen," Kesten said. "And then he was deceived, deliberately deceived, by Mr. Minihane."
In a brief filed in July, Curtatone's attorneys wrote that Curtatone "authorized only one person … to hear the conversation and record it."
"In any event, the fact remains that Minihane's recording was 'surreptitious' or 'secret' under any meaning of that term," the brief says. "He obtained that recording 'in secret or by improper means' … 'characterized by fraud or misrepresentation of the truth,' having taken deliberate and extreme measures to conceal his identity."
The attorneys argue "at a minimum" Minihane "secretly" heard Curtatone's conversation — a violation of the state statute.
"You can't lie," Kesten told the court. "You can't lie about who you are to get the conversation and the recording."
But several justices highlighted that Curtatone did in fact know he was being recorded and consented to being recorded — both crucial elements of the law.
"Where is that understandable morality infused into (state law)?" Justice David Lowy asked Kesten in response. "What (the law) is intending is no one is secretly recorded. The mayor was not secretly recorded. He understood he was being recorded.
"Your interpretation might be better, I don't know, although it has serious public policy and First Amendment implications," he continued. "But the statute talks about secretly. If you know you're being recorded, you're not secretly being recorded."
Justice Frank Gaziano told Kesten he did not address the secret component of the law.
"You're kind of just conflating everything into what you want it to read," he said.
What to know about Barstool's argument
Aaron Moss, an attorney representing Barstool and Minihane, rejected Kesten's argument that Minihane was secretly listening to the conversation, simply because he was one of only two parties on the phone.
"The fact of secretly recording is when you have a third party to the conversation listening in on the conversation," Moss said. "It necessarily would require somebody who is not a party to the conversation."
Minihane could not be secretly listening to his own conversation, he said.
"That to me does not make any sense," Moss said. "The statute clearly envisions a situation in which police are listening in on a conversation to which they are not a party."
To accept Curtatone's argument, the court would need to both "ignore the plain language" of the state law and overrule over 40 years of precedent, dating back to Commonwealth v. Jackson in 1976, Moss said.
"I think that it's important to remember that if we were to interpret the statute in the way that Mayor Curtatone is asking your honors to, that it would raise a whole host of issues that are constitutional in nature that the court does not need to and should not be wading into," he said. "….We would be raising issues regarding the type of speech that actually gave rise to a violation of the statue."
The American Civil Liberties Union and the Reporters Committee for Freedom of the Press also submitted a brief in the case earlier this month, urging the court to reject Curtatone's interpretation of the law.
"In this case, a public official seeks to penalize a journalist for recording that official speaking in his official capacity about a matter of public concern, even though the official had full knowledge that the conversation was being recorded," the brief says. "This attempt is not supported by the Massachusetts wiretap statute, raises serious constitutional questions under the free speech provisions of the Massachusetts and United States constitutions, and should be rejected by this court."
The SJC will issue its decision at a later date.
Correction: An earlier version of this story did not identify the SJC case as an appeal to the Middlesex Superior Court ruling.
Get Boston.com's browser alerts:
Enable breaking news notifications straight to your internet browser.