Media
Bob Oakes hosted WBUR's 'Morning Edition' for decades. Now, he's returning to reporting as he prepares for retirement.
"For me, in my head, it's a great way to cap the last 40 years in this business."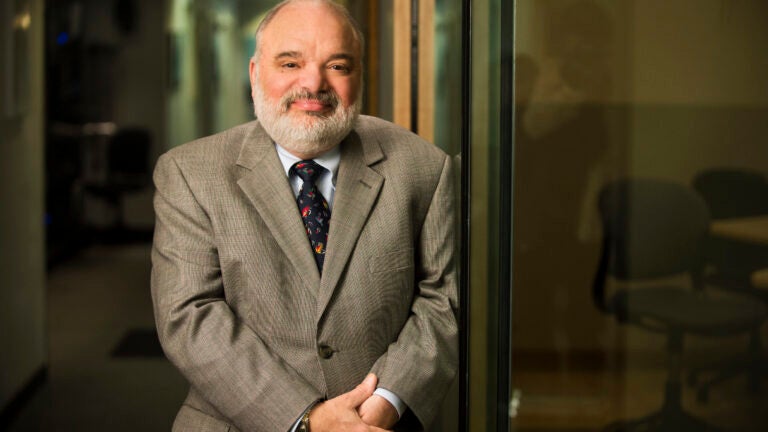 The sound of his distinctive voice greeted radio listeners with the dawn of each weekday for almost three decades.
But after years of helming WBUR's "Morning Edition" and shepherding audiences through the major news events of Boston and the region, Bob Oakes is moving into the next chapter of his career.
The veteran journalist, who grew up in Worcester and Charlton and still lives in Central Massachusetts, announced last fall he was stepping away from hosting "Morning Edition." His last day in the "Morning Edition" host chair was Oct. 8, and Rupa Shenoy, who most recently worked as a reporter at GBH and PRX's "The World," is taking over as the new voice of the show.
Oakes may be eyeing retirement, but before setting down the microphone and recorder for good, he is returning to reporting, serving as a special correspondent for WBUR.
Boston.com spoke with Oakes during his final week helming "Morning Edition" about the decades he spent informing listeners, what comes next, and what he'll always remember about his time as host.
---
The interview has been edited for length and clarity.
Boston.com: When did you know that you wanted to go into journalism? Was there a particular moment that stands out?
Bob Oakes: Oh my gosh, you really want to go that far back? OK. In the seventh grade, at Providence Junior High School in Worcester, I think I took third place in a city-wide writing contest in which I wrote an essay on the U.S.S. Constitution. And they awarded the prize in a school-wide assembly in the junior high. I had to walk down from the balcony — you know because we were lowly seventh graders who were way the heck up in the balcony — and accepted my little medal. And as I was walking back to my seat, the teacher who was the adviser for the student newspaper grabbed me in the hallway and said, 'You are writing for my newspaper.' And that was it. So in the seventh grade I started writing for the paper. Later in high school at Charlton High, I became the editor of both the newspaper and the yearbook, and then went on from there.
Why radio? What is it about the medium that has kept you engaged in it, as opposed to other forms of journalism?
I switched to broadcast journalism in my first year of college. At first, I think I was captured by the kind of glamor of it all. And then, frankly, I just loved working with audio. I loved the idea of holding a microphone while I was interviewing people and found that I kind of had a facility for speaking in soundbites myself and writing efficiently and had some success at it. I was 19 years old when I had my first internship in radio news, and I was just completely hooked. Completely hooked. Out of college, after leaving UMass Amherst, I got a job right away anchoring morning news at a little station in Connecticut and reporting after I got off the air. Then it just went on from there.
What led to taking the position as "Morning Edition" host at WBUR?
I had been working for a decade as a reporter and then a political reporter for the old all-news WEEI in Boston when it suddenly decided to switch to become the all-sports station that it still is today. And so it got rid of all of us. Sam Fleming, who's now retired but who was the news director at WBUR at the time — Sam and I were old friends because we worked together in commercial radio in New Hampshire years before that — sought me out and took me to a Red Sox game and recruited me to come to work for BUR. At first, frankly, I was reluctant, and I honestly thought I'd only be at BUR for a year or two. And suddenly a year or two has turned into 30.
Given that you thought you'd only be there temporarily or a short time, how does it feel looking back at those decades that you've had in this position as "Morning Edition" host?
First of all, it's been great. It's been great to work for a wonderful news organization and seeing what we were when I came and what we've now become. It's been both invigorating and inspiring to work with some of the best journalists in the business. But after 30 years, after working at WBUR for parts of four different decades now — the 90s, the 20s, the 2010s, and now the 2020s — it's really time to go. Boston has changed so much and continues to undergo this huge change. And I think it's the perfect time to change Bob Oakes out for Rupa Shenoy.
What do you feel you have learned most from the job? What do you feel like you're taking away most from your time in the host chair?
It has to be the connection with our listeners. How humbling it is to know that folks depend on you and rely on you; that folks tune in day after day, morning after morning, to hear you. And then, frankly, as much as they annoy our listeners, knowing that during fundraisers — fundraisers being the annoying part — listeners so appreciate what you and the rest of the radio station do that they're willing to respond and give money. I have to say that from my first fundraiser to the last, I'm just so impressed with how much listeners pay attention and how much they support the radio station. I think that probably if I've learned anything, it's that it's a great thing to have a loyal audience for the work that you do.
Is there a story or news event that you'll never forget from your time hosting?
It's really hard to pick one. Just a few years ago on the 40th anniversary of the fall of Saigon, I went to Vietnam with a group of Massachusetts Marines who coincidentally happened to be among the group that was the last off the roof of the U.S. embassy in Saigon when Saigon fell. So I went there with them as they relived that time and those moments. And that was just incredibly moving for me. It was a real privilege to be with those men.
But also, a moment of real joy for me would have been decades ago when I got to speak three times in one day to the late author Kurt Vonnegut, who was really my college hero. I interviewed him for "Morning Edition," I sat in and substitute hosted on a talk show at WBUR later that day and got to interview him again, and then we went to a local theater that night and before a live audience I interviewed him a third time. And it was such a thrill to interview the guy I'd devoured when I was in college. He was really my college hero author, so that was a thrill.
And if I have to pick two moments that moved me greatly in a different way, it would be our — WBUR's — live coverage, which I hosted, of the funerals for Tom Menino and Senator Ted Kennedy. Just great tragic moments in Boston history and a privilege to have been at the microphone to speak to our audience about their passing.
What was your favorite part of the job?
You know, there's no substitute I think for when you're sitting in the studio, the on-air light comes on, and suddenly you're talking and you're knowing that you're connecting to tens of thousands of people at any given moment. As simple as it may seem, I just love reading newscasts and love reading the headlines to the "Morning Edition" listeners because that's how many of them wake up. I know that we're connecting with them first thing in the day, and I'm giving them their first glimpse of the news when I'm speaking on the air. And I really appreciate the fact that all those folks are on the other end of the radio and that many of them have been such loyal listeners to WBUR for a really long time.
What's the worst or most difficult part of being the host that listeners might not realize listening on the other end?
Oh, well that's easy. It's the damn alarm clock going off at o'dark-thirty in the morning. I just hate my alarm clock, and I always hit snooze. But the love of the job overwhelms the daily animosity I have toward the alarm clock.
I've heard that you are an auctioneer. How has that aided or influenced your work in radio? In what ways are they similar or different just in the use of your voice?
Actually, I think they're really different. And I really do work to keep them separate because the hobby of being an auctioneer can never get in the way of the work of being a professional journalist. I just happen to love antiques, and my late mom was an auctioneer herself. So I was kind of drawn into that hobby because it was a fun way to work with her a little bit. I've kept it going on an occasional basis. I don't do it very much, and I don't want to do it very much because it would intrude on the job of being a journalist and I just can't spend that much time on it. But, I have had some fun being an auctioneer over the years when I've given my time to do charity auctions, of which I've done a bunch over the years. It's always great to help other nonprofit organizations raise a little money to keep them going. That's a wonderful warm feeling, and I've loved doing that over the years.
When you're out and about, do people ever recognize you from your voice alone?
Oh, that's happened a few times. It happened once — that was kind of funny — at Faneuil Hall when I was with family and we were in a noodle place having a little lunch. I started telling the waiter what I was interested in having, and then after he took the order, he walked away and I saw him talking to another member of the waitstaff and kind of gesturing over at me. Then they both came over, and the young man said, 'Are you Bob Oakes? I think I recognize your voice.' I got kind of a big laugh out of that. It's happened a bunch of times over the years, and it always surprises me that people pay attention so much that, absent the face, they recognize me through the voice.
I know for many people, your voice in the morning is a fixture, carrying them through news big and small on a daily basis — how does it feel to have become such a big part of people's lives? What does that mean to you at this point in your career?
It certainly has been a privilege. It's been a great privilege to have worked this long for one place. I just don't think this happens much in this business anymore, where someone is lucky enough to get to spend a huge chunk of their career — and a huge chunk of my adult life — at one place.
I never would have thought that this was going to happen to me. I never would have believed it when I was in my teens or 20's or whatever. I think I've been lucky, and I really thank the various general managers and news managers that I've worked with over the years at WBUR who have kept me in place. At any point they could have sent me out and it didn't happen. I thank those who hired me and those who kept me.
You're not fully retiring — you're returning to reporting. How does that feel to be returning to reporting as opposed to hosting, and what are you looking forward to about it?
For a really long time, I mean well over a decade, I'd been talking about returning to reporting at some point. And I started having that conversation with our now-retired program director Sam Fleming way over a decade ago. And yet I never thought it would happen. I never thought it would happen. So I'm very grateful to WBUR CEO Margret Low for allowing me to do this for a little while before I do leave WBUR, whenever the exact date is, I'm not 100 percent sure yet. But you know, I had a news director years ago when I was working for CBS who said no matter what role you play in broadcast, you are a reporter. And I've always believed that. But to be able to return to pure reporting will be great fun. I'm really looking forward to it. And I think for me, in my head, it's a great way to cap the last 40 years in this business.
Any particular topics you're planning to focus on in your reporting?
I don't want to give them away. But — I love history, and I've done a few terrific stories about New England history over the years. And there is a New England connection to Benedict Arnold, the U.S. war hero turned Revolutionary War traitor, and that connection is said to be sitting on the bottom of a lake in New England. And I'd like to see if that's true. And I'm not going to say anymore about it.
You said this is going to cap off your career, but what are you looking forward to most with this next stage of your career and looking forward to, even more, in retirement? What are you thinking as you embark on this new chapter?
I'm not sure how successful I'll be at retirement. There's been some nibbling around about whether I might be interested in teaching, which I might explore on a part-time basis. I'm a longtime fly fisherman, I mean decades and decades long fly fisherman. And hopefully I'll get to do a little more of that as I make — let me rephrase that — I'm going to make time for that as I go on. I'm sure that there's a radio story I could do on zen and the art of fly fishing, but we'll see. I don't want to ruin fly fishing for me by making it work in a news story. So we'll see if I actually get to that.
Is there anything about yourself that you think listeners might not know, but that you'd be willing to share?
One of the things I want to do when I have more time is figure out why I'm having such a hard time growing Brussels sprouts. I've long had an active vegetable garden, and while I've been so successful in so many other things, my Brussels sprouts have repeatedly failed. And I need to dig into this deeper.
You probably don't know this … when I was a baby, less than a year old, I had polio and walked in braces for a really long time, until junior high school, shed the braces, became an avid backpacker, long-distance backpacker. Up on all the peaks, up on all the tallest mountains in New England, the tallest mountain in California. I long-distance backpacked across the 100-mile woods on the Appalachian Trail in Maine, across a nice section of the John Muir Trail in California, up on an unnamed peak in California, in the treeless high country. So I've been pushing myself for years, but now I'm slowing down. I can't do that anymore, and it's a little bit of a disappointment. But I have all those great memories, and I'm thankful for that.
Is there anything else you want to say or anything else you would want your listeners to know that we haven't covered already?
Thanks for spending a huge amount of time with me over the years. Stay with Rupa Shenoy and give her all the support that you gave me. And thanks very much.
Listen to Oakes give his final sign off from WBUR's "Morning Edition":
Newsletter Signup
Stay up to date on all the latest news from Boston.com