Media
Dave Portnoy of Barstool Sports declares war on Insider over article about his sexual conduct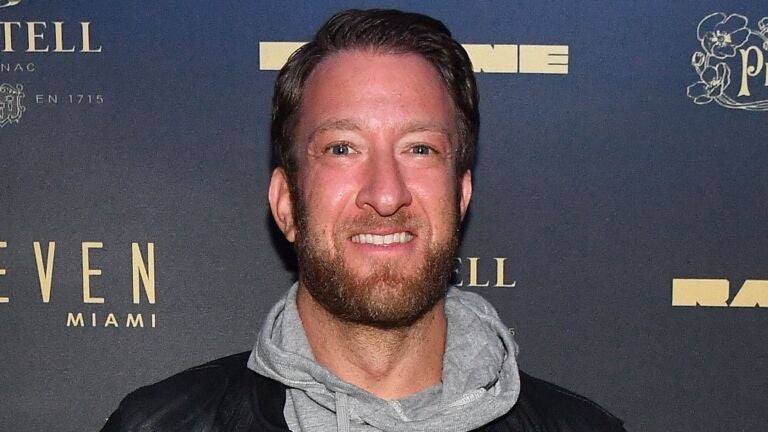 In the 18 years since he founded Barstool Sports, Dave Portnoy has developed a reputation as a tough-talking digital provocateur and opponent of what he considers political correctness, whether it's defending the New England Patriots, his pizza preferences or his controversial interview last year at the White House with Donald Trump.
So when Insider.com published an investigative article accusing Portnoy of choking two women during sexual encounters and filming them without their consent, he immediately went on the offensive with an emotional two-part video response attacking the article as a "hit piece" that he said bore no resemblance to reality.
He was just getting started.
Since then, Portnoy has been waging an all-out war on Insider, writer Julia Black, global editor in chief Nicholas Carlson, company CEO and co-founder Henry Blodget and even Axel Springer, the German media conglomerate that purchased the online publication in 2015 – simultaneously outraging critics and thrilling many of his 2.7 million followers on Twitter that have taken up his cause to launch their own social media attacks on the company and its employees.
"Here is what people have to know about me," Portnoy wrote on Twitter on Saturday. "If you wrong me I will burn you to the ground. If I burn with it that's the cost of doing business. I've always been that way." Accusing Insider of "exploiting" the unnamed women quoted in the story "for political agendas and financial gain," he tried to get the hashtag "CancelBusinessInsider" trending on Twitter and on Monday threatened to sue the company.
In an attempt to discredit the company, Portnoy has taken aim at Blodget's past as a Wall Street analyst who was permanently barred from working in the securities industry in 2003 after the Securities and Exchange Commission determined that he had "aided and abetted violations of antifraud provisions of the federal securities laws," a well-reported and openly acknowledged element of Blodget's bio. (Blodget was not required to admit guilt in his settlement with the SEC.)
"It's ironic you have Henry Blodget . . . who defrauded everyday workers out of their life savings now trying to defame me," Portnoy wrote over the weekend. On Monday, Portnoy posted a video in which he pantomimed hitting Blodget in the head with a mallet and vowed that "your head is going to be on my spike. . . . I'm coming for his throat, and anybody who stands by him's throat." (Blodget was not involved in the assigning, reporting or editing of the Portnoy story, a company source said.)
The stock price of Penn National Gaming, which owns 36% of Barstool, took a dive on Thursday after Insider's publication of the story, hurt also by a weak third-quarter earnings report. That drop prompted Portnoy to allege that Insider's story amounted to an attempt at "insider trading," though he admitted that he has no proof of it. While the stock rebounded slightly on Friday, by the end of the trading day on Monday it still remains down 19% from its price before the Insider story published.
Along the way, Portnoy's legion of supporters, who refer to him as "El Presidente," have embraced and echoed his criticisms, often with equal fervor and sometimes profanely. After Portnoy accused Black, a freelance journalist who co-authors a newsletter about the New York-based media industry, of having "an agenda from day one," Barstool fans (known as "Stoolies") have attacked her in vulgar and misogynistic terms.
It's a familiar scenario in the Barstool universe, in which fans of the company lob attacks on perceived critics, often at Portnoy's signal. "These have included death threats, doxing, online harassment, and targeting of people's families, friends, and workplaces," Black wrote in the Insider exposé. A 2019 profile by the Daily Beast reported that female journalists have been a particular target of ire for Barstool fans. "My female colleagues shouldn't have to deal with harassment from thousands of Dave Portnoy stans because they do their jobs," a fellow Insider reporter, Kat Tenbarge, wrote on Twitter Thursday.
Portnoy also used the occasion to encourage his fans "to prove the silent majority" supports him and his company by buying Barstool's own brand of frozen pizza, sold through Walmart; Stoolies responded by posting photos of piles of the "One Bite" pizza boxes they had purchased, and Portnoy reported record sales after the weekend.
On Monday, Insider said it stood by Black's story and defended it against Portnoy's "hit piece" claims. "The story was assigned in March as a general profile about Dave Portnoy and his transition from sports mogul to day trader," a company spokesperson told The Washington Post. "Around mid-April, our reporter spoke with a woman about what she described as a frightening sexual encounter with Portnoy. . . . We eventually heard from more women and the additional reporting led the article in a new and unexpected direction." Insider has also rebutted Portnoy's claim that Black did not contact a local police department to verify key details but declined to comment more broadly on Portnoy's criticisms.
A spokeswoman for Barstool Sports, Jacqueline Giaccio, responded to the Insider story by saying that "we take this matter seriously and are monitoring it closely." Portnoy declined to comment for this story after The Post declined his terms for conducting an interview.