Movies
Obama points to 'Spotlight' as ideal of journalism
"Real people count on you to uncover the truth," the president said.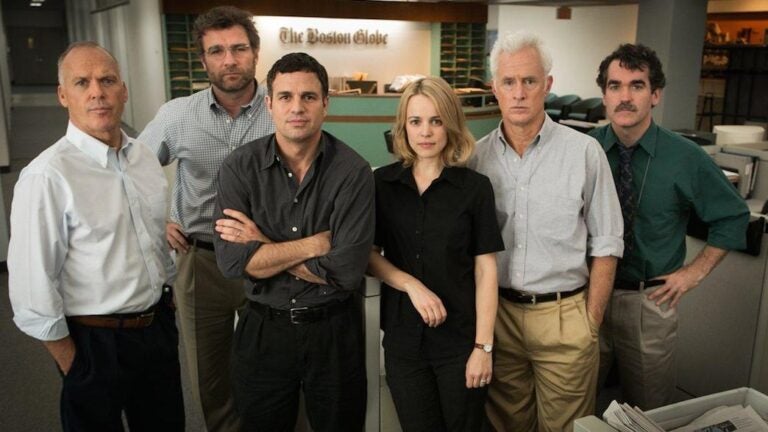 President Barack Obama praised The Boston Globe reporters portrayed in the movie Spotlight as the ideal of good journalism at an event honoring the year's best reporting on Monday night.
As the keynote speaker of a dinner for the Toner Prize for Excellence in Political Reporting, Obama gave a lengthy speech criticizing the tone of the 2016 presidential campaign and encouraged reporters to "probe and to question and to dig deeper and demand more."
"It would be better served if billions of dollars in free media (coverage) came with serious accountability," he added.
In particular, Obama pointed to the work of the Globe's team that uncovered widespread sexual abuse in the Catholic Church through hundreds of articles more than a decade ago. Those stories were portrayed in last year's film Spotlight, which won the Academy Award for Best Picture.
Obama cites Oscar-winning movie "Spotlight" as ideal of what journalism ought to be about. "Real people count on you to uncover the truth"

— Peter Baker (@peterbakernyt) March 29, 2016
Obama just confessed he loved "Spotlight" because it harkened back to simpler journalistic times of dogged reporting on unencrypted phones

— Dustin Volz (@dnvolz) March 29, 2016
Obama marvels that Spotlight, a movie about journalism, won the Best Picture Oscar. "I'm not suggesting all of you are going to win Oscars."

— Marina Fang (@marinafang) March 29, 2016
ProPublica's Alec MacGillis was the winner of the Toner Prize for his reporting on the lobbying power of the oil industry and Congress's inability to raise the gas tax.
"Journalism at its best is indispensible, not in some abstract sense of nobility, but in the really concrete sense that real people depend on you to uncover the truth," Obama said. "The deep reporting, the informed questioning, the in-depth stories, the kind of journalism that we honor today matter more than ever."