Movies
Jon Hamm is filming a reboot of 'Fletch' around Boston
"It's an 80s staple, and we're going to, sort of, reboot it and update it for the 2000s."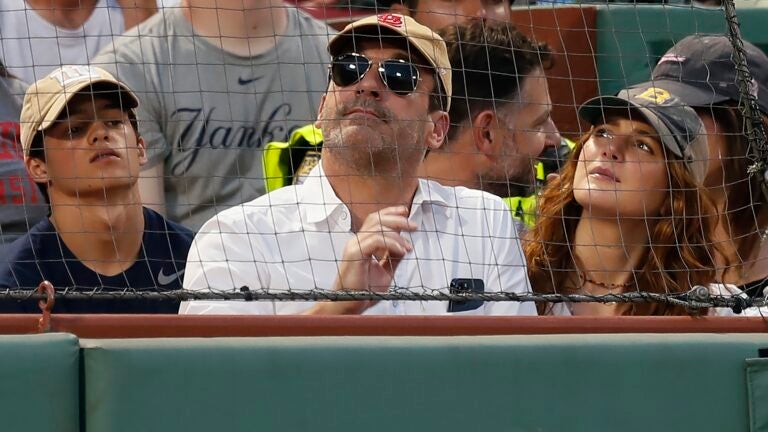 It's a good week to keep your eyes peeled for Hollywood stars.
"Mad Men" star Jon Hamm will be around Boston and Worcestor this week shooting a reboot of the popular 80s comedy "Fletch." Filming began Monday in Boston.
"It's very exciting, we all loved the movie growing up," Hamm told Jimmy Fallon during The Tonight Show on June 25. "It's an 80s staple, and we're going to, sort of, reboot it and update it for the 2000s."
Hamm was already spotted around town at Saturday's Red Sox v. Yankees game, WBZ reported.
The film, "Confess, Fletch," is based on the second book in Gregory McDonald's 1970s mystery novels, according to Deadline, which the 1985 "Fletch" film and 1989 follow-up film "Fletch Lives" were based on. According to IMDB, the plot involves Fletch, played by Hamm, becoming the prime suspect in multiple murders; Fletch tries to prove his innocence while searching for his fiancé's stolen art collection.
The film also stars Oscar-winner Marcia Gay Harden, Golden Globe winner Kyle MacLauchlen, and "Daily Show" correspondent Roy Wood Jr., as well as Hamm's "Mad Men" co-star and Boston native John Slattery.
So far, reports confirm shooting locations in Worcester and Boston's South End. On June 29, the crew is expected to film on Suffolk Street near Cicero's Cafe from 2 p.m. to 9 p.m., according to MassLive. The Worcester Telegram & Gazette reported that its own news offices in the Mercantile Center were transformed into a "Hollywood version of a Boston newsroom," set to shoot Tuesday, and crews were also set to film at a local "biker bar" and the Worcester Police Department.
In the South End, the Rutland Square Association was notified about parking restrictions for Wednesday and Thursday on West Newton Street and Columbus Avenue, the Boston Herald reported, while a crew shoots scenes for the film.
Newsletter Signup
Stay up to date on all the latest news from Boston.com