National
Clooney-Girlfriend Age Differences, Charted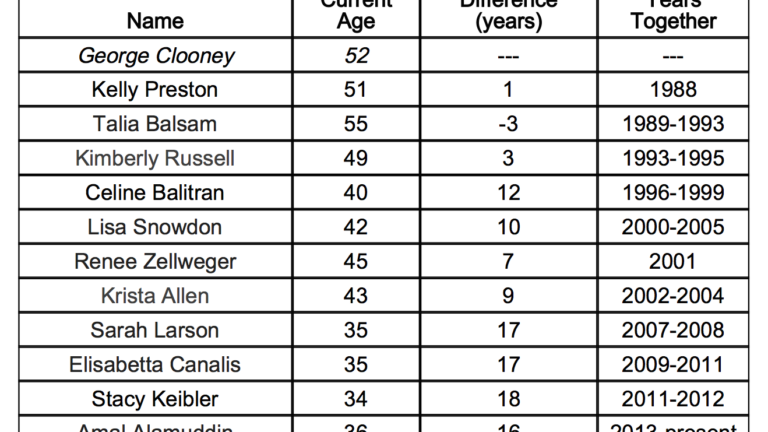 After years insisting he'd never marry again, actor George Clooney proposed to his current girlfriend Amal Alamuddin, according to Page Six.
Clooney's taken a lot of jibes over the years about his taste in younger women. Earlier in 2014, Golden Globe hosts Tina Fey and Amy Poehler described best picture nominee "Gravity'' as "the story of how George Clooney would rather float away into space and die than spend one more minute with a woman his own age.''
Alamuddin, 36, is 16 years younger than the 52-year-old Clooney. How does that match up against his previous relationships?
The internet is chock full of Clooney girlfriend lists (here, here, here, here, and pretty much anywhere else you look online), which we used to create the above chart. We left rumored relationships off the list, keeping the chart to actual girlfriends of any significant timeframe.
Clooney's girlfriends were on average 9.73 years younger than the notorious bachelor.
Glancing at the chart, Clooney stuck with women around his own age back in the late 1980's and early 1990's. Kelly Preston was just a year younger. His first wife, Talia Balsam, was actually three years older than him. After they divorced, Clooney dated Kimberly Russell, who's a mere three years his minor.
After Russell, however, a new pattern emerged.
His next girlfriend, Celine Balitran, was 12 years younger than Clooney. Following Balitran, Clooney had a full 10 years on his next girlfriend Lisa Snowdon.
The gap narrowed a bit when Clooney connected with Renee Zellweger, who was seven years younger than the serial bachelor. Zellweger was followed by Krista Allen, who was nine years younger than Clooney.
By the time he started dating Sarah Larson in 2007, the age gap widened again. Larson was 17 years younger than Clooney, as was his next lady friend, Elizabetta Canalis. In 2011, Clooney paired up with pro wrestler Stacy Keibler, who was 18 years his junior.