National
Barbara Walters Makes Celebrities Cry. A Lot.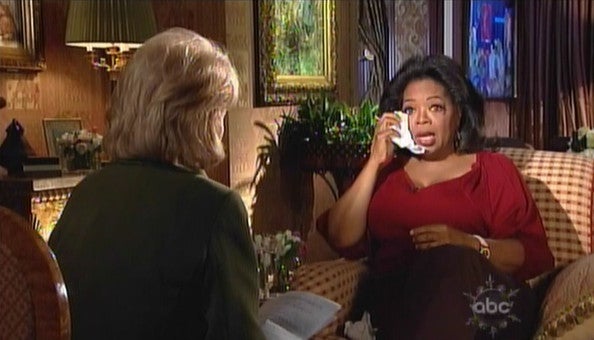 On Saturday Night Live this weekend Walters joked: "It's fine to make people smile, but the real money is in making them cry. Nothing brings in the viewers like seeing a celebrity reduced to tears. You may think I'm really feeling bad for them, but all I'm thinking is 'ca-ching.'''
But whether or not she's cashing in on it, Barbara Walters certainly has made a lot of celebrities cry.
Here are ten examples of Walters' tear-inducing powers at work.
1. Oprah shed tears (2:50) in a 2010 interview talking about her friendship with Gayle King.
[fragment number=0]
2. Patrick Swayze cried (5:50) when talking about making his dad proud in a 1988 interview with Walters.
[fragment number=1]
3. Monica Lewinsky bawled while talking about her affair with former President Bill Clinton in 1999.
[fragment number=2]
4. Norman Schwarzkopf Jr. an Army General/ Commander in Chief cried (2:44) talking to Walters about his father in 1991.
[fragment number=3]
5. Ringo Starr tears up towards the end of his interview and is visibly upset while talking about John Lennon's death.
[fragment number=4]
[fragment number=5]
6. Ellen Degeneres got emotional (5:50) talking to Walters in 2005 about sexual abuse she experienced as a child.
[fragment number=6]
7. Courtney Love cried (8:20) in a 1995 interview when Walters asked if she blamed herself for Curt Cobain's suicide.
[fragment number=7]
8. Teri Hatcher cried tears of joy (8:30) talking about her successful career and award nominations in 2005.
[fragment number=8]
9. Tracy Morgan shed a few tears (1:30) talking to Barbara about alcohol addiction in an interview before he hosted the Billboard Awards in 2013.
[fragment number=9]
10. Patrick Dempsey teared up (6:10) and asked for a break in 2007 when Walters asked him about meeting his wife after a rough patch in his career.
[fragment number=10]
BONUS: This week Walters' long time friend Bette Midler turned the tables and made the Walters cry, serenading the retiring TV star during one of her' last episodes of The View. The singer jumped on the couch screaming upon realizing she'd done the impossible:
[fragment number=11]