National
Cantor Confirms Resignation in Afternoon Press Conference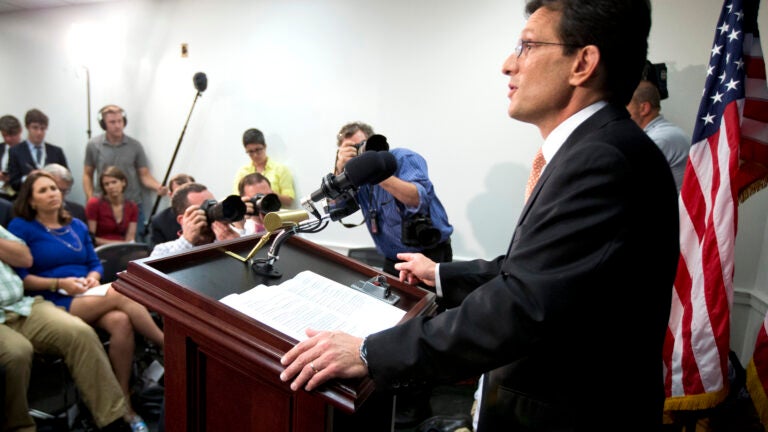 House Majority Leader Eric Cantor confirmed reports during a Wednesday press conference that he would be stepping down from his leadership position at the end of July.
Cantor, who has served as the Republican party leader since 2011, said he would not seek re-election but planned to remain a "champion to conservatives across the country.''
He was defeated Tuesday in a primary challenge by Tea Party-backed Republican David Brat, an economics professor at Randolph-Macon College in Ashland, Virginia. The defeat is the first time a House majority leader has lost a primary race since the position was created in 1899.
The House's second-most powerful official cited his Jewish faith and Hebrew school education as a source of emotional strength in the face of political defeat.
"You learn a lot about individual setbacks,'' he said. "But you also read, and you learn that each setback is an opportunity, and that there's always optimism for the future. And while I may have had a — suffered a person setback last night, I couldn't be more optimistic about the future of this country.''
Cantor appeared reluctant to directly weigh on in the political implications of the upset — answering four questions with slight variations on the phrase "I'm going to leave the political analysis to y'all'' — but did take time in his prepared remarks to tout the party's legislation record and affirm Republican unity.
"Truly, what divides Republicans pales in comparison to what divides us as conservatives from the left and their Democratic Party,'' he said.
"I hope that all Republicans will put minor differences aside and help elect a Republican House and Senate so that we may all benefit from a proper check and balance that leaves our nation more secure, more prosperous and freer.''
Cantor indicated that he would support his "dear friend and colleague'' Rep. Kevin McCarthy of California as his replacement, should he choose to run.
"I think he'd make an outstanding majority leader,'' Cantor said. "And I will be backing him with my full support.''
A reporter asked Cantor if he planned to run for office again in two years, though Cantor did not offer an audible answer as he left the podium.
The Washington Post has posted a rush transcript of Cantor's press conference.