National
Activists Pour Concrete on Store's 'Anti-Homeless' Spikes, Win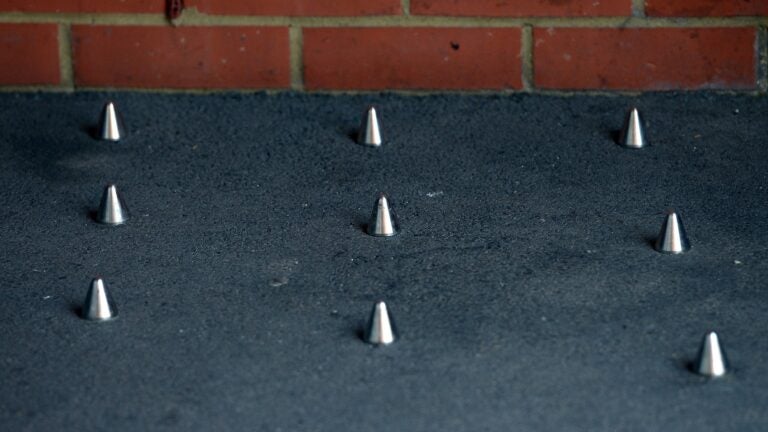 A UK supermarket chain has announced it will remove so-called "anti-homeless spikes'' from outside one of its London locations after an image of activists pouring concrete on the metal protrusions went viral on social media Wednesday night.
The act of civil disobedience followed days of protest by homeless advocates outside of the downtown Tesco location, who decried the one-inch studs as an inhumane approach to combating spiraling homelessness in the city, which is up nearly 75 percent since 2011.
[fragment number=0]
Vice Magazine journalist Simon Childs said he received a tip that activists would stage a protest at the controversial site, and hung around until a group of men dressed as construction workers appeared:
[fragment number=1]
A company spokesperson told The Guardian the next morning that Tesco would remove the spikes, but insisted they were not aimed at the homeless and instead intended to curb other "antisocial behaviors,'' like loitering and public drinking.
"Customers told us they were intimidated by antisocial behavior outside our Regent Street store and we put studs in place to try to stop it,'' a spokesman told the paper.
"These studs have caused concern for some, who have interpreted them as an anti-homeless measure, so we have decided to remove them to address this concern,'' the spokesman said. "We will find a different solution and hope this clears up any confusion.''
Tesco didn't comment on the incident directly, though it seems to go without saying something had to be done about that blunder of a concrete job.
"We massively underestimated the amount of concrete we had,'' one of the activists admitted in a follow-up interview with Vice. "The mixing was more difficult than we thought. We probably need some construction equipment to do it properly.''
"But we were quite pleased with it afterwards because we didn't want to make a nice concrete flat top over the spikes,'' an activist said. "We wanted to make a mess so they had to clean it up, or seriously think about putting spikes down again.''
The group, who call themselves the "Black London Revolutionaries,'' vowed to carry out similar actions against other sets of spikes on private property throughout the city.