National
New England Police Dogs Trained to Sniff Out Computer Files of Suspected Child Pornographers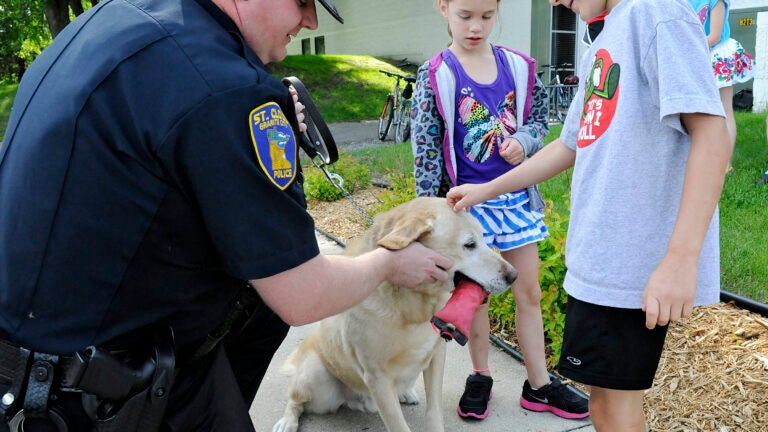 Police dogs are now man's best friend when it comes to arresting child pornographers. Investigators can now train their canines to sniff out hard drives they believe to contain illegal files, and have reportedly already been doing so in two New England states: Connecticut and Rhode Island.
"The recent arrival of golden Labrador Thoreau makes Rhode Island the second state in the nation to have a police dog trained to sniff out hard drives, thumb drives and other technological gadgets that could contain child pornography,'' The Providence Journal reported. Thoreau reportedly attended 22 weeks of training in Connecticut to learn to detect computer devices.
"If it has a memory card, he'll sniff it out,'' Rhode Island State Police Detective Adam Houston said.
Connecticut State Police say they began the program that trained Thoreau a few years ago in an effort to aid their increasingly busy Computer Crimes Investigative Unit. While the gadget-sniffing dogs can't detect specific computer files, locating hard drives makes them a crucial part of searching suspects and their homes.
Alleged child pornographers reportedly often hide devices "in ceiling tiles or even radios.'' That's where hard-drive-sniffing dogs come in handy.
Officials say Thoreau participated in a June search and found a thumb drive holding child pornography stashed "four layers deep,'' inside a tin box within a metal cabinet. Thoreau locates devices down to the drawer they're hidden in, allowing police to make an arrest.
Detective Houston, who owns and handles Thoreau, told The Providence Journal the dog's search efforts are rewarded with food. "This is how he eats every day,'' he said.
The Daily Dot reported that the 65 dogs trained in the Connecticut program are often shipped around the country for their efforts, and public safety officials from as far as Europe have visited the state to learn about the program.
[fragment number=0]