Here's How New England Cities Rank in Public Transit Use
The MBTA ranks as the fifth-most used public transit system in the US in terms of monthly trips per person. Other public transit systems in New England aren't used nearly as much. (Yes, there are other public transit systems in New England.)
That's according to an analysis from FiveThirtyEight's Reuben Fischer-Baum, who took ridership data from 290 cities and divided that number by each city's urban population. The ridership is measured in "unlinked trips'' per month, which counts transfers in the course of one journey as their own trips. The urban areas are organized by 2012 population estimates, and include the broader suburbs and metropolitan areas connected to the train system. Dividing the trips by the populations gives a nice, accessible figure of trips per resident.
The resulting rankings include reported results for 18 urban areas in New England. We took the data on those cities to make this graph, which shows Boston's dominance in the region.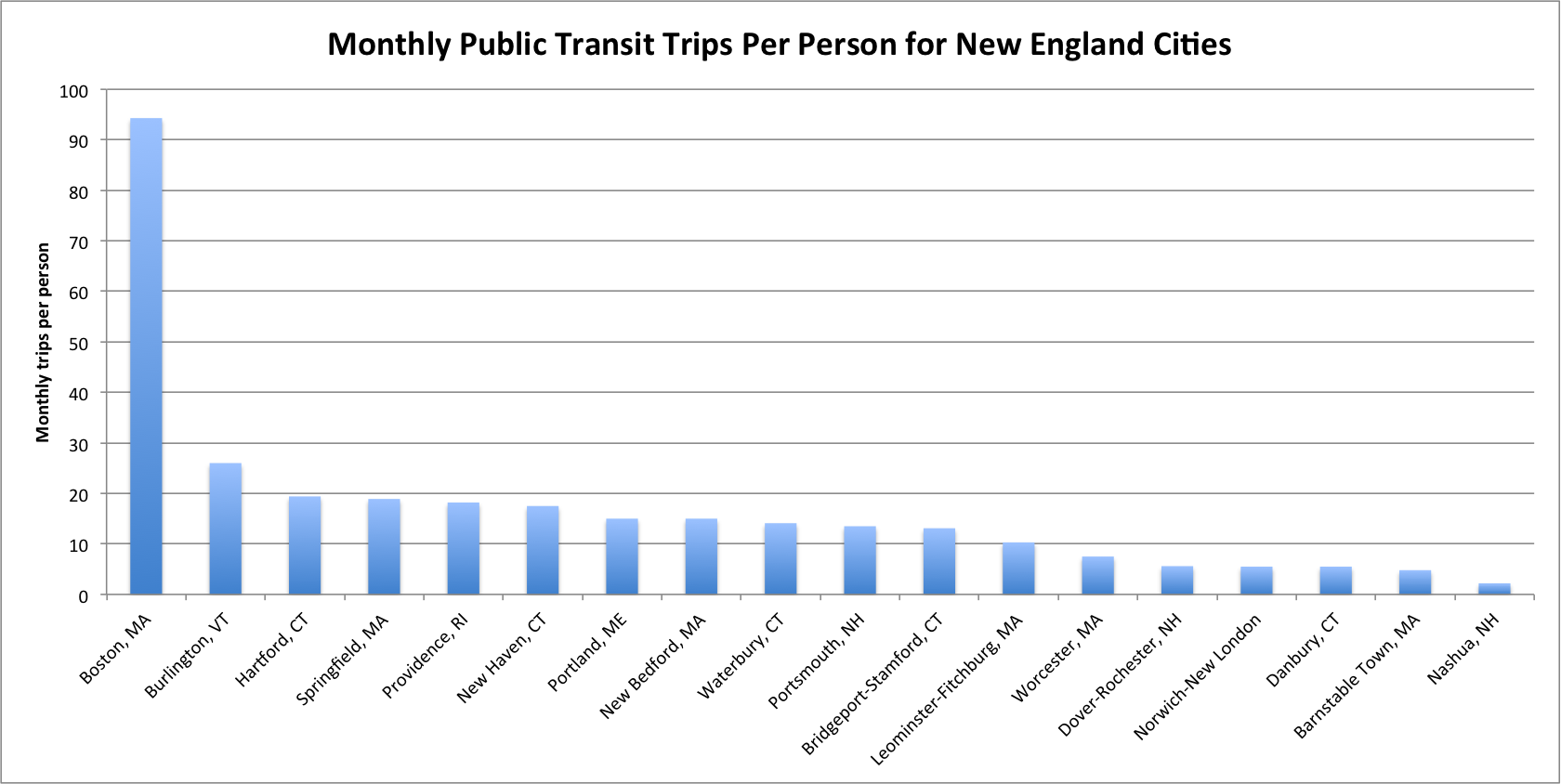 With 94.3 trips per resident each month, Boston comes in fifth in the US and dominates the region. The next most-used public transit system, in Burlington, Vermont, comes in 51st place with 26 trips per resident.
In addition, we divided all 290 US cities with data into thirds, and then mapped where each city's public transit system ranked. Cities with a green placemark finished in the top third, yellow placemarks were in the middle, and red landed in the bottom third.
Six New England cities finish in the top third of the 290 cities being ranked, including a robust showing from Burlington, followed by Hartford, Springfield, Providence, and New Haven in that order, bunched between 71st and 85th place.
At the other end of the spectrum, five public transit systems fall in the bottom third of the rankings, none lower than 273rd place Nashua, New Hampshire with just 2.2 montly trips per resident. Cape Cod's Barnstable more than doubles that number, but 4.8 trips per resident is good for just 236th place.
Outside of New England, New York-Newark transit had far-and-away the most ridership per capita, FiveThirtyEight found. The Big Apple was followed by San Francisco, Washington DC, and a surprise entry in Athens-Clarke County in Georgia.