National
Here's What You Need to Know About the Killing of an Unarmed Black Teen in Ferguson, Missouri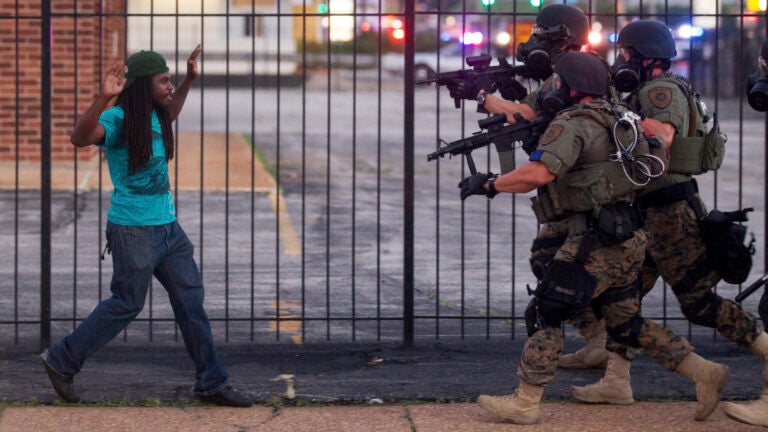 The fatal shooting of an unarmed black teenager in suburban St. Louis by a police officer has exploded into a national cause célèbre. Protesters and federal officials alike are demanding answers about what the St. Louis Post-Dispatch called a "senseless killing.''
The familiar collision of race and law enforcement came to Ferguson, Missouri, on the afternoon of August 9, when Michael Brown, 18, was shot multiple times after an alleged physical confrontation between police, Brown, and one of Brown's friends.
President Barack Obama on Tuesday broke his silence on matter, saying in part that Brown's death is "heartbreaking, and Michelle and I send our deepest condolences to his family and his community at this very difficult time.''
Brown's friend, Dorian Johnson, 22, said he and Brown were walking in the middle of the street when a police officer (Ferguson PD have so far refused to identify him) told them to get on the sidewalk. The men told the officer that they were close to their final destination and would be out of the street when they arrived. Another witness, Piaget Crenshaw, said the argument escalated until the officer got out of his car, drew his weapon, and fired a shot, reported St. Louis's Fox2.
Johnson told MSNBC that he saw the officer shoot Brown several times, with the final, fatal shot being fired into Brown's back as both friends attempted to run away:
Brown made it past the third car. Then, "blam!'' the officer took his second shot, striking Brown in the back. At that point, Johnson says Brown stopped, turned with his hands up and said "I don't have a gun, stop shooting!''
The police claim they shot Brown in self-defense.
Police said the officer who stopped Brown and Johnson was exiting his vehicle when one of the men pushed him back into the car, and a struggle ensued. At least one shot was fired from inside the squad car, police said, before the two men started to flee.
A makeshift memorial was placed in the street where Brown was shot.AP
Brown's grandmother, who was expecting a visit from him that afternoon, found her grandson's body on the street and reportedly got no explanation from police when she asked what happened.
The incident follows other similar deaths of young black men at the hands of legal authority figures and has sparked widespread anger across the country.
Angry residents responded on the day of the shooting by taking to the streets and chanting "kill the police'' for hours, setting the stage for continued protests and additional confrontations with police.
That night, a white police officer was caught on video calling the mostly black protesters "animals.''
The next night, thousands of people came out to protest in Ferguson. A candlelight vigil eventually devolved into a spate of looting and vandalism that one local television station described as a full blown riot.
Widespread property damage was reported along with dozens of arrests and at least two police officers being injured.
Vehicles were overturned and an auto supply store, a shoe store, and a convenience store were among the businesses that were looted and vandalized, reported ABC News.
The protests continued for a second straight day on August 11, when police in riot gear reportedly shot rubber bullets and fired tear gas toward protesters.
The Rev. Al Sharpton arrived in Ferguson on Tuesday to meet with Brown's parents and demand that police release the name of the officer who shot Brown. In March, Sharpton rallied in Florida with the family of Trayvon Martin, the unarmed black teenager who was shot to death by a neighborhood watch volunteer.
United States Attorney General Eric Holder said the shooting should be reviewed, and that such a review would be ''critical for preserving trust between law enforcement and the communities they serve.''
The FBI is also investigating the shooting as a possible civil rights violation.
The officer, a six-year veteran, has been put on paid administrative leave.
Brown, who recently graduated from high school, was scheduled to start his first day of college two days after he was shot to death.
Ferguson is located about 12 miles north of St. Louis. The town of about 21,000 people, two-thirds of whom are black, is a hotbed for racial profiling, according to a study conducted by the Missouri Attorney General's Office.