National News
Sealed Tsarnaev Court Records: 'An Epidemic of Secrecy'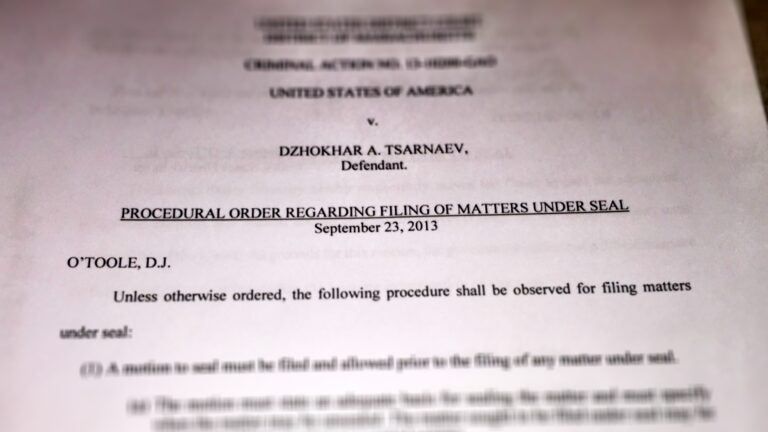 Even after 15 days of testimony by 96 witnesses and thousands of news reports, there's still plenty the public doesn't know about the trial of Boston Marathon bomber Dzhokhar Tsarnaev.
And that's how the judge in the case wants it.
Acting on lawyers' motions in the case, U.S. District Court Judge George A. O'Toole has sealed filing after filing.
As of today, the Tsarnaev docket includes the words "seal'' or "sealed'' a total of 878 times. Compare that to the federal docket in U.S. v. James "Whitey'' Bulger, in which the same words show up only 24 times.
"It's an epidemic of secrecy when transparency should be the presumption,'' said Jay Carney, who represented Bulger.
Katie Townsend, litigation director for the Reporters Committee for Freedom of the Press, said the volume of sealed documents in the Tsarnaev case is "especially unusual because of how much information is in the public sphere.''
"It's very puzzling to see how much information is being sealed and kept from the public here,'' Townsend said.
What's being kept secret?
We don't even know what we don't know.
Files become sealed when one party, wanting something kept from the public, files a motion to seal, which is itself sealed. The court then rules on the sealed motion to seal. And that ruling is also sealed.
The sealed motion then appears on a docket like this one:
Ginny Hurley, outreach coordinator for the U.S. District Court for the District of Massachusetts, said the court "cannot comment on the details of sealed filings in ongoing cases.''
But, Hurley explained, there are lots of different reasons why the court might seal a document, including the need to keep private Social Security numbers or names of minors.
Hurley added that in cases where a defendant has been appointed counsel, "case budgets'' and related information are filed under seal.
Some of the sealed documents could shed light on how many taxpayer dollars are going to pay for Tsarnaev's defense.
But we don't know. Because they're sealed.
Chris Tritico, who represented Oklahoma City bomber Timothy McVeigh, said the high volume of sealed documents could be designed to protect Tsarnaev.
"It's important to remember that a defendant's right to a fair trial trumps the public's right,'' Tritico said. "When the court feels the media attention is so strong, it has to do something to protect the defendant's rights.''
"It doesn't happen very often. It shouldn't happen very often,'' said Tritico.
Townsend said that there's no way to tell in this case whether the government, the defense, or a combination of both is asking for the documents to be sealed.
"The party that wants something kept from public has to demonstrate to court that they have compelling interest and a true need to keep that information secret,'' Townsend said. "If they make that showing, it's incumbent on court to ensure that whatever sealing is narrowly tailored.''
For example, redacting the name of an informant, but not sealing the entire document.
Townsend said there's a real issue with sealing being overused.
"Here you have situation where the public cant see documents, and also can't see why they would have been sealed,'' Townsend said. "That's an extremely problematic situation.''
To Carney, the practice is allowed far too often.
"The federal government tries to hide as much information as possible from the public,'' Carney said.
Until the documents are unsealed – which is unlikely to happen until the appeals process is over, which may take years – it is unclear if the government is pushing for so many documents to be kept out of the public eye.
"If nothing else, it's important for the public to know if it's the prosecution asking for this level of secrecy or if it's the defense,'' Townsend said.
The U.S. Attorney's office did not respond to multiple requests for comment, nor did defense attorneys representing Tsarnaev.
Their lips are sealed.