National News
Brewery that hosted Hillary Clinton pushes back against critics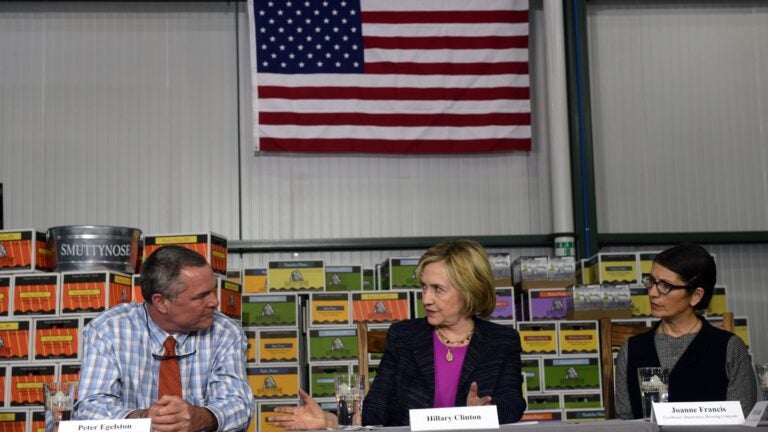 Smuttynose Brewery president Peter Egelston defended his company Saturday against critics angry that the venerable New Hampshire business hosted a campaign event for Democratic presidential candidate Hillary Clinton.
On Sunday, Egelston told Boston.com that the boycott threats were "disappointing,'' "bizarrely inappropriate,'' and "not very sincere.'' Some of the boycotters claimed to be "regular customers,'' but lived in places where the New Hampshire brewery doesn't sell beer.
"These are people who very explicitly said they wanted to hurt my business because I hosted a candidate they disagree with,'' Egelston said.
"Part of what they do is troll the internet and they have a right to do that,'' he said. "On the other hand, I thought it was appropriate to make a statement laying out our position as a company to set the record straight.''
In a post on the company's Facebook page, Egelston said Smuttynose has been "frequently visited by politicians of all stripes'' in its 24-year history, thanks to its relatively high profile in the nation's first primary state.
"I'm interested in what all candidates have to say. If I'm not open to listening to people I disagree with, that's a sort of intellectual laziness,'' said Egelston. "It's a privilege to be doing business in a state like New Hampshire where candidates come to us. It's part of our civic responsibility to be open to that.''
Egelston said he recently had a "very pleasant and enjoyable'' lunch with Republican Rep. Frank Guinta. Smuttynose had also hosted both of the state's U.S. senators — Democrat Jeanne Shaheen and Republican Kelly Ayotte. Additionally, the brewery plans to host a Republican presidential hopeful this upcoming week, though Egelston declined to give the candidate's name.
Egelston said he really "gets a kick'' out of talking to different candidates and expects there to be many more, noting the New Hampshire primaries are still more than eight months away. From his Facebook post Saturday:
People are certainly free to vote with their wallets and not purchase our beer because one politician or another has passed through our doors, but I consider it an honor to be visited by individuals who are seeking or hold public office, whether I personally share their views or not. Don't expect that to change.
That post, according to Egelston, was like turning off a "spigot'' as words of vitriol turned to words of support. The post garnered more feedback "by a factor of 10'' than any other the company had put up.
"The responses are not universally supportive of Hillary, but they are universally supportive of our right to host political candidates,'' he said. "I found that very gratifying.''