National
The Supreme Court decision that threatened justices' own homes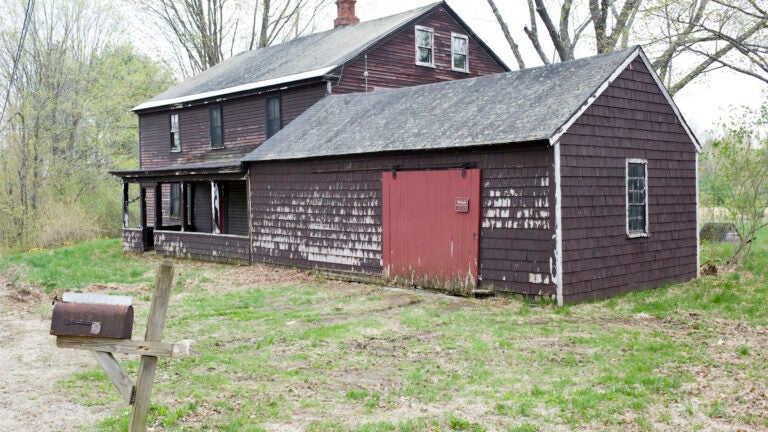 No matter how much heat the Supreme Court's recent decisions generate, it's safe to say that no justices' homes will be threatened with seizure because of them.
That wasn't the case in 2005, when another Supreme Court decision almost literally hit home for two justices. It inspired efforts to take away two of their New Hampshire properties through eminent domain.
The story begins in New London, Connecticut, in 2000. The city made an agreement with the drug company Pfizer. The company built a research and development lab in the city in exchange for generous tax breaks.
Sweetening the pot was a planned mixed-use development next to the facility. (Pfizer didn't want its headquarters to be "surrounded by tenements,'' as one executive put it.) It would be developed by a private nonprofit called the New London Development Corporation, which hoped Pfizer's presence would make the area more attractive to businesses and residents alike, and planned to build a hotel, restaurants, stores, and housing.
The only problem was that some of the land NLDC wanted to build on already belonged to others: several homeowners, some of whom had lived in those homes for decades. And they didn't want to sell.
The city claimed eminent domain to take the land. The residents, led by Susette Kelo, responded by suing the city, arguing that eminent domain only applied to public projects, like railways or schools, and not a private development. The case made its way to the Supreme Court.
On June 23, 2005, in a 5-4 decision, the court ruled that Connecticut's law allowing private land to be taken for private use did not violate the Fifth Amendment's public use clause because the land was taken in order to "promote economic development.'' The land was New London's to give to the NLDC.
Days later, property rights advocates sought their revenge by using the Supreme Court's own definition of public use against two of the justices who approved it.
Justice David Souter owned a farm in Weare, New Hampshire, a small town with a population of about 8,50o. The Washington Post described Souter's home as a "creaking, unkempt house,'' with sagging windows and peeling paint.
It became the target of Logan Darrow Clements, a self-described objectivist ("head towards libertarianism and keep going,'' he told Boston.com) who proposed that Souter's land be seized so Clements could build a hotel on it. This, he said, would increase the value of both the property and the land around it — in accordance with the Supreme Court's decision.
"The proposed development, called 'The Lost Liberty Hotel' will feature the 'Just Desserts Café' and include a museum, open to the public, featuring a permanent exhibit on the loss of freedom in America. Instead of a Gideon's Bible each guest will receive a free copy of Ayn Rand's novel Atlas Shrugged,'' said a news release announcing Clements' plan.
"The hotel must be built on this particular piece of land because it is a unique site being the home of someone largely responsible for destroying property rights for all Americans.''
Clements, a Los Angeles-based entrepreneur, said he had been interested in property seizures even before the Kelo decision came down. He had a similar plan to seize officials' property in San Diego, after a coffee and cigar shop was seized by the city council. In that case, however, the council members would have had to vote on whether or not to have their own land taken. Clements had a pretty good idea how that vote would go.
"When [Kelo] came down on the Supreme Court level I thought 'Oooh, wait a minute. These Supreme Court justices most likely don't sit on the town councils where they live,'' Clements said.
Clements picked Souter's property for his effort because, he said, Souter was appointed by a Republican president. He believed the news media had a liberal bias that would make reporters less sympathetic to the justice.
And Souter lived in New Hampshire, a state Clements believed had "a fair amount of libertarian activism.'' (According to the AP, 93 percent of New Hampshire residents disagreed with the Kelo decision.) He thought he would have plenty of local support.
By the end of July, another justice's property faced the threat of eminent domain seizure. The state's Libertarian Party started a petition to seize Justice Stephen Breyer's vacation home, located on 167 acres in Plainfield. In its place would be "Constitution Park,'' which would feature two monuments dedicated to the United States and New Hampshire constitutions.
"What goes around, comes around,'' the party's vice chairman, Mike Lorrey, told the Valley News.
Neither New Hampshire's Libertarian Party nor Lorrey responded to requests for comment. But it seems that the Breyer effort was more focused on bringing attention to the cause than to actually taking Breyer's estate. The party advocated for an amendment to the state's constitution that would explicitly prevent private property from being taken for private use. The question was added to the ballot, and passed by a vast majority in the November 2006 election.
The Lost Liberty Hotel effort was over before that. Clements successfully petitioned Weare to have a vote to evict Souter from his home and build the hotel on its March 2006 ballot. But in February, residents voted in a town meeting to change the wording of the ballot initiative to say that Souter's home should not be taken. In March, residents voted "emphatically'' in favor of saving Souter's home.
Not that Souter would own that home for much longer anyway. He ended up leaving Weare for nearby Hopkinton after retiring from the bench in 2009. Breyer still owns land in Plainfield with an estimated value of between $250,001 and $500,000, according to his most recent financial disclosure forms.
Clements said his effort was completely serious and that he had fully intended to build the hotel.
"It would have been one of the only times that average powerless Americans, who are regularly violated by their rulers' laws, taxes and dictates would have fought back in a way that is both personal and appropriate,'' Clements said.
And while he never did build that hotel, he feels he was successful at raising awareness about the Kelo ruling. After the decision, 44 states passed laws designed to protect private property rights (though the Institute for Justice's 50-state report card on eminent domain laws show that these protections vary).
"The Constitutions imposes limitations on what states can do,'' said Richard H. Fallon, Jr., professor of constitutional law at Harvard Law School. "If states want to limit their own power to take property more stringently than the Constitution (as interpreted in Kelo) does, it is okay for them to do so.''
Perhaps no one is more conscious of the effects of eminent domain than the New London residents who lost their homes for nothing.
Pfizer announced in 2009 that it would shut down its New London operation by 2011 — around the same time, as the New York Times pointed out, that the generous tax breaks used to lure the company to New London were set to expire. Pfizer's building is now owned by a company that builds submarines.
The mixed-use development never came about. In fact, nothing has been built on the now-vacant lots where a neighborhood once existed. It is home to feral cats and little else.
New London mayor Daryl Finizio, a self-described "democratic socialist,'' told Boston.com that the fight over that land is nowhere near finished. NLDC — now the Renaissance City Development Association — still wants to build big projects on the land. (RCDA did not respond to request for comment before the article was published. After publication, RCDA told Boston.com that the land involved in the Kelo case is "currently being marketed for development.'')
Finizio thinks they are out of scale with the surrounding area and unsustainable. He'd rather see the land returned to New London, and used for historic tourism and smaller local businesses.
"NLDC is pushing for a kind of development that doesn't fit here,'' Finizio said. "They have not learned anything. They are still going in the same direction. It's totally wrong.''
Photos: Reactions to the Supreme Court marriage equality decision
[bdc-gallery id="317428″]