National
Congrats, U.S. Women's National Team, here's 6% of what your male counterparts make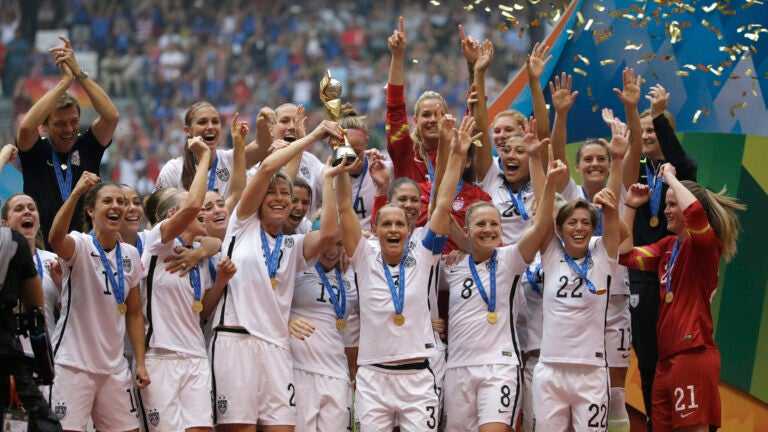 Despite winning the most World Cup titles in women's soccer history and garnering a record-breaking 25.4 million viewers while doing it, the U.S. Women's National Team was handed a $2 million prize that pales in comparison to the $35 million Germany's men's team was awarded for winning last year's World Cup.
If you're doing the math, FIFA gave the American women 6 percent of what the men were given.
Even more troubling is that each men's team is paid $1.5 million just for participating in their World Cup, according to The Boston Globe's Shira Springer.
While this is probably less than surprising considering FIFA's track record of corruption, bribery, and Sepp Blatter's sexist remarks, it only adds to the already problematic aspects of the meager coverage that surrounded the month-long games.
Springer outlined just a few of the compromises FIFA forced upon the players this year:
Also insulting was making the women play the 2015 World Cup on skin-grating, inferior artificial turf. Or, having the gold medals paraded onto the field by models clad in identical black, skin-tight dresses a la Robert Palmer's "Addicted to Love'' video … Or, showing U.S. goalkeeper Hope Solo in a suggestive, slo-mo replay as she sipped from her water bottle then sprayed water on her neck.
While the women's tournament doesn't rake in as much profit as the men's bracket does, the U.S. women's team has been heralded as far more talented than last year's U.S. men's team, but received little coverage before winning their record-breaking third title.
You can read Springer's entire take in The Boston Globehere.
Meet the U.S. Women's World Cup team:
[bdc-gallery id="140796″]