National
Ben & Jerry's founders, Ben and Jerry, endorse Bernie Sanders for president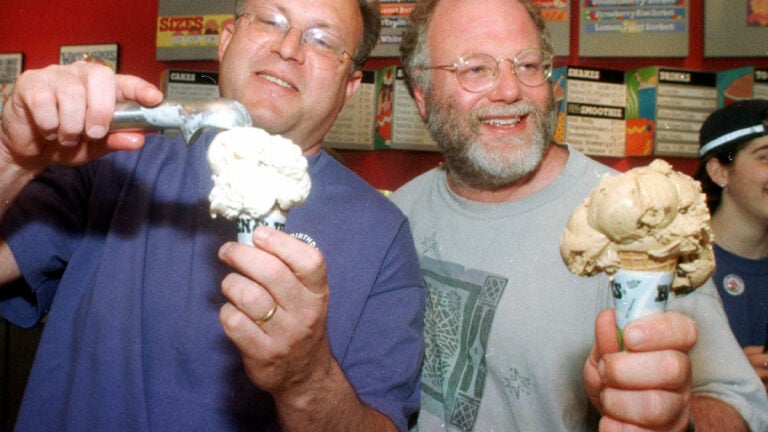 Bernie Sanders hasn't been feeling much love from politicians in his home state. Former Gov. Howard Dean, current Gov. Peter Shumlin, and fellow Sen. Patrick Leahy have all committed to Hillary Clinton.
But Sanders has captured the endorsement of Vermont's two most important people this week: Ben and Jerry.
The two founders of the South Burlington-based ice cream company, Ben Cohen and Jerry Greenfield, told The Telegraph (UK) that they're backing the Vermont senator for the Democratic nomination for president.
"There is such a hunger for someone to be leading the country who is not just reading the polls and saying what they think needs to be said to get elected,'' Cohen said. "There is such a hunger for someone saying what they really believe in, as opposed to using the language which has been focus-grouped not to offend, mealy-mouthed and middle of the road.''
Greenfield said he and Cohen had noted $1,000 to Sanders' campaign, plus a few hundred more in donated ice cream for campaign events. According to the Sanders campaign's most recent filing, Cohen and Greenfield contributed $1,411.23 each.
At Sanders' formal presidential campaign kick-off, there was free Ben & Jerry's ice cream, donated by the dessert duo.
As the Telegraph pointed out, they made their donations as individuals. The holding company for Ben & Jerry's, Dutch-based Unilever, does not participate in politics.
That hasn't stopped the two ice cream magnates, however. Cohen and Greenfield have led the Stamp Stampede campaign against the infuence of wealthy individuals and corporations in politics.
"Here in the US what they always teach us in public school is that the definition of free speech is that anybody can stand up on a soap box and say whatever they want,'' Cohen told the Telegraph.
"Essentially what Citizens United has said is that a person who has a lot of money can stand up on a soap box, buy the biggest sound system in the world and drown out the voice of everybody else.''
Sanders has pledged not to accept any support from super PACs. Who needs a super PAC, when you have free Ben & Jerry's.