National
Can the 'anti-Scott Brown playbook' help Republicans hold the U.S. Senate?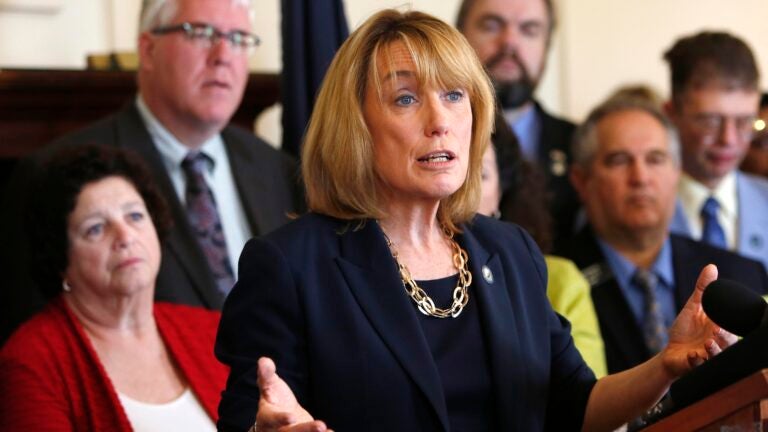 Presidential races aren't the only campaigns that start early: Fifteen months before election day, the New Hampshire Senate race is deep into political ad season.
Gov. Maggie Hassan hasn't even announced if she'll run for the Senate in 2016. But according to Politico, that hasn't stopped Republican groups from spending $2.5 million in negative ads against the Democratic governor.
It worked for Democrats against Scott Brown in 2014. Now Republicans hope they can turn the tables in New Hampshire, and perhaps save their majority in the U.S. Senate.
The National Journalsays Republican Sen. Kelly Ayotte's seat is the third most likely to change parties in 2016. Politico says seven GOP senators are at risk of losing their seats, while only two Democratic seats are seen at risk.
Republicans currently hold a 54-to-46 majority in the Senate, and are taking preemptive measures to keep their advantage.
So they're borrowing from the Democrats' "anti-Scott Brown playbook.'' Democratic groups used an attack-early strategy against the former Massachusetts senator in 2014, before he became a Senate candidate in the Granite State.
A former Brown campaign staffer told the Journal in July that the attacks "were effective in disrupting his launch.'' Another New Hampshire GOP strategist agreed.
"Before Brown ever got in, Democrats were already pushing this notion that he was a carpetbagger and that he was in it for himself, and he was never able to overcome it,'' Patrick Hynes, who ran a pro-Brown super PAC in 2014 told the Journal. "It can have a tremendous impact when you define these things and frame these things very early when someone else's hands are tied.''
With Hassan's tied up in a fight over the state budget, conservative groups have pounced. They have outspent Democrats 10-to-1 on negative ads labeling Hassan as an "ineffective and hyper-partisan career politician'' with a "spending problem.''
New Hampshire Democratic Party press secretary Aaron Jacobs told Boston.com he doesn't see the strategy working, saying Brown was "always deeply unpopular'' and aligned with special interests.
"No matter how much money Ayotte's special interest allies dump into this race, they won't be able to hide her true record of playing the Washington game and putting special interests first while turning her back on New Hampshire's people, businesses, and economy,'' Jacobs said.
Yet there has been some movement.
According to an NBC-Marist poll, in a head-to-head race, Ayotte widened her lead against the New Hampshire governor from four points in February to eight points last month. Additionally, Hassan's approval ratings have dipped from 70 percent to 56 percent during that time.
On the other hand, Hassan's approval ratings have consistently been in the mid-to-high-50s since she took office in 2013, according to University of New Hampshire surveys.
According to the UNH poll, the Republican-led state legislature's approval rating has dropped nine points since February to 42 percent in July. That was the first time since 2012 that more respondents have disapproved than approved. Jacobs pointed to that as evidence that the budget fight isn't costing her with voters.
So far, Politico says, Republicans have outspent Democrats $12 million to $2.5 million on 2016 Senate races.
2016 presidential candidates
[bdc-gallery id="140212″]