National News
Maggie Hassan is first Democratic governor to call for complete halt of Syrian refugees coming to U.S.
New England's governors were split Monday on how to deal with the crisis in the wake of the Paris attacks.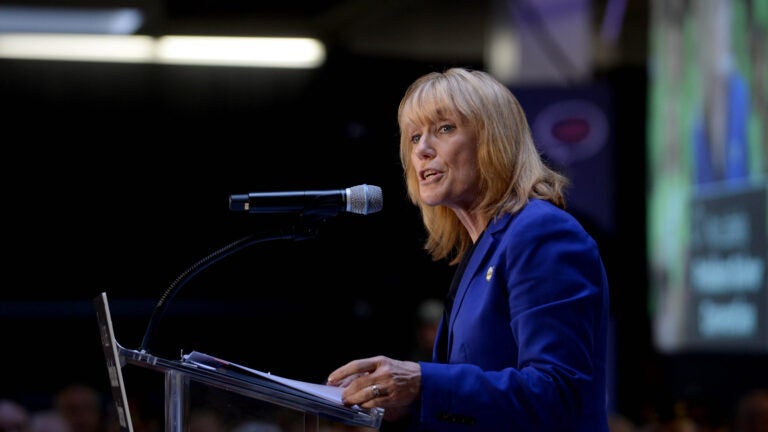 Massachusetts Gov. Charlie Baker was one of at least 23 governors Monday opposed to allowing additional Syrian refugees into their state following Friday's terrorist attacks in Paris.
New Hampshire Gov. Maggie Hassan took it one step further, becoming the first Democratic governor Monday afternoon to call for a complete freeze of Syrian refugees entering the United States until the government can "ensure robust refugee screening.''
"The Governor believes that the federal government should halt acceptance of refugees from Syria until intelligence and defense officials can assure that the process for vetting all refugees, including those from Syria, is as strong as possible to ensure the safety of the American people,'' said a statement from Hassan's communications director, William Hinkle.
The White House, however, said Monday it remained committed to its plan to accept at least 10,000 Syrian refugees in 2016 under the current process of "rigorous screening and security checks.''
Refugee resettlement agencies also pointed out that states do not have the capability to prevent legally-admitted refugees from residing in their state, as immigration and refugee policy is governed at the federal level, per the Refugee Act of 1980 and, more recently, the Supreme Court.
"As the federal government has the exclusive legal authority for resettling refugees, the Governor cannot block resettlement but believes that the federal government should work closely with emergency management and safety officials from the states to ensure local safety concerns are addressed before resuming any resettlement plans,'' Hinkle added.
Hassan is running for Senate in 2016 against Republican Sen. Kelly Ayotte, who has also opposed allowing Syrian refugees into the country until the government can guarantee they are not affiliated with the Islamic State.
The Guardianreported Monday that at least five of the eight Paris attackers had visited Syria, before returning home to Belgium or France.
New England's governors have thus far been split over how to deal with the refugee crisis.
Maine's Republican Gov. Paul LePage joined Baker and Hassan, reiterating his continued opposition to allowing Syrian refugees into the United States.
"To bring Syrian refugees into our country without knowing who they are is to invite an attack on American soil just like the one we saw in Paris last week and in New York City on 9/11,'' LePage said in a statement Monday. "That is why I adamantly oppose any attempt by the federal government to place Syrian refugees in Maine, and will take every lawful measure in my power to prevent it from happening.''
Connecticut Gov. Dan Malloy, a Democrat, told NBC Connecticut the state would stick to its commitment to bring in roughly 1,600 Syrian refugees having completed existing background checks.
[fragment number=0]
In Vermont, Democratic Gov. Peter Shumlin also said his state was willing to accept those fleeing the war in Syria and lambasted those who would try to impede refugees entrance into their state, according to the Burlington Free Press.
"The governors who are taking those actions are stomping on the qualities that make America great,'' he said at a press conference, "which is reaching out to folks when they're in trouble and offering them help, not hurting them.''
Shumlin added that he trusted the existing screening process, adding, "We root out folks who should not be accepted.''
As Rhode Island lawmaker battled Monday over whether the state should reject or accept any refugees from Syria, Democratic Gov. Gina Raimondo said it was a moot argument, per a statement to WPRO's Tara Granahan:
"We haven't received any requests to help, so there's nothing to decide at the moment. If a request is made, we will coordinate closely with the White House and with Col. O'Donnell. Anything Rhode Island may do in the future to support our nation's efforts to respond to this humanitarian crisis and help those in need must include robust background checks and security procedures to keep Rhode Islanders safe.''
In September, Raimondo said Rhode Island would "be ready to help'' if they're called upon to accept refugees from the war in Syria.
According to the New York Times, a total 1,854 Syrian refugees were admitted to the United States since 2012, compared to the tens of thousands accepted — per the Los Angeles Times — in some European and Middle Eastern countries .
[fragment number=1]
"Slamming the door in their faces would be a betrayal of our values,'' President Barack Obama said Monday in Turkey. "Our nations can welcome refugees who are desperately seeking safety and ensure our own security. We can and must do both.''