National
Orlando shooter referred to Boston Marathon bombers during rampage, police say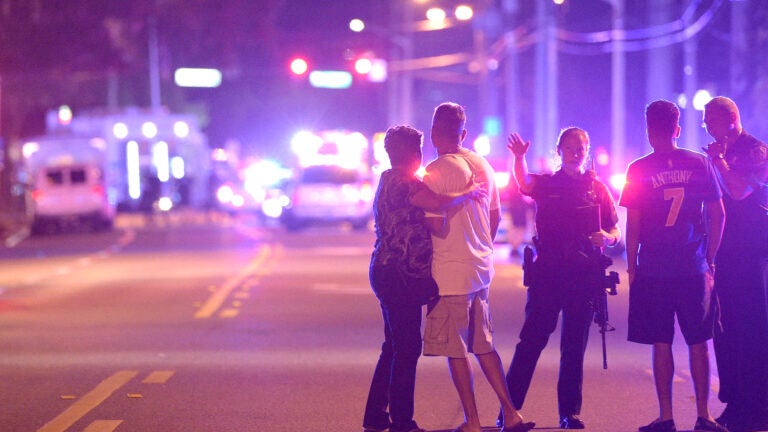 Officials say the Orlando shooter pledged allegiance to the Islamic State and referred to the Boston Marathon bombers, Dzhokhar and Tamerlan Tsarnaev, during his deadly rampage in a nightclub Sunday.
Massachusetts State Police said Sunday they learned of the reference during a conference call with federal officials. CNN reports the Boston Marathon bombings reference came during a 911 call the shooter made more than 20 minutes into the attack.
According to state police spokesman Dave Procopio, local law enforcement agencies are sharing intelligence with federal officials investigating the Orlando shooting "in light of that information."
Neither the gunman, who has been identified by authorities as Omar Mateen, nor his spouse have been connected to Massachusetts in any way, according to Procopio. Officials say neither Mateen nor his wife's name appeared in local terror suspect databases.
Dzhokhar and Tamerlan Tsarnaev plotted and carried out the 2013 Boston Marathon bombings. Four people were killed and more than 260 injured by the Tsarnaev brothers in the bombings and their aftermath.
At least 50 people were killed and over 50 more were hospitalized in the shooting early Sunday morning at Pulse, a gay nightclub in Orlando. A surgeon at Orlando Regional Medical Center told the Associated Press on Sunday the death toll "was likely to climb." It was the worst mass shooting in United States history.
Mateen was killed in a shootout with a SWAT team that was sent in around 5 a.m. to rescue the hostages.
Massachusetts police say they are working with federal authorities to investigate the nature of Mateen's reference to the Tsarnaev brothers.
[bdc-gallery id="962315″]