National
Here are some of the protests planned for Trump's inauguration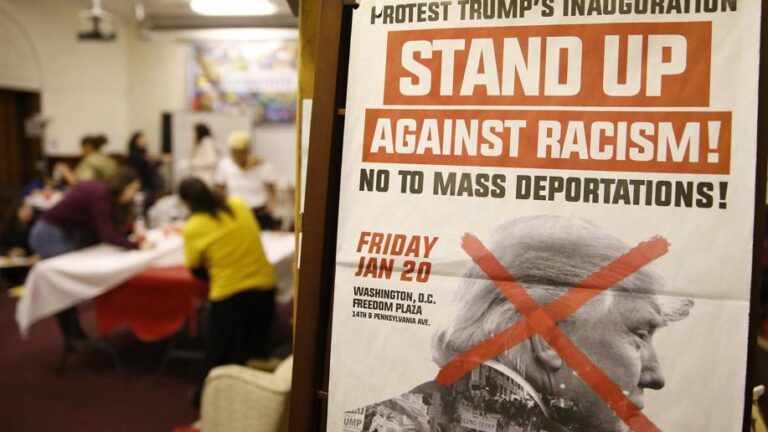 If you're not in the mood to celebrate President-elect Donald Trump's inauguration, you're not alone.
For inauguration weekend, officials in Washington are preparing for the arrival of an unprecedented number of protesters in the nation's capital, with about 200,000 people alone expected to participate Saturday in the Women's March on Washington in the city. In addition to the main event, over 600 "Sister Marches" organized in solidarity with the march on Washington are set to take place around the world.
Here's a look at some of demonstrations set to take place this weekend:
Thursday, January 19
National
Reclaim Our Schools Day of Action: Teachers unions and education organizations have banded together to form the Alliance to Reclaim Our Schools, which is calling for a national day of action on January 19 to send a "single message" to Trump and his pick for secretary of education, Betsy DeVos.
Maine
Unity Protest of the Inauguration: The protest, organized by Refuse Fascism, will be held in Portland's Monument Square from 2 to 9 p.m.  
New York
We Stand United:  New York City Mayor Bill de Blasio, Reverend Al Sharpton, and actor Alec Baldwin  are just some of the prominent protesters attending the event outside Trump International Hotel & Tower in New York City. The rally near Columbus Circle begins at 6 p.m.
Friday, January 20
Washington, D.C.
#InaugurateTheResistance: The ANSWER Coalition has obtained a permit for a "mass protest" along Pennsylvania Avenue. It starts at 7 a.m. at the Navy Memorial.
Occupy Inauguration: The permitted rally begins at 9:30 a.m. at Malcolm X Park with speakers including Green Party presidential candidate Jill Stein, Standing Rock activists, and organizers for the Black Lives Matter movement. A march to McPherson Square will begin at 12:15 p.m, which will be followed by another rally at 2 p.m.
DisruptJ20: A coalition of groups has organized several demonstrations throughout the day to bring "widespread civil resistance" to the streets of the capital, including a permitted march that starts at noon at Columbus Circle.
Not My President: Twenty thousand people have RSVP'd to the silent protest, organized by college students at the U.S. Capitol Building.
Massachusetts
Resist Trump: Occupy Inauguration Boston!: Over 2,000 people have said they intend to attend on the event's Facebook page. The protest, which is co-sponsored by a number of local groups including Massachusetts Peace Action, will take place from 6 to 8 p.m. at the Parkman Bandstand on the Boston Common.
New York
NYC Stand Against Trump: The Inauguration Day rally and march against the president-elect will begin at 5 p.m. in Foley Square and will end at the Trump building on Wall Street.
Illinois
Resist Trump: Occupy Inauguration Chicago: Thousands are expected to demonstrate at the protest starting at 3 p.m. in Daley Plaza.
California
United Against Hate: Thousands of people are expected to attend the march in Los Angeles. It starts at 11 a.m. at Olympic and Figueroa and will be followed by a rally at city hall at 2 p.m.
Saturday, January 21
Washington, D.C.
Women's March on Washington: About 200,000 people are expected to participate in the march, which begins at 10 a.m. at the intersection of Independence Avenue and Third Street. Search for the closest "Sister March" in solidarity with the event here.
Massachusetts
Boston Women's March for America: Participants will gather at 11 a.m. on the Boston Common's "Carty Parade Ground" before marching a mile route around the city.
New Hampshire
NH Women's Day of Action & Unity: The day-long event held in solidarity with the Women's March on Washington will kick off with a rally at the State House Plaza in Concord at 10 a.m.
Rhode Island
RI Women's Solidarity Rally: The event, organized in solidarity with the Women's March on Washington, will start at 1 p.m. at the State House in Providence.
New York
Women's March on New York City: Over 40,000 people have RSVP'd to the permitted event, set to begin at 10:45 a.m. with staggered march times at 1 Dag Hammarskjold Plaza.