National
Mitch McConnell's rebuke of Elizabeth Warren became a rallying cry on social media
"#ShePersisted"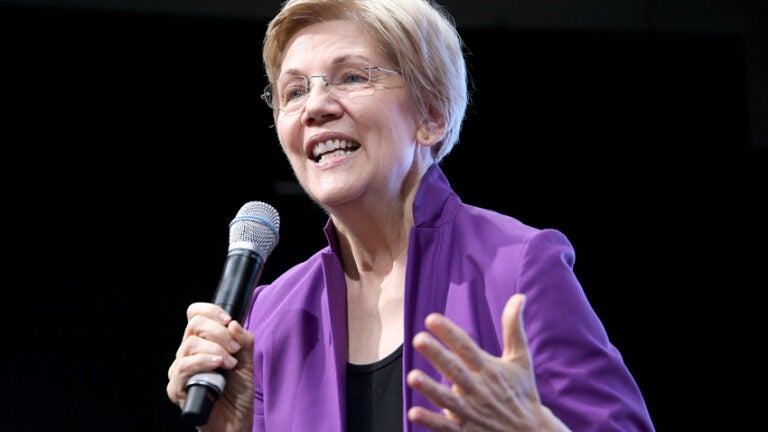 Senate Majority Leader Mitch McConnell may have prevented Massachusetts Sen. Elizabeth Warren from speaking on the Senate floor about attorney general nominee Jeff Sessions, but she may get the last laugh. Within hours, words were co-opted as a rallying cry celebrating powerful women on social media.
"She was warned. She was given an explanation. Nevertheless, she persisted," the Kentucky senator said Tuesday night, defending his decision to invoke a Senate rule that prohibits members from impugning each other.
The rule was brought up after Warren tried to read from a letter written by Coretta Scott King three decades ago criticizing Sessions, who was nominated to be a federal judge at the time.
In addition to using the hashtag "#LetLizSpeak" to support Warren, people have rallied around the hashtag "#ShePersisted," pointing toward women throughout history who have broken down barriers or defied the status quo.
In America, we don't silence women who persist, we celebrate them. #ShePersisted #BlackHistoryMonth pic.twitter.com/yZtTed3Eho

— Rep. Barbara Lee (@RepBarbaraLee) February 8, 2017
"She was warned. She was given an explanation. Nevertheless, she persisted."

So must we all.https://t.co/JXROGHPNkH

— Hillary Clinton (@HillaryClinton) February 8, 2017
They told her to get up #ShePersisted #RosaParks #wednesdaywisdom pic.twitter.com/cq3EULTIDA

— Taayoo Murray (@taayoomurray) February 8, 2017
By silencing Elizabeth Warren, the GOP gave women around the world a rallying cry. #ShePersisted #LetLizSpeak pic.twitter.com/uH6WIngHaL

— Kamala Harris (@KamalaHarris) February 8, 2017
But nevertheless, #ShePersisted pic.twitter.com/e65QeUwTTk

— Rachel Shabad (@RBShabad) February 8, 2017
"… you need to do whatever you want to do, but I'm finishing."
Kathrine Switzer, 1967 Boston Marathon#ShePersisted pic.twitter.com/diTT64DCrb

— Amy Leach (@amygcole) February 8, 2017
Because #ShePersisted I know why the caged bird sings. pic.twitter.com/hMdEz0s2R4

— Tracie sheaffer (@SheafferTracie) February 8, 2017
#ShePersisted Women's persistence is what makes us strong… let us all stand up for what is right and true. pic.twitter.com/939KJLEOnl

— me (@jzomom) February 8, 2017
#ShePersisted and became the first U.S. Olympic athlete to compete while wearing a hijab. pic.twitter.com/ouvIz4kIf3

— Kamala Harris (@KamalaHarris) February 8, 2017
nevertheless, #shepersisted pic.twitter.com/khzjvp3PSE

— christina perri (@christinaperri) February 8, 2017
https://twitter.com/MinterEllen/status/829356126055591936