National
With nation watching, widow of fallen SEAL becomes a face of bravery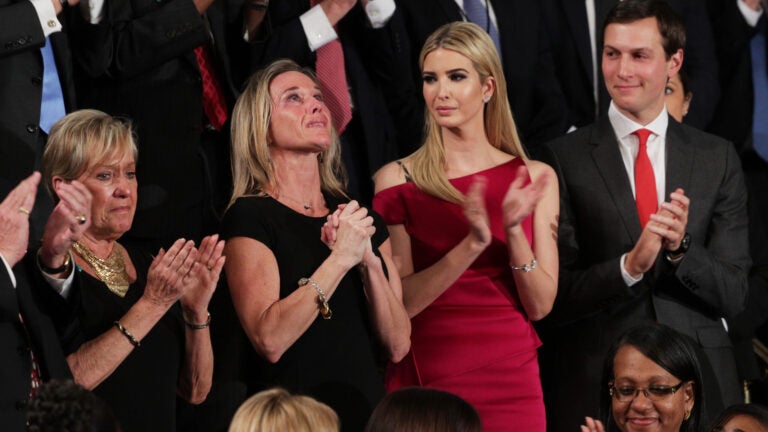 WASHINGTON — On the night of President Donald Trump's first address to a joint session of Congress, it was not a policy proposal or a rhetorical flourish that broke through partisan rancor but a widowed mother of three fighting through sobs.
Carryn Owens, the wife of Chief Petty Officer William (Ryan) Owens, a Navy SEAL who was killed during a commando raid authorized by Trump in January, had been invited to watch the speech from the first lady's box, next to the president's daughter, Ivanka. For a little more than two minutes, as Trump pressed his case to build up the military, Carryn Owens became the image of American bravery that the president had hoped his words would invoke.
"Ryan died as he lived, a warrior and a hero, battling against terrorism and securing our nation," Trump said, looking toward her.
Dressed simply in black, she looked upward and repeatedly mouthed the words "I love you" as a full House chamber rose to applaud in rare bipartisan unity.
Within minutes, the image began ricocheting across social media and, in doing so, deflected attention from growing criticism over the raid.
Military and White House officials have maintained the raid was successful. But Owens' death Jan. 29 came amid a chain of errors and misjudgments that resulted in a 50-minute firefight with Qaida militants in Yemen. Three other Americans were wounded, and several Yemeni civilians were believed killed. A $75 million aircraft was deliberately destroyed.
As a clearer picture of the episode has emerged in the weeks since, so have questions about what went wrong and why.
The sailor's father, William Owens, has been among the most vocal in his criticism, and he refused to meet with Trump the day his son's body was returned to the United States. He subsequently called for a government investigation of the episode and warned, "Don't hide behind my son's death to prevent an investigation."
"Why at this time did there have to be this stupid mission when it wasn't even barely a week into his administration?" the father said in an interview published Feb. 26 in The Miami Herald, recalling his reaction to news of his son's death. "Why?"
Trump, the commander in chief, has repeatedly sought to place blame elsewhere. Asked about the father's criticism, in an interview broadcast earlier Tuesday with "Fox & Friends," he said the responsibility for the decision to go forward with the raid rested with his generals.
"This was a mission that was started before I got here," he said. "This was something they wanted to do," referring to "the generals."
"And they lost Ryan," he said.
Trump avoided such questions inside the Capitol on Tuesday while he sought to assure Carryn Owens that her husband's death had not been in vain. He also seemed to keep its ownership with his defense secretary, Jim Mattis.
"I just spoke to General Mattis, who reconfirmed that, and I quote, 'Ryan was a part of a highly successful raid that generated large amounts of vital intelligence that will lead to many more victories in the future against our enemies,'" Trump said.
"Ryan's legacy," he added, "is etched into eternity."
Trump then addressed Carryn Owens directly.
"And Ryan is looking down right now. You know that," Trump told her. In what seemed to be a reference to the length of applause that erupted as he spoke to her, the president said: "And he's very happy, because I think he just broke a record."