National
Trump takes aim at lunch guidelines and a girls' education program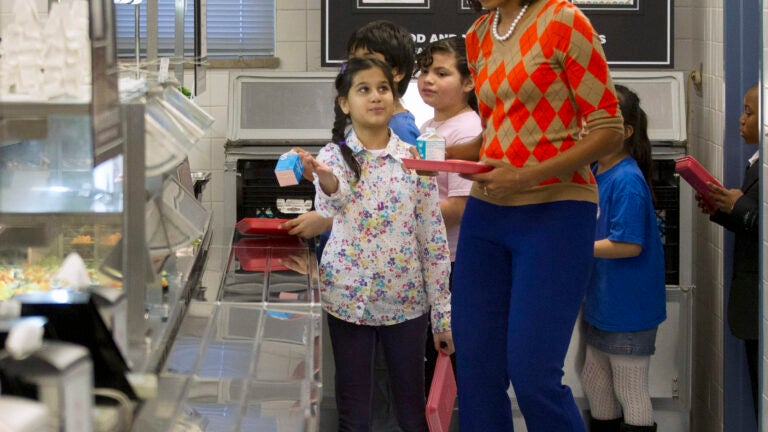 WASHINGTON — The Trump administration took aim Monday at two signature programs of the former first lady Michelle Obama, rolling back her efforts to promote healthy school lunches nationwide and potentially rebranding her program to educate adolescent girls abroad.
Agriculture Secretary Sonny Perdue announced that school meals would no longer have to meet some requirements connected with Obama's initiative to combat childhood obesity by overhauling the nation's school menus.
The nutrition regulations were part of the Healthy, Hunger-Free Kids Act of 2010 and were advocated by Obama's "Let's Move" campaign. For the last five years, schools have been required to reduce the amount of calories, fat and sodium in their cafeterias and increase offerings of whole grains, fruits and vegetables, and nonfat milk to the roughly 32 million students who receive federally subsidized meals.
Beginning next school year, schools can request an exemption from the whole grain requirements and delay the sodium mandate. They will also be able to serve 1 percent flavored milk instead of nonfat.
Perdue said the Obama-era rules had resulted in increased costs for school districts and declining participation in the federal school lunch program. He said relaxing the rules was part of the administration's effort to "make school meals great again."
"If kids aren't eating the food, and it's ending up in the trash, they aren't getting any nutrition — thus undermining the intent of the program," said Perdue, who announced the changes with a signed proclamation Monday after having lunch with students at Catoctin Elementary School in Leesburg, Virginia. Perdue, a former governor of Georgia, was just confirmed last week.
Nutrition advocates said the move by the Trump administration was shortsighted.
"Just because children would rather eat heavily salted, processed foods at school doesn't mean they should," said Ken Cook, president of the Environmental Working Group. "The president's fondness for Big Macs and KFC is well known, but we shouldn't let Colonel Sanders and McDonald's run the school cafeteria."
Since schools began complying with the nutrition standards in 2012, many have complained that they are too stringent and costly. The new rules were projected to cost $3.2 billion over five years, but Perdue said they had cost states an additional $1.22 billion in the 2015 fiscal year alone.
Congress has allowed states to apply for waivers if they cannot meet certain standards.
Nancy Brown, chief executive of the American Heart Association, said in a statement that schools were moving forward to meet the requirements. The organization denounced the Agriculture Department's relaxation of the rules, noting that more sodium and sugar would increase students' blood pressure and put them at greater risk of heart disease and strokes.
Brown said her organization was "very disappointed that the USDA has decided to put special interests back on the school menu," and added, "We strongly urge the agency and Congress not to give politics priority over the health of our children."
Last month, Sen. Pat Roberts, R-Kan., who leads the Senate Committee on Agriculture, Nutrition and Forestry, asked Perdue to have the Agriculture Department provide "immediate relief" from the regulations, some of which were to take effect July 1. On Monday, Roberts accompanied Perdue in his announcement, which coincided with the start of School Nutrition Employee Week.
Representatives of the national School Nutrition Association cheered the regulatory rollback. "We have been wanting flexibility so that schools can serve meals that are both nutritious and palatable," said the group's chief executive, Patricia Montague.
This flexibility will be welcomed in at least one part of the country, Perdue said.
"A perfect example is in the South, where the schools want to serve grits," he said. "But the whole grain variety has little black flakes in it, and the kids won't eat it. The school is compliant with the whole grain requirements, but no one is eating the grits. That doesn't make any sense."
The Trump administration also indicated Monday that it was eyeing another program that Obama promoted.
It was not clear how serious the administration was about targeting the program, Let Girls Learn, which was spearheaded by President Barack Obama and Michelle Obama in 2015 to increase educational opportunities for adolescent girls who face physical danger and other obstacles to going to school.
In a letter circulated internally this week, a Peace Corps official said the initiative would no longer use the Let Girls Learn brand or operate as a discrete program, according to people familiar with the document, which was first reported by CNN.
A senior administration official said there was no plan to end or even rebrand the program, calling the letter a result of an unauthorized and erroneous decision by a career government employee. When Secretary of State Rex Tillerson's staff learned of the memo Monday, they insisted that it be reviewed, said the official, who discussed private deliberations on the condition of anonymity.
R.C. Hammond, Tillerson's spokesman, declined to answer questions, providing only a terse statement that said, "No changes have been made to the Let Girls Learn program." He referred additional queries to the Peace Corps, which did not return phone calls and emails seeking comment.
But former officials expressed alarm that members of Trump's administration would even consider trying to redefine an initiative that gained traction, and its name, under Michelle Obama's stewardship after the world reacted with outrage to the kidnapping of nearly 300 schoolgirls in Nigeria by the Boko Haram terrorist group.
"If this administration wants to move in a different direction on girls' education, that's certainly their right and understandable, but to tear down a message that was erected in the wake of this terrible incident that happened in Nigeria, and that the world rallied around, I think it is really shameful," said Brett Plitt Bruen, an Obama administration official who helped create the program.
The initiative predated Michelle Obama's involvement, but she traveled the world and recruited dozens of celebrities, including Alicia Keys, Anne Hathaway and Shonda Rhimes, to promote and participate in it.
"It was effective before the first lady got involved, and it became even more powerful when her brand and her office were associated with it," Bruen said. "And to say we're going to stop the campaign or change it just to distance it from her is to undermine everything that was achieved."