Harvard
Mark Zuckerberg's great American road trip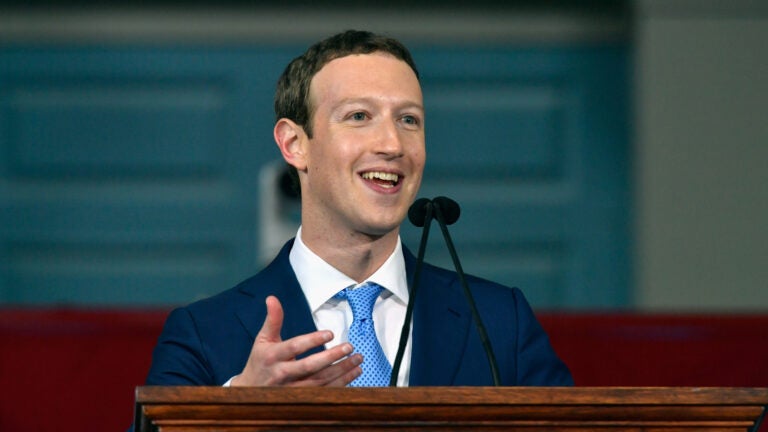 CAMBRIDGE, Mass. — In March, Mark Zuckerberg visited Mother Emanuel in Charleston, South Carolina, an African Episcopal Methodist church that was the site of a mass murder by a white supremacist.
Last month, he went to Dayton, Ohio, to sit down with recovering opioid addicts at a rehabilitation center.
And he spent an afternoon in Blanchardville, Wisconsin, with Jed Gant, whose family has owned a dairy and beef cattle farm for six generations.
These were all stops along a road trip by Zuckerberg, Facebook's chief executive, across the United States this year. His goal: to visit every state in the union and learn more about a sliver of the nearly 2 billion people who regularly use the social network.
On Thursday, in a commencement speech at Harvard, from which he dropped out in 2005, Zuckerberg discussed how his views on how people live and work with one another had broadened, partly as a result of what he has seen on the tour. He has come to realize that churches, civic centers and other organized meeting places are integral to building and maintaining a strong sense of community.
"As I've traveled around, I've sat with children in juvenile detention and opioid addicts, who told me their lives could have turned out differently if they just had something to do, an after-school program or somewhere to go," said Zuckerberg, who also received an honorary doctoral degree at the ceremony. "I've met factory workers who know their old jobs aren't coming back and are trying to find their place."
To his critics, Zuckerberg's road trip is a stunt and has taken on the trappings of a political campaign. His every pit stop — eating with a farming family in Ohio; feeding a baby calf at a farm in Wisconsin — has been artfully photographed and managed, and then posted to Zuckerberg's Facebook page.
"He has all of the mechanics needed for a massive, well-staged media operation," said Angelo Carusone, president of Media Matters for America, a nonprofit media watchdog group. "Photographers, handlers, its size, scope and scale — all the ingredients are there. And he's appearing in an environment where there's no sole Democratic leader or counterbalance to Trump, who's consuming all the oxygen in media."
Zuckerberg has publicly denied that he is using the visits as a platform to run for public office. He has said it is a way to "get a broader perspective" to inform how he runs Facebook and the Chan Zuckerberg Initiative, a limited liability company through which he plans to give away the majority of his wealth over the course of his life.
So far, Zuckerberg has made it to roughly half the states, including ones he previously spent time in. The visits have plunged him into self-reflection, according to four current and former colleagues and people close to the chief executive who asked for anonymity because they were not authorized to talk publicly. That is especially so as Facebook has wrestled with more questions about its responsibilities and its role in the lives of its users, many of whom rely on the network for news and information.
The trips are part of a real-world education for Zuckerberg, who grew up comfortably upper-middle class in the suburbs of New York, attended the elite halls of Harvard, then moved to Silicon Valley where he became a paper multibillionaire by the time he was 23. (He is now 33.)
Recent events have forced Zuckerberg to step out of that Silicon Valley bubble. Last year, after the presidential election, Facebook was assailed for being a repository of fake news that influenced the way the U.S. electorate voted. People have also posted videos of killings on Facebook, raising questions about what responsibility the social network bears in distributing such content.
The U.S. road trip follows many international travels for Zuckerberg in 2015 and 2016. In January, he said on Facebook that he wanted to talk to more people about how they're "living, working and thinking about the future." Friends said Zuckerberg was catching up on many things that he missed out on by spending the last 10 years in Silicon Valley building a $438 billion company.
"I think he's just really curious and wants to visit all the places that he's never been," said Ashley Gant, 27, who spoke with Zuckerberg when he visited her family's Wisconsin dairy farm in April. Over a midday meal of roast beef, mashed potatoes and her grandmother's applesauce Jell-O, Gant said she answered the chief executive's questions about daily life on a farm.
"It felt like an everyday conversation with someone who isn't from around here," Gant said. "It just so happens that he also invented Facebook."
The road trip began in January with a tour of Texas, where Zuckerberg divided his time between business — testifying in a lawsuit against his company in downtown Dallas — and events like attending his first rodeo in Fort Worth.
He flew in and out of cities in between his day job in Menlo Park, California, where Facebook is headquartered. Zuckerberg travels on a chartered private plane and has a small staff at both Facebook and the Chan Zuckerberg Initiative coordinating his trips, though some occur by happenstance. Gant's family, for instance, was contacted after Zuckerberg saw a photo of their dairy farm that a friend of a friend had shared on Facebook.
In February, he stopped in to view his Oculus virtual reality team in Washington. A week later, he hit the road with his wife, Priscilla Chan, driving through southern states. In Alabama, he visited a shrimp boat; in Mississippi, he went to a blues club. Hosts at each place were told they were coming sometimes only hours before, for security reasons.
At the Mother Emanuel church in Charleston, which was attacked by a white supremacist in 2015, Zuckerberg spoke of the church's sense of community and how important that was in bringing the congregation together after the shootings.
In March, he also spoke with a group of a dozen students about diversity and the arts at the South Carolina Governor's School for the Arts and Humanities, where he listened to issues from minority students who grew up in predominantly white communities.
"It was nice to meet a white male who came from privilege and seemed to understand that, and can have an open dialogue, with others who do not," said Cam'Ron Stewart, 18, an acting student who spoke with Zuckerberg at the meeting.
The trip to Dayton, where he met with a group of opioid addicts, stood out. In an airy, well-lit room where people sat in a circle of chairs, those in recovery explained how their drug use had ravaged their lives and left them without feelings of purpose.
Zuckerberg seems to have carried that lesson with him.
"Purpose is that sense that we are part of something bigger than ourselves, that we are needed, that we have something better ahead to work for," Zuckerberg said in his commencement address at Harvard, where he wore a suit and light blue tie instead of his usual gray T-shirt and jeans. "To keep our society moving forward, we have a generational challenge — to not only create new jobs, but create a renewed sense of purpose."