National News
What happens if Obamacare is repealed without a replacement?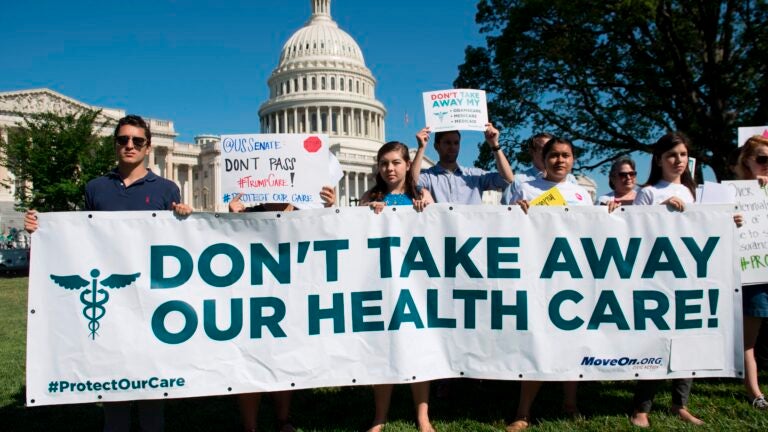 Republicans on Monday abandoned their latest effort to replace the Affordable Care Act, and some — including President Trump — are now considering an attempt to repeal President Obama's signature health care law without a replacement bill.
Any effort to simply repeal Obamacare is likely to be blocked, but what would happen if the landmark 2010 heath care bill was repealed?
Some 18 million people would lose health insurance coverage, and premiums would rise by 20 to 25 percent within the first year after repeal, according to projections outlined by the nonpartisan Congressional Budget Office in January and based on a previous bill to repeal key provisions of Obamacare.
By 2026, the number of uninsured would climb to 32 million, and premiums would double, the report said.
The projections were based on a bill that proposed rolling back Obamacare. The bill passed Congress last year but was vetoed by Obama.
The bill would have eliminated two major parts of Obamacare: tax penalties for people who go without insurance and spending for the expansion of Medicaid and subsidies that help lower-income people buy private insurance. The bill would have preserved requirements for insurers to provide coverage at standard rates, to any applicant, regardless of preexisting medical conditions.
"Eliminating the mandate penalties and the subsidies while retaining the market reforms would destabilize the nongroup market, and the effect would worsen over time,'' the report said.
The report offered a breakdown for the projection of 32 million fewer people insured in 2026: about 23 million fewer people would have coverage in the individual insurance market and 19 million fewer people would have Medicaid coverage, while about 11 million more people would be covered by employment-based insurance.
Trump and other Republicans have raised doubts about the accuracy of projections made by the Congressional Budget Office.
Senate majority leader Mitch McConnell said late Monday that he will seek a vote to repeal Obamacare that would be delayed by two years to give lawmakers time to seek a replacement.