National
Desperate search for Harvey missing as funerals begin for the dead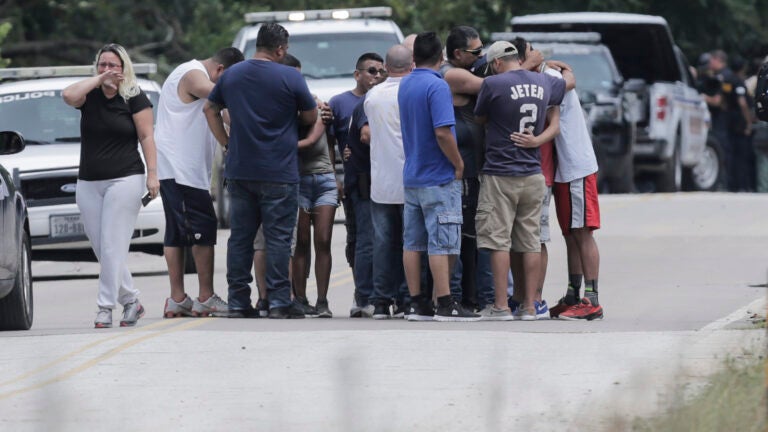 It's been four days since volunteer rescuers Ben Vizueth and Gustavo Rodriguez went missing in Harvey's murky floodwaters when their boat hit submerged power lines and everyone was pitched overboard.
The bodies of two other men on the boat at the time — Vizueth's brother, 45-year-old Yahir Rubio-Vizuet, and 33-year-old Jorge Perez — were found dead floating in the water soon after. Two journalists for the British newspaper The Daily Mail were aboard and survived.
Vizueth's wife, Perla Jaquez, trudged through a wooded area filled with downed trees and debris Thursday with other volunteers looking for the missing men.
"There's still a lot of faith and a lot of hope that we can recover them," she said in a Facebook Live video .
A week after Harvey came ashore as a Category 4 hurricane, leaving a trail of devastation on the Texas Gulf Coast, the search for the missing has become more desperate and funerals have begun. Authorities say 39 people are confirmed dead so far from Harvey and 19 are still believed to be missing. But more bodies are likely to be found.
A gathering of friends and family was planned Friday for Benito Juarez Cavazos, 42, who was found dead in a parking lot after floodwaters receded Tuesday near a Houston freeway. His death was being listed by police as a drowning or accident.
When news of Cavazos's death spread through the small, tightknit and mostly Mexican neighborhood of Port Houston, dozens of people congregated for an impromptu memorial service, said childhood friend Rene Velez.
The group of friends and family reminisced about Cavazos' constant jokes and the time 15 years ago when Cavazos was sent flying off a horse that stopped short after galloping at full speed.
"We were all laughing about that," Velez said. But the mood turned somber as the realization of his death sank in.
"One by one, everybody just broke down," he said. "Everybody's devastated."
"The thing I admired about him was that he was always smiling, always happy," Velez said. "It was like nothing got to him."
The funeral of 82-year-old Ola Mae Winfrey-Crooks, was scheduled for Saturday. She drowned when her car was swept off a farm-to-market road at the San Jacinto River near her home north of Houston. Authorities say it appears Crooks was trying to cross the bridge and the swift water carried her vehicle off the road and into the flood waters.
A memorial also was being held Saturday for 58-year-old Ruben Jordan, a former football and track coach at Clear Creek High School who disappeared while driving during the storm.
Al and JoDell Pasek want to scatter the ashes of their son, 25-year-old Andrew Pasek, at Mount Rushmore, where they had long planned to take a family trip.
Andrew was on a mission to check on his beloved big sister's cat when he stepped on the wire, then fell into a lamppost attached to the live wire. Pasek's friend moved closer to help, but Pasek warned him away.
"He said, 'Don't touch me. I'm dying,'" said JoDell Pasek.
___
Associated Press writers Frank Eltman in Garden City, New York, Andrew Welsh-Huggins in Columbus, Ohio, and AP News Researcher Rhonda Shafner in New York contributed to this report.