National
'It didn't look like the place I left': St. Thomas couple that met in Boston recalls riding out Irma
"Sometimes we feel forgotten. And that hits home so much more during a disaster."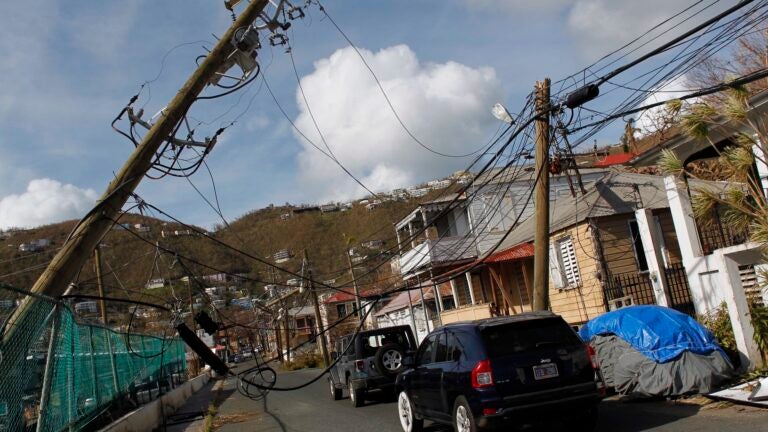 Kate Neilson says she lost all contact with her husband, KJ, sometime midday Wednesday.
"Shutting off phone to conserve, I love you," he texted around noon.
The couple, who met in Boston and both attended Babson College, moved together in 2013 to St. Thomas in the U.S. Virgin Islands, where they started a hydroponic crop farm. They got married on St. John in 2015 and planned to start a family in St. Thomas.
Kate, a Cape Cod native, had left in late-August for "trip of a lifetime" to Greece with six girlfriends from Boston, leaving her husband and their two dogs back at their home on the island's scenic East End.
"We were sitting down to lunch in Athens when CNN alerted us of Irma forming," she said.
Kate says she dialed long-distance back home to KJ, who reassured her it was too early to tell and not to worry. But a few days later, she said she received a dread-filled call from KJ informing her the Category 5 hurricane was on course to directly hit their island. KJ worked to board up their home as best he could to protect both their upstairs apartment, as well as the two downstairs apartments they rent out.
On Wednesday, Kate said goodbye to her husband over Facetime and, after receiving his last text, waited.
"It escalated so quickly that I don't think anyone was mentally prepared," KJ told Boston.com in a call with his wife Monday. It was the fourth time Kate had talked to her husband, who is still stranded on the island, since the storm.
As the rain and lashing winds began to pick up early Wednesday afternoon, KJ said he watched from their upstairs apartment as roofs on nearby houses were completely ripped off. The Kinderhook, New York native and their dogs moved downstairs to a "bunker-like" concrete room. And yet the unprecedented storm continued to push in.
"All of the sudden, my ears began popping and the winds began to change direction," he said. "It shifted really violently. I literally watched the door begin to bend inward with only the deadbolt holding it in place."
KJ said water and debris began to flood the unit, as he braced himself against the door to hold it shut. His battle against the "deafening winds" went on for hours.
"I don't know how else to describe it other than just somebody blowing into your ear for four hours," he said. "I could hear anything else. You couldn't see three or four feet in front of you."
At times the winds would let up enough for KJ to peek out the window to see trees bent all the way down toward the ground and debris — including pictures and photographs from other houses — whipping through the air.
"Then the wind would start up again and visibility would be zero," he said.
KJ said the storm finally died down around 6:30 p.m., at which point he sat down in his house exhausted and almost immediately passed out for roughly a half hour. He woke up to what felt like an island entirely foreign to the tourist haven he called home before the storm.
"It didn't look like the place I left," he said. "It was a green island. Now there isn't a piece of color. Everything is brown."
KJ said their house used to look out to a hillside so lush and full with trees that the houses beneath them were completely out of sight. That view has now been replaced with the storm's desolate wake of downed trees, branches, and debris.
"It's changed the landscape drastically," he said.
KJ said that the immediate thoughts after the storm were self-preservation: Food, water, and power. However, the country's relatively fragile infrastructure was completely crippled.
"No one could get to him because the roads were impassable," Kate said. "The East End where he was located was badly hit, and everyone in the area was in a communication black out."
Without power and cell phone service down, coordinating any response over the following 48 hours was nearly impossible, he said. And what was once a 30-second drive past friends and neighbors' houses is now barely walkable due to downed — and potentially live — power lines and destroyed houses. 
"Entire businesses are gone," KJ said.
"Including our own," added Kate, who says their hydroponic container was "tremendously" damaged in the storm. The couple does not know if it is salvageable.
KJ said he feels blessed to even still have a roof, especially after visiting many who did not.
"You find people just walking, searching," he said of the post-storm daze.
"This is a horrific disaster," U.S. Virgin Islands Gov. Kenneth Mapp said in a press conference over the weekend. "There will be no restorations or solutions in days or weeks."
According to Mapp, cell phone and computer service will not be restored across the island for weeks. KJ said he's heard it could be months before electricity returns. NPR reports that St. Thomas's only hospital faced "catastrophic failure during the storm" and some patients were evacuated to Puerto Rico and St. Croix, which along with St. Thomas and St. John makes up the three major islands of the U.S. Virgin Islands.
"I would stress to people in the United States to think about what it would be like going without power for three months," KJ said, underscoring what he says is a common fear among locals of being "overlooked."
"Islands like ours tend to get forgotten after storms," former basketball player Tim Duncan, perhaps the most famous native of the U.S. Virgin Islands, wrote in a personal essay Saturday, asking readers to donate to relief efforts.
Even though they may have a different lifestyle on an island more than 1,000 miles southeast of Miami, KJ stressed that U.S. Virgin Islands citizens are American citizens, too.
"Sometimes we feel forgotten," he said. "And that hits home so much more during a disaster."
At least four people on the island have been confirmed dead, with the toll expected to rise as locals sift through the wreckage.
On Sunday, President Donald Trump amended the US Virgin Islands disaster declaration to make more federal funds available. According to the New York Times, nearly 5,000 American service members were being sent to the islands, including 600 marines who arrived on St. Thomas on Monday.
KJ says there has been some criticism of the local government for their lack of preparedness, as well as dangerous rumors spreading stories of looting and incorrect information about where to collect relief supplies, such as gas or MREs. But he also says he has witnessed his close-knit community coming together to share supplies.
"A lot of neighborly love," he said.
Kate says she didn't hear from KJ until Thursday morning, when he called her from their tenant's phone to tell her he and the dogs were safe. Kate says she is unable to return to St. Thomas due to the extremely limited resources and plans to remain in Massachusetts for the time being. She hopes her husband will soon join her; however, the airport in St. Thomas is not expected to reopen until this weekend at the earliest.
"He's lost 20 pounds, but he's helping others rebuild and doing what he can to help the community," she said. "Next step is trying to evacuate the dogs, and then hopefully KJ can follow."
KJ says at times he himself was overwhelmed by a sense of not knowing where to even start amid the incomprehensible recovery ahead. Once, he said he found himself sweeping a step, only to come to and ask himself, "Why am i sweeping a step; this doesn't matter."
"But it's not a bad thing to do," he said. "You pick up the stick that's next to you. And then you pick up the next one."