National News
Former USA Gymnastics doctor expected to change plea in sex assault cases
Olympic gymnasts Aly Raisman and McKayla Maroney have said they were among those sexually abused by Nassar.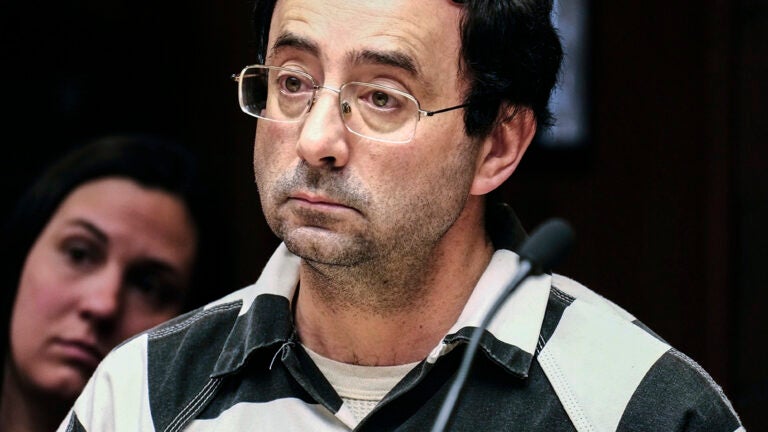 LANSING, Mich. (AP) — A former Michigan State University and USA Gymnastics doctor accused of molesting girls under the guise of medical treatment at his home, a campus clinic and a youth gymnastics club is expected to change his not-guilty pleas in a bid to close the state's criminal cases against him.
Online court records show change-of-plea hearings for 54-year-old Dr. Larry Nassar are scheduled for Nov. 22 and Nov. 29 in two Michigan counties. Jury selection was to begin in one courthouse on Dec. 4.
A spokeswoman for state Attorney General Bill Schuette declined to comment, citing a gag order. A message was left Wednesday for one of Nassar's defense lawyers.
In February, the state charged Nassar with 22 counts of first-degree criminal sexual conduct involving nine girls who said they were molested at Michigan State's sports medicine clinic, his home or the Twistars Gymnastics Club. All were age 16 or under.
More recently, Olympic gymnasts Aly Raisman and McKayla Maroney said they were among those sexually abused by Nassar.
Nassar began working with USA Gymnastics as an athletic trainer in 1986 and became the national team doctor in 1996. He stepped down in 2014 but remained on staff before being fired in 2015.
In a probable-cause hearing in June, prosecutors played a video of Nassar's 40-minute voluntary interview with a university police detective. Nassar denied any inappropriate contact and said he got no sexual pleasure from treating gymnasts.
He repeatedly moved his arms and hands as he explained his techniques, using phrases such as "lift and shift" and "tissue tension" to describe treatments for back and hip injuries.
Nassar already is in jail awaiting sentencing in federal court after pleading guilty to possession of child pornography. He also has been sued by more than 125 women alleging abuse.
A lawyer for women who testified against Nassar, including Rachael Denhollander, said Wednesday that he had not been advised there is a plea agreement.
"The AG's staff and Michigan state police have worked tirelessly to pursue justice for our clients," John Manly said. "We trust that they will continue that process. Our clients have complete faith in them and the judicial process."
Denhollander, of Louisville, Kentucky, testified that Nassar molested her with his hands during the first visit in 2000 when she was 15, even with her mother in the room. She said it felt "very humiliating" but that she trusted Nassar. She said the assaults continued during four subsequent visits, with the doctor also unfastening her bra and massaging her breasts.
She stepped forward last summer after reading a report in the Indianapolis Star about the history of assault allegations against coaches affiliated with USA Gymnastics.
___
AP reporter Ed White in Detroit contributed to this story.