National
Watch: CNN's Jake Tapper grills Florida sheriff on police response to Parkland school shooting
The news anchor pushed for answers from Broward County Sheriff Scott Israel about what law enforcement knew about the alleged shooter beforehand and how deputies responded to the tragedy.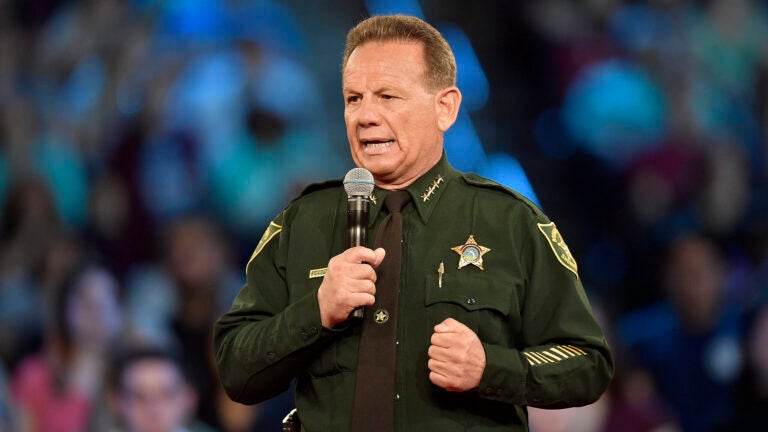 CNN's Jake Tapper questioned Broward County Sheriff Scott Israel in a heated interview Sunday about how officers within Israel's agency responded to the shooting at Marjory Stoneman Douglas High School.
Israel announced on Thursday that an armed deputy, who was on the high school campus as a school resource officer during the Feb. 14 massacre, never went inside to engage the shooter. The officer, Scot Pederson, was initially suspended without pay and placed under investigation before he chose to resign.
During his appearance on CNN's "State of the Union," Israel pledged that he would continue to investigate his agency's actions before and after the shooting and expressed confidence in how he has led his department.
"There's no timeline on it other than to work as fast as we can, but we want to get it right," Israel told Tapper of the investigation. "We want to get it accurate."
Tapper also pressed Israel about what law enforcement knew about the alleged gunman beforehand.
"Are you really not taking any responsibility for the multiple red flags that were brought to the attention of the Broward Sheriff's Office about this shooter before the incident, whether it was people near him, close to him calling the police on him?" Tapper asked Israel.
"Jake, I can only take responsibility for what I knew about," Israel said. "I exercised my due diligence. I've given amazing leadership to this agency."
"Amazing leadership?" Tapper asked.
"Yes, Jake, there's a lot of things we've done throughout," the sheriff said. "You don't measure a person's leadership by a deputy not going into a— These deputies received the training they needed—"
"Maybe you measure somebody's leadership by whether or not they protect the community," Tapper said. "In this case, you've listed 23 incidents before the shooting involving the shooter, and still nothing was done to keep guns out of his hands, to make sure that the school was protected, to make sure you were keeping an eye on him. Your deputy at the school failed. I don't understand how you can sit there and claim amazing leadership."
"Jake, in 16 of those cases our deputies did everything right," Israel said. "Our deputies have done amazing things. In the five years I've been sheriff, we've taken the Broward Sheriff's Office to a new level. I work with some of the bravest people I've ever met. At this point, one person didn't do what he should have met. It's horrific. The victims here, the families, I pray for them every night. It makes me sick to my stomach that we had a deputy who didn't go in because I know if I was there, if I was on that wall, I would have been the first in along with so many other people."
Watch the full 28-minute interview below:
https://twitter.com/CNNSotu/status/967778569194803202