National News
Former Delaware state employee facing criminal charges in Massachusetts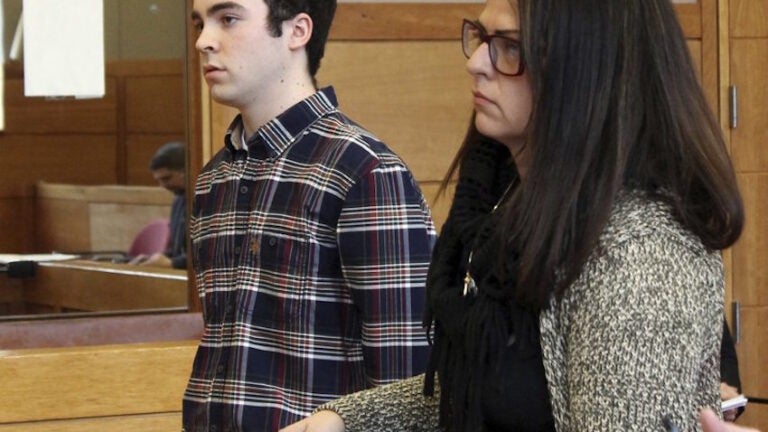 DOVER, Del. (AP) — A former deputy state treasurer in Delaware who resigned in disgrace after repeatedly misusing her state credit card is facing criminal charges in Massachusetts related to what authorities describe as a drug distribution operation involving her two sons.
Erika Benner, 45, was arrested Feb. 21 and charged with drug possession to distribute, conspiracy to violate drug laws, and reckless endangerment of a child, according to authorities.
According to Haverhill District Court records, Benner has been committed to a secure detox facility and is scheduled to appear in court March 28.
Benner also has been charged with violating probation stemming from her conviction in 2016 on two counts of assault and battery of a police officer. The convictions stem from a July 2016 incident in which she was also charged with assault and battery on a disabled person age 60 or older, and malicious destruction of property. The incident occurred at her father's home in Haverhill, where her two sons were living.
No one responded to telephone messages left at the home.
Benner's attorney, Lee Graham, was not in his office Friday but said he would be meeting with Benner next week and would be able to comment once he has her file.
The Eagle-Tribune, a local newspaper, reported that Graham told a judge Benner collects $329 monthly in public assistance, gets food stamps, and that her parents help pay for her apartment.
According to news reports, Benner and her 16-year-old son were arrested after police witnessed a drug exchange outsider her parents' home in which the boy gave Benner a bag containing several doses of the prescription tranquilizer Xanax. Police were conducting surveillance on the house after receiving multiple complaints about drug activity. The son was charged as a juvenile with conspiracy and drug offenses.
A warrant was issued for Benner's eldest son, Joseph, 20, on Feb. 23, two days after his mother and brother were arrested.
Joseph Benner is charged with conspiracy and three counts of drug possession to distribute. He is being held on $10,000 cash bail pending a March 26 court hearing. Benner's public defender did not respond to a telephone message seeking comment Friday.
Police allege that the brothers ran a lucrative drug distribution operation, with the older brother procuring hundreds of Xanax pills each month and keeping track of the money, while the younger brother handled most street-level sales.
In Delaware, Benner and former state treasurer Chip Flowers came under scrutiny in 2013 for alleged misuse of state credit cards for personal expenses. Much of the scrutiny involved a 2012 trip to Alaska by Flowers and Benner, his top deputy.
Flowers denied any wrongdoing but reimbursed the state more than $1,000. Benner resigned following repeated unauthorized use of a state credit card for thousands of dollars in personal expenses, including more than $1,000 for football tickets and private car service to a New England Patriots game she attended with Flowers.
Benner said she never intended to steal from taxpayers and blamed the inappropriate charges on a "medical disease." State officials say she ultimately reimbursed the state for all charges.
Benner later filed a harassment complaint against Flowers after an encounter between him and Joseph Benner, then 16, as Flowers waited to participate in a Fourth of July parade. According to the initial complaint, Flowers told Erika Benner that if her son approached him again, he would have to defend himself with a gun. Flowers, who is black, claims Joseph Benner, who is white, threatened him, using a racial slur.
In an incident report, police said Benner reported that she and Flowers had a romantic relationship that ended in 2012 and was physical at times. Benner later denied such a relationship.
Flowers was cleared of the harassment allegations, but only after announcing that he was quitting politics because he was tired of fending off false accusations about Benner.
Flowers, who also lives in Massachusetts, said he takes no pleasure in learning of Benner's latest troubles.
"This woman needed help. She was troubled," he said, adding that he believes Benner was used as a pawn by his political opponents to bring him down.
"She came to me and admitted she had a serious drug problem," said Flowers, who blamed state officials for not working to ensure that Benner got the help she needed.