National News
Water slide in Kansas that decapitated boy violated basic design standards, indictment says
At least 14 riders were injured on the slide in a string of accidents that culminated in August 2016, when a 10-year-old boy was tossed off a raft and decapitated when he hit a metal pole.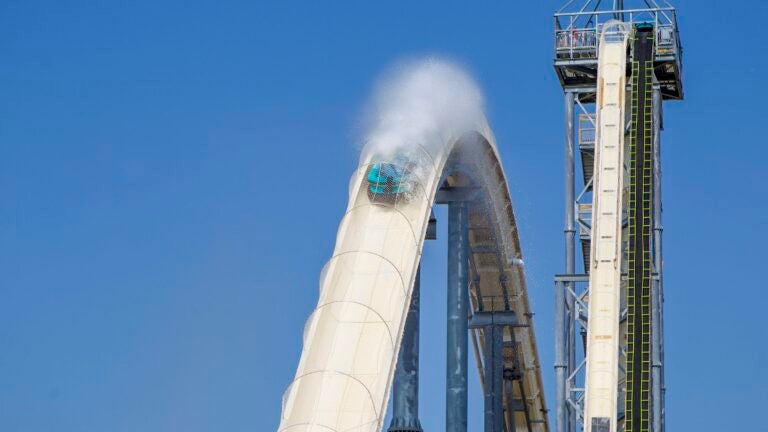 In a rush to build the world's tallest water slide, the operators of a Kansas park glossed over their own findings that the nearly 170-foot-tall ride had major design flaws, skirted basic engineering standards and sent riders airborne in a way that could injure or kill them, investigators said.
Yet the operators of Schlitterbahn Waterpark of Kansas City, Kansas, opened the ride, Verrückt, in July 2014 — only 20 months from its conception to grand opening.
At least 14 riders were injured on the slide in a string of accidents that culminated in August 2016, when a 10-year-old boy was tossed off a raft and decapitated when he hit a metal pole.
In an indictment unsealed last week, authorities said top Schlitterbahn officials knew that the slide, which closed after the boy's death, posed serious dangers for riders — so much so that company officials feared for their own safety when they went on it.
On Friday, the office of the Kansas attorney general announced that Schlitterbahn Waterpark and Tyler Austin Miles, its former operations director, had been charged with 20 criminal counts, including involuntary manslaughter, aggravated endangering of a child and aggravated battery.
"Verrückt" is German for "crazy" or "insane," and the slide was built to thrill.
Riders climbed 264 steps to the top before sitting in a raft that plummeted from a high point of about 17 stories and then soared over a crest on their way to a runoff pool at the bottom. Netting covering the length of the slide, supported by metal poles, was meant to keep riders from falling off.
The indictment portrayed a company that ignored its own warnings and hurried to construct a towering water slide in an effort to impress the producers of a Travel Channel show, "Xtreme Waterparks," which featured the slide in an episode.
In that pursuit, Schlitterbahn rushed to build a prototype without proper testing, did not involve engineers in all phases of its design and opened the slide to riders of all ages despite concerns about weight limits, authorities said.
Jeffrey W. Henry, one of the water slide's designers and an owner of Schlitterbahn Waterparks and Resorts, expressed concerns before the slide opened that he could be hurt or killed riding it, according to records obtained by investigators.
"It is a seriously dangerous piece of equipment today because there are things we don't know about it," the indictment quoted him as saying.
While the indictment mentioned Henry and another designer of the water slide, John T. Schooley, Miles was the only person charged. One of his lawyers, Tricia Bath, said Sunday that Miles denied the state's allegations.
"Not only had Tyler ridden the slide numerous times, but, as the state is aware, he had scheduled his wife to ride it on the day of the accident," Bath said in an email. "These are not the actions of someone who believed the ride to be dangerous."
Schlitterbahn Waterparks and Resorts, which is based in Texas, said it planned to contest the allegations.
"Our staff, since we opened Schlitterbahn Kansas City, has demonstrated the highest dedication to safety, from the training of our lifeguards and ride operators, to ensuring all rides have operated in accordance with our strict protocols," the company said in a statement.
In addition to the rushed design and construction phases of Verrückt, problems persisted after it opened, authorities said.
Investigators said park employees ignored serious problems: The passenger restraints were too weak and the rafts were poorly designed and tended to go airborne at the crest, putting riders' heads in dangerous proximity to the netting and the poles. Park officials "obviously ignored" a consultant's warning that the ride was unsafe, the indictment said.
As investigators were looking into the death of the boy, Caleb Schwab, in August 2016, Miles, then the operations director, hid or destroyed documents detailing injuries sustained by riders, the indictment said.
Caleb's family received a settlement of nearly $20 million last year from Schlitterbahn and other companies involved in the slide, The Kansas City Star reported. Caleb was the son of Scott Schwab, a member of the Kansas House of Representatives.
Two other people who were in Caleb's raft — Hannah Barnes and Matraca Baetz, sisters who sustained facial injuries and bone fractures — also received settlements from the park.
Some riders who were hurt complained of neck pain and bruises while others had more serious injuries, including concussions and broken bones.
Two days before Caleb died, another rider, Donald Slaughter, who was 42 at the time, was in a raft that went airborne on the second hill, causing his head to jerk, the indictment said. Nearly two years later, Slaughter has pain and struggles to perform daily activities, he told investigators.