National
3 flight crew members killed in Wisconsin medical helicopter crash
No patients were on board when the helicopter crashed.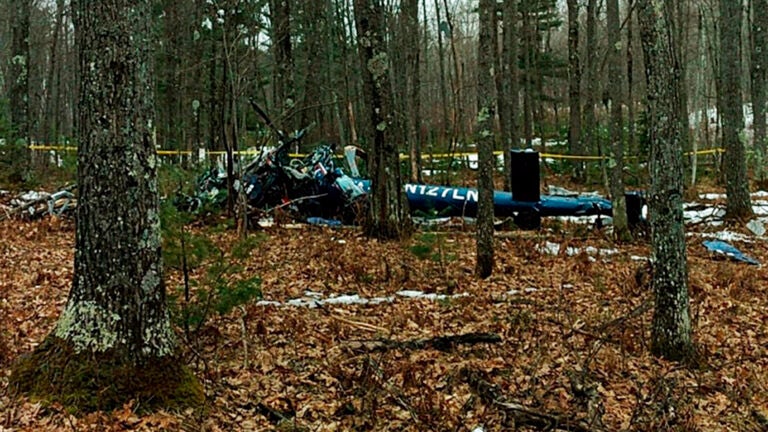 MILWAUKEE (AP) — A medical helicopter crashed in wooded, rough terrain in northern Wisconsin, killing all three people on board, authorities said Friday.
Search and rescue crews found the wreckage of the Ascension Health Spirit helicopter early Friday near the small town of Hazelhurst, about 150 miles (241 kilometers) northwest of Green Bay, after Oneida County sheriff's dispatchers received a call that it was missing, according to Chief Deputy Dan Hess.
The three people killed were flight crew members, and no patients were on board when the helicopter crashed, Hess said. The victims' identities have not been released pending notification of their families.
The three crew members killed in the crash are believed to have died on impact, Oneida County Medical Examiner Larry Mathein told Wausau TV station WAOW. He said the body of the pilot is being sent for an autopsy under standard protocol.
Christina Ward, a spokeswoman for Air Methods, which provides aviation operations for Ascension, said one of its pilots was among the dead. Ascension Health operates its own ground medical transportation in the region.
Ascension Health and Air Methods issued a joint statement Friday saying they were suspending operations of air and ground medical transport units until they determine it's appropriate to resume operations. The companies said they are working with their emergency services partners and medical transportation colleagues in the region to meet patient needs.
Authorities said the last known contact with the downed helicopter was at 10:55 p.m. Thursday. Dispatchers received a call that the chopper was missing 25 minutes later, and a search was launched.
"It's heavily wooded terrain and hard to get to," said Tom Ryden, whose local business, R & R Motor Sports, provided three amphibious all-terrain vehicles and helped searchers reach the rural crash site.
Ryden said the area is also hilly with high ridges and swamps.
The medical helicopter departed from Madison late Thursday and was headed to Woodruff when it crashed about 12 miles (19 kilometers) south of its destination, according to the Federal Aviation Administration.
Ascension Health, a nonprofit health system, has not returned messages from The Associated Press seeking further details about the crash. Mathein's office also didn't return messages from the AP.
The National Transportation Safety Board will lead the investigation. At least eight agencies were involved in the search.